4-H Campaign by Henry of Ducky Comics
"I made my comic about the Putnam County Fair, to support New York's 4-H Foundation.  4-H taught me all about chickens and ducks.  Scroll down to read my comic.  Thanks!" -Henry
13-year old Cartoonist Supports 4-H and Putnam County Fair with "Ducky Comics"
Cartoonist Henry McEvoy's debut issue of "Ducky Comics" is set in Carmel, New York's Putnam County Fair, an event that was cancelled this summer due to the Coronavirus.  13-year-old Henry aims to increase awareness for the fair organized by Cornell Cooperative Extension, while raising funds for New York State's 4-H Foundation.  The first comic strip, created in Chappaqua, NY, features a father and son duck visiting the fair and entering a flying contest.  Said Henry, "In this alternate universe a lot can happen, like an out-of-control raccoon with a jetpack, a swat team of ducks, and more!"  Henry created the comic after realizing that this year's fair would be cancelled.  Henry stated, "Last year I brought my pet ducks and chickens, and so I wanted to support the fair this year even though we couldn't be there."  Supporters can download the comic and make a donation at www.gofundme.com/f/4h-campaign-by-henry-of-ducky-comics , where proceeds will support 4-H and fund scholarships for educational programs around New York state.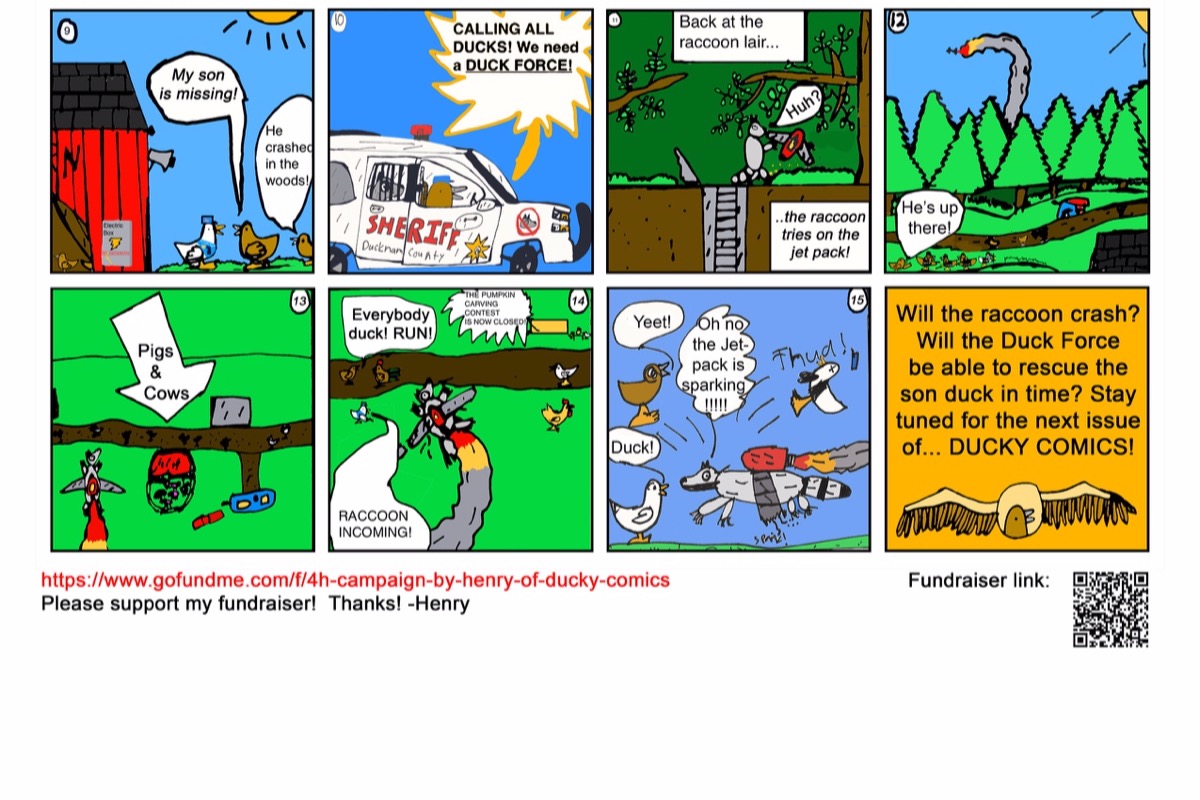 Ducky Comics released a follow-up comic to Unexpected Events, according to Henry: "To thank everyone who donated, I made another comic with a larger Duck Force, a Raccoon bunker, a Rooster reporting for News 12, and everything you could want!" 
More information about New York State 4-H Foundation, Inc. (NYS 4-H Foundation): The mission of the Foundation is to support youth development in New York by raising and dispersing funds to support scholarships, educational trips and other innovative programs that support 4-H's mission mandates of STEM, Healthy Living and Civic Engagement.
Organizer
Henry McEvoy
Organizer
Chappaqua, NY
New York State 4-H Foundation, Inc. (NYS 4-H Foundation)
Registered nonprofit
Donations are typically 100% tax deductible in the US.