And It All Leads To...wait. What?!
8/5/15
The Last Update
Hi all.  This is the update I never thought I'd write.  The one doctors said they've never see.  Against all odds...
I've been declared "cured," for lack of a better word.  
Diagosed on 1/19/13.  Ray walked out on me the 20th.  And so my double whammy of a life began.  None of this has been easy.  There were a few times when I wanted to get it over with and just die already.  But I stuck through it all.   There were a lot of prayers said for me.  For that, I thank you.  It is kind of a miracle.  There was financial support from so many.  For that, I thank you.  Friends and family were a godsend.  My mom stepped up big time.  She didn't want to see her kid die.  I thank all of you for being there.  And mom, I thank you for everything.  The advertising community has embraced me and I felt the love.  For that, I thank them.  Ad Relief LA helped on so many levels..they are amazing.  Epecially Nicole.  And the VERY amazing Dave Kovisto.  Friends for life.  And the board, who approved so much for me.  I thank you all!
As you may or may not know, my health had begun to spark in early May.  And as of today, I'm basically cured.  I'd never dreamed this could happen without a transplant.  But live I will.  And hope to make a difference in the world.
I just thank everyone.  I scrolled down to see that first gofundme blast.  How scared I was.  How sick I was.  But all these updates resonated with you all.  For that, I thank you.
I'm basically just like all of you now.  Back on a level playing field.  We are, however, going to monitor for 5 more months.  Then I'll have the clearance to go back to work...whatever work that would be.  It took SO long to get where I am with insurance, I'm also not comfortable losing it yet.
Dreams can come true.  Love can win.  Ray can have a pity party since his wish, me dying, didn't come true.  
My request of you all:  be happy.  Don't use the word hate.  Find the perfect partner in live.  LIVE life.  That's what it's there for.  And it can be gone  in one hot second.
I just thank you for everything.  I can honestly say, this update wouldn't have been possible without you.  Listened to this today.
"I Didn't Know My Own Strength"
Lost touch with my soul
I had nowhere to turn, I had nowhere to go
Lost sight of my dream
Thought it would be the end of me
I thought I'd never make it through
I had no hope to hold on to
I, I thought I would break
I didn't know my own strength
And I crashed down and I tumbled but I did not crumble
I got through all the pain
I didn't know my own strength
Survived my darkest hour, my faith kept me alive
I picked myself back up, hold my head up high
I was not built to break
I didn't know my own strength
Found hope in my heart
I found the light to life my way out of the dark
Found all that I need here inside of me
I thought I'd never find my way
I thought I'd never lift that weight
I thought I would break
I didn't know my own strength
And I crashed down and I tumbled but I did not crumble
I got through all the pain
I didn't know my own strength
Survived my darkest hour, my faith kept me alive
I picked myself back up, hold my head up high
I was not built to break
I didn't know my own strength
There were so many times I wondered
How I'd get through the night
I thought I took all that I could take
I didn't know my own strength
And I crashed down and I tumbled but I did not crumble
I got through all the pain
I didn't know my own strength
My faith kept me alive
I picked myself back up, I hold my head up high
I was not built to break
I didn't know my own strength
I was not built to break, no, no
I got to know my own strength
So true.  Thank you all for everything.  My love and gratefulness are overflowing.
See 'ya round.
TJ
4/11/15
Hello!  This is one update that must go out to everyone who has participated in this battle with me.  I say with joy, awe and love...I HAVE A DONOR!  We are a match.  The only thing holding us up from transplant at this point is the gallbladder surgery.  But my donor liver doesn't have anyone's name on it but mine.
Last time we were close, things happened and it was decided (by me) to keep all further things under wraps until both the donor and I were ready to announce it.
So here it is.  My stepsister, forever more my sister...has decided to donate to me a portion of her liver.  Trisha is an angel--she's doing this because she cares...and because she can.  She doesn't necessarily want to play the hero role here.  But in my eyes, she will always be my hero.
I feel like the luckiest guy alive right now.  I've known about this for two weeks.  Things just came together today to be able to announce it.  Believe me, it wasn't easy keeping this close to the vest.  But it was necessary.  And now it's not.  I can shout from the rooftops.  I HAVE A DONOR!!!!
6 months after a successful transplant, I will be formally cured!  But in the meantime, I'm still scraping by.  I'm opening up the GFM coffers one last time.  My insurance handles all of Trisha's medical procedures, there is a group that helps with travel, etc...If you could see it in your heart to make one last donation, these funds will ensure she has ZERO expenses.  And I would be (again) forever grateful.
Trisha was the first person who volunteered to be tested.  And she is the donor.  How amazing is that?  
I love this sister of mine.  And, like I said, she will be my hero whether she likes it or not.  She's a class act.  
A LIVER!!!!  I HAVE A LIVER!!!!
8/2/14
This is the fifth, and one hopes, one of the last major updates I will do, other than declaring myself healed!  And that's one update I look so forward to writing.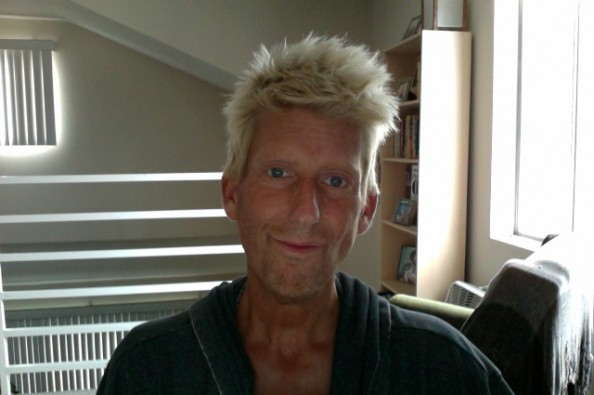 So, 18 months in.  18 months of pain, growth, fear and love.  18 months of uncertainty as to whether I would live or die, be homeless or safe.  18 months of just SO MUCH.  I wish the battle was over on all fronts.  But it's not.  This update is to take you through what I (and, you, in turn) have been through but also about the hurdles that remain.  You've come through for me on so many different levels that it has profoundly changed me, my outlook on life and the way I want to live it.  All in positive, wonderful ways.  The power of your love has been a pillar of strength for me which can never be fully expressed.  Financially, you've reached out to me when I've needed it.  Due to the complexities (I'd call it f'd-up-ness) of our Social Security Administration, my disability, applied for at the beginning of April 2013, has yet to be officially approved and dispersed.  If there was ever a sickness that qualifies for disability, this is one of them (as my lawyer--the REAL one--can attest to).  Therefore I've had to rely on the generosity of friends and family to get by.  I've reached an impasse.  I'm running on beyond empty.  As much as I hate to have to update with pleas for help (I hate this more than any other part of this, minus the wait for a liver), I have no choice as I'm not permitted to work and, even though I want to, physically and mentally cannot.  What the disease isn't doing to me daily, physically, the meds used to help cause a lot of faulty mental facilities.  Depending on the day.  Or hour.  So it's incredibly frustrating to have to ask, again and again, but it's all I've got right now. Ad Relief, which has been key to stability, will exhaust funding after September (which, if granted, will be at a reduced level).  That basically means my apartment is suddenly in play.  My home of 14 years.  Additionally, the bills don't stop--and there is nothing frivalous in there:  gas, water/power/cell and home service (must be reachable at all times b/c of the transplant).  Dish often gets the short shrift, and granted, it could be considered a luxury.  But is it, when it's the only escape I have?  I can't afford to flit about at movie after movie (chances are, if I'm checking inat a movie, I didn't pay).  So, looking forward to the bills already on the table, I look to September with dread.  At a time when I should be going into surgury with a clear and focused mind--on healing and getting better.  But instead, I have this constant struggle and worry.  That, my friends and family, is why this update exists along with the daily blog.  In addition to "personal therapy" for myself, it's to remind that the struggle remains.  And if you have it in you to continue to support in all the wonderful ways that you have, I thank you from the bottom of my heart.
Now.  The numbers.  Crazy.
--18 months since diagnosis
--16 months since disability was applied for
--1 Social Security Adminstration Lawyer, 1 fake
--approx. 62 hospital admins for fluid removal
--approx. 550 liters of fluid removed from abdomen
--14 stays at Burbank/St. Joseph & LAC/USC
The fear.  The fear has taken on interesting aspects.  There is the obvious fear of dying.  What I would miss.  WHO I would miss.  Not being able to show the world how much this has truly changed me as a man.  But also a fear of living.  There have been the occasional nights where I never wanted to wake up again.  And the fear of actually waking up truly messes with your psyche.  At least it has mine.  
Ha.  I should have added the number of times I've had to recite my tale.  EVERY visit to the ER.  Every person I meet.  
How?  Ultimately, folks, it was luck of the draw.  This could have happened to any one of you.  And I appreciate those who know this inherantly or have done their research.  Of course, I didn't make it any harder to be the one.  Drink too much.  Eat too much of exactly the wrong foods.  Lack of exercise.  You name it, Ray and I had settled into bad habits.  One of the pitfalls you simply HAVE to avoid in a marriage.  But, at the end of the day, there are people with this disease who have never touched alcohol and are the picture of health (as I appear to be without the swelling).  There are people who have been lushes their entire lives and are still going strong, drink and all, in their 90s.  It simply boiled down to:  it got me.  For whatever reason things happen.  It got me.  And it's taken me a long time not to accept total blame for it.  But I have.  And it's so very, very true.
There has been some fun!  This is all because of the generosity of my friends.  A dinner or lunch here and there.  It's enough for me just to catch up and feel like a normal human for a couple of hours.  But, because of their kindness, I don't walk away hungry.  There was the trip to Hawaii.  Free flight (miles), gratis housing thanks to my incredible cousins, Kelly and Gabe.  Just being there made me feel a little more alive.  Even if being there included a few trips to the hospital :(  On so many levels I just have endless thanks to all of my friends and family who have gone out of their way.
Dealing with friends who don't know how to deal is tough.  But I can't hold it against someone.  Just know, from experience, if you ever find yourself in a situation where your life is hanging by a thread (may you never!), calls from friends and family, even just to say hello, are a lifeline.  And yeah, frankly, it can be confusing when the calls don't come.  But the good most certainly outweighs the slight disappointment.  I'd have to really be wallowing to concentrate too much on this.
That said, the lengths to which some of my friends have gone to is just incredible.  Beyond calls and donatioins, visits in the hospital...I mean, do you know how much that means to a sick dude?  THE WORLD!  And I am so grateful.  And, as for family, they came together like I never thought they would.  And, mainly, it's just been a magnificent thing to see and be a personal witness to.  It goes without saying, but I've said it before and am now, my mom has been invaluable.  And trust me, there are times when it was INCREDIBLY HARD for her.  On her.  But she truly is a rock.  And I'm a lucky kid.  And the strangers that reached out and became friends...amazing. 
In so many ways this sickness has caused me to change the way I think about people, strangers and friends.  And it's really humanized the world more on a whole for me, instead of living in my little bubble.  One of the scariest things for me was letting people even know about this sickness.  I'm not that guy.  Hard to believe after like, a year, of constant blog updates.  But prior to this, all I cared about was projecting as perfect an image of my life as I could.  Towards the end, I wasn't fooling anyone.  But it's freeing to live nothing but the truth.  Balls to the walls truth.
And Dave Kovisto and Nicole Saul-Levitt, as well as the entire board of Ad Relief will always deserve and be handed my sincerest thanks.  And thanks to those in our Los Angeles Ad Community who donate to this fund!  People, Ad Relief is true to their mission.  To help those in our profession, in our town when all other help seems lost.  To say I would truly not be where I am without them is both LITERALLY and figuartively true.  And to gain Dave and Nicole's friendship through it...that is just the fringe benefit that will keep on giving.  And one I can wholeheartedly give back!  We are lucky in our jobs, period.  But we're infinitely luckier to know that there is a group of our peers who are out there providing help, comfort and a little less fear in lives when it's needed most.  I really suggest that you add Ad Relief to your giving goals.  Both on a personal and agency level.  Once I'm on my feet again, that will be one of the first checks I write.
There are a million things I'm leaving out here.  I'll remember them later.  And I'll probably blog about them!  But I just wanted to touch on where I've been and where I'm going...which leads to...
The TRANSPLANT!  So close now.  Truly cannot wait for the intake on the 11th.  From there the real countdown begins.  The idea that I could wake up from surgury and eventually feel whole again...it's almost too much to wrap my head around.  But I'm ready.  I'm ready to take all the lessons I've learned from this and putting them into true motion.  I want to make a difference.  I want to make people's lives easier and better.  And I can't wait to see what direction that takes.
So thank you.  It isn't enough.  And this fight continues.  But thank you so very, very much for caring enough about me to get me this far.
With utmost love and respect,
TJ
4/28/14
And I thought this was hard the first time.  But here we are again.  I finally was released from the hospital today after a marathon monthlong series of admissions, fluid draining, enemia, no appetite, appetite, vomiting, etc...you name it, it's happened to me.  And yet my bills continue to go on and, now, at this point, pile up.  Thanks to the generosity of a few, I have managed to keep my head above water until now.  I'm EXTREMELY fortunate that the kind, KIND, ABOVE AND BEYOND AMAZING AdRelief LA group has continued to help with rent.  Without their support, I truly would have been lost.  But I'm not even sure that will be able to continue at this point (I will update).  For tonight, I am simply posting in hopes that a few of you will see this and feel I am I still worth your time...and, I suppose more importantly, your hard earned money.  This is the LAST thing I wanted to do.  I feel backed into a corner.
For those following, this was always meant to be a stop gap until the disability began.  I'm still waiting for this to happen.  I had the unfortunate luck of getting involved with a lawyer who had no interest except in stringing me along.  So, today, before I was released, I received a call from a firm that came reco'd on Friday.  First thing this morning.  A good sign.  I'm feeling cautiously optimistic that this was the right way to go with this.  Time will certainly tell...but to have action after only a couple of business hours is a WORLD of difference.  Fingers and every thing crossable are doing so.
Since we last met like this, I've had way to many hospitalizations to go into here.  But I do have records for anyone interested.  It's been the longest, hardest, most difficult thing I've ever faced in my life.  And it's ALL IN THE NAME OF LIVING.  If you can possibly see fit to prolong this battle with me, I will be eternally grateful.  As I am for all the support that I've gotten along the way.
Again.  This is truly the last, desperate thing I can do.  I hope you can find it in your hearts to understand this is all about living and not dying.  At least not laying down and letting life run over me without a fight.
Thank you so much for everything.
TJ
(I know that picture is tough to look at.  This is what I deal with daily...)
Updated 10/16/13
Thank You All From The Bottom of My Heart. We made this goal a reality. YOU made this goal a reality. And you've helped my fight for life more than you'll ever know. The fund remains open even while the government remains closed (for now!)
The original story is, of course, below. And my update to that original story remains as well. Thanks to all of you, we exceeded the goal. What you have done is truly helped to find hope again when things were incredibly bleak. While I am in no way out of the woods and things are still precariously hanging my a thread, a lot of the concerns are simply out of my control. But thanks to the generosity of all of you, there is a little less worry associated with this lack of control.
Thank you all for giving me hope back. Thank you all for changing the way I look at the world. For what I bring to the table. For what my heart is now capable of. All amazing, wonderful by products of this campaign.
As I said, the fund does remain open, but this is no longer an update to make a goal. We've done it. If my story continues to move you, believe me, I am in no position yet to refuse anything. But know that you have truly made a difference. Each and every one of you. Be it calls, emails, messages or donations. One doesn't stand out. It all jumbles together to form a big ball of love.
Thank you all so very, very much.
TJ
Updated 8/29/13 (Original story below)
Ad Man/Begrudging Liver Friend Hold Their Own - Thanks To YOU! Still Heartbreaking and Humbling; Now With A Heavy Dose Of Hope
Hi. This is TJ. My original story with warts and all is below. This update is here to show the power of people, kindness and love. The urgency of the fight and my story, however, is not over.
Almost three weeks ago, I sat at this computer contemplating whether or not I could let my world (and, as it turns out, beyond) into what I've been facing mostly alone. I made the decision to share. The outpouring of love and support is evident on this site. And while there is still so much to be done, so much uncertainty and so much fear, the hopelessness has been battered by hope and compassion.
I'm in stage 4 liver failure, you see. Insurance was cancelled, unbeknownst to me, before this was known. I've racked up medical bills approaching $150,000 dollars (and while this effort doesn't dent that, it drastically helps keep things moving medically and beyond while waiting for the feds to step in and another possible option with the hospitals to work). In a world where that's a spot on TV or a magazine ad, it seems like nothing. When you've reached the end of your life savings and then some, it seems like the most daunting mountain imaginable. That's where the donation portion of this story has come into play.
Before this, my symptoms were returning with a vengeance. My prescriptions had dried up and my access to my specialist was gone. Since this began, the generosity of people has allowed me to continue my medical treatment while still taking care of real life living expenses and not adding to the growing pile of bills sitting on my staircase. This is truly a case of humanity at its best. And I could have never imagined that such gracefulness could be bestowed on me. It was. I thank you. My doctors thank you. Everyone I have ever known thanks you. The fight to raise donations is not over. But the goal threshold gets closer everyday. I thank you.
The amount of immediate stress this support and love has taken off my shoulders is thrilling to my doctors and family and friends. No longer do I have to roll my eyes when I'm told I HAVE to cut stress out of my life (really, who can do that? YOU, I would love to meet!). But the differences it's made medically, physically and emotionally are profound. It's evident in the progression of pictures below. I thank you.
Because of everyone coming together behind me, I've been able to learn that I am still doing everything right. And that begrudging friend, my liver, is still going. It's still between 10-15 percent of a fully functioning liver, and it won't get better. That's what a transplant or a miracle is for. But it's holding steady. It has not worsened throughout this ordeal. I thank you. And I thank my liver.
I'd like to think that I am making those of you in this fight with me proud. Those of you who have given so generously of your time, energy, donations and love. I have done absolutely everything my doctors recommend. Next up is conquering the elusive sleep. Thanks to all of you, there is hope for that, too. I thank you.
Please continue to share my story. It has made such a huge difference and still can. I know it's a lot to ask. And I am not good at asking. Despite this whole ordeal. I also feel I may not always be great at expressing my individual thanks. Just know, everything comes from my heart. Be it the videos here, the individual emails and conversations. All of it. I've never felt more raw and open than I do. And it's had a healing power of its own that I never expected. I thank you.
Please, keep my fight going. I love you all for standing behind me this far. And I promise you--I plan to win this fight. I'm not positive I thought that was possible before. Now, I think I truly believe I can. And it's because of all of you. And...I THANK YOU.
Much love and humble gratitude,
TJ
Original Story 8/11/13
Ad Man Pulls the Veil Off, or, My Most Humbling, Heartbreaking Moment
Hello. TJ here. On the edge of a very scary medical and financial cliff. If you can take the time to read this and help, hard as it was to write, I would be very grateful. This is my hail Mary--make it or break it, health and well being...life--pass.
So, friends, family, here is my story. Never did I think I would do this. Could do this. Would have the need to do this. My life has been one with a high emphasis placed on image. Rightly or wrongly. For better or worse. In work and in life, I have always tried to present the best me that I could. Sometimes that is simply accomplished by confidence. Sometimes by business acumen. Sometimes by just plain luck. I've taken great pride and comfort that I've been able to be "that guy" people could turn to for advice, for help or just to listen. Now, I find myself in a completely foreign role: that of asking for help.
Much of my last year has been kept quiet on Facebook and even in person with friends and family. Except for the fateful "check-in" at the hospital very early on, I've managed to deflect most things. The massive weight loss, the lengthy absences from posting on FB in general. When the few closest to me would come to me to ask what to tell people when they were asked whether everything was OK with me or not I would ask that they simply tell these people to talk to me, where, image first, damn it, I could downplay everything.
But now, with medical bills surpassing six figures, no income since February, burning through substantial savings and a very, very large lag time in funds I am owed, I find myself underwater in a way I never thought possible. So, in the interest of not dragging everything out in this process of actually having to reach out when it is the LAST THING in the world I want to do...except, literally, die...I will keep the description of this year short and to the point.
In January I was diagnosed with a fatal liver disease. Unfortunately, I was also suddenly without health care as the plan I was on was cancelled without my knowledge. As I struggled to fight this new scourge in my body, the bills started to pile up. Just as the bills in "real life," (this medical stuff seemed like, literally, another world) didn't stop. I found myself fighting this mainly on my own, save for a handful of people I let in and my sweet parents. For the first time in 14 years, my rock, my other half, my love, the person I could count on for anything...was gone, as I lay in hospital bed after hospital bed.
The doctors I have had have been able to stabilize my condition to a degree (accomplished by well, luck, for one, little to no processed foods, a very green, healthy and natural diet, exercise and, obviously, no alcohol or any medication other than rather benign prescriptions that help with fluid build up). I am not yet on a transplant list. And there is no guarantee that will be my future. But this disease is a particularly insidious one. Most of the time, I can be almost the picture of health. Those of you who are friends of mine on and off FB--and aren't amateur sleuths--can attest to that. However the disease doesn't stop eating away at me inside (literally), ever. And many of my current symptoms aren't readily noticeable unless you know what you're looking for. But it is these symptoms and complications which keep me from my career and livelihood. There is currently very little pain. For that, I am grateful. But there is so much uncertainty to my overall health, my access to the specialists I so need (which I do not have at this point because of my financial predicament) and to the process of trying to live life in general that it all combines to take a big hit on my overall health. Stress is one of the key control factors in fighting ANY disease, particularly one that involves an organ so vital to everything in the body.
For you statistical folks, I currently have an estimated 10%-15% of a normally functioning liver.
My reason for reaching out via gofundme is two fold, but both just temporary stop gap measures until the government finally comes through. One: to be able to continue to see the specialists for the next few months (until the medical financials are shored up). This is vital not only for the prescriptions and general "this is where we are today" reports, but also for the screenings of liver cancer. My risk of cancer is astronomically raised with my liver failure. It's imperative that anything is caught early if there is hope for anything to be done. Obviously, even then, with my weakened state, it's still going to be just about the worst news one could get. But early is still better than boom!--stage 5 liver cancer. Two: to be able to continue to have some semblance of my "real life" for the next few months (until all the various financials are finally in place). Rightfully so, the world doesn't stop because something happened to poor, ole' TJ. But for me, further setbacks in this "real life" would almost certainly hinder part one of this whole two fold thing and make most everything irrelevant. That's all I am trying to avoid.
So, this is a very reluctant, very tearful peek into my life. And what has been going on since January. As I intimated earlier, I'm someone who is paid to turn crap into gold and sell the same as revolutionary. So the fact that I can't do either in this situation is not only foreign to me, it's scary and it's humbling.
If you have a spare buck laying around, I could use it. If you don't, I understand! If you pray, I ask you for that. If you don't, I understand. I've had a very tough time reconciling all the things that I've been faced with since January. And many of my beliefs are, at the very least, being held hostage. But I am tenuously holding on to one thing. Just that little thing called hope. I hope that I can be one of the few to beat back a bum liver. I've changed every aspect of my life in my fight to do so. I just need to try, once again, to level the playing field, even if just slightly, so that I can continue this fight. I want to be around for a long time...and I hope I am. To love my girls, Gracie and Maui; to give back in a sometimes scary and unfriendly world.
Hope. Fragile but powerful.
Thanks for taking the time to read this. I didn't think that anything could be harder than hearing you're dying. And perhaps I am just too close to this to have the right perspective. But putting my story out there for all to see and know...is truly the hardest thing I have ever done.
I ask you one more time, if you are able to help, now is the time, even if it's just sharing my story with others. And if you know me at all, you know how urgent this is for me to lay this all out for the world to see.
TJ
(These photos were taken two months apart)

Organizer
#1 fundraising platform

More people start fundraisers on GoFundMe than on any other platform. Learn more

GoFundMe Guarantee

In the rare case something isn't right, we will work with you to determine if misuse occurred. Learn more

Expert advice, 24/7

Contact us with your questions and we'll answer, day or night. Learn more