Her Highness,Princess Lara the Cute
This is our little Lara. Six years ago, she was born with a 93% of mental and physical disabilities. Unfortunately, in the area where we live most orthopedic gadgets and medical treatments Lara needs are not available yet. Therefore, we were forced to take her abroad to Germany twice a year to get the leg braces done she needed, enabling her to walk. When Lara walks, she seems to be in a totally different world...She creams and squeaks and can hardly control her happiness...But it is not just this incredible happiness these braces bring her, but also help to exercise Lara's upper and lower body, improving her whole posture immensely. We have been working very hard with her ever since she was born and the improvements we experienced were amazing! Just imagine, if we had ever signed the papers the doctors had pressured us with for switching off her life support machines on the second day of her life...
Everything was "under control" until we were told by the odontologists at the University Clinic of Freiburg in the Black Forest that Lara needed urgently operated on her mouth, but that the risk of her waking up from the anasthetics( due to the malformations of her respiratory tract)was 50/50, not having much of a choice, really...
So, since October 2013, we started to secretly say "Good-bye" to our baby, not knowing, whether she would pull through the operation that was now scheduled for the end of January 2014. Our nerves lay bare...Tears and extremely high levels of emotional stress were now part of our every day lives.
The day of the operation came and words simply cannot describe what we felt that very day. During the operation every 30 minutes or so one of the doctors came into the waiting room to update us. Things were going fine.
3 and a half hours and 12 teeth later, Lara was taken to the waking up room, where we were reunited...Once more in her young life, Lara managed to pull through.
After these three months of pure strain, we did all kind of therapies to help Lara recuperating as quick as possible.
We went to oxygen therapy, physio, lots of walking...things were looking up. Now everything could only get better...until...
Two months later, Lara was diagnosed with Lymph Cancer( 2nd last stage). Our still fragile and newly rebuilt world crumbled again...
Due to financial reasons we decided to get Lara chemo here in the Malaga's Children Clinic. The conditions were certainly not ideal, but the best in child oncology we could get close-by. And after a tough, very tough 6 months of constant Hospital stays and A&E visits, we nearly lost Lara in 2015 due to a chest infection that occured while Lara's immune system was extremely low from chemo. Miraculously, she pulled through again, not giving her the last chemo treatment anymore, as her body would not have made it...
Since then we have been waiting desperately for her defences to restore themselves, as we had to isolate her from everything and everyone in order to not risk catching any infections like in January again. Every hospital appointment we had during this time required a lot of planning for us. Lara was getting bored and depressed at home, fighting us every time, we would try and manipulate her in any way, even if it meant just to change her nappy. The whole situation has not only taken its toll on the whole family's mental but also physical wellbeing...Besides nearly losing your own child, hearing the other children scream and cry, seeing them die on this ward is something that accompanies you through life...
Since the second cycle of chemo, Lara's body has been riddled by a constantly recurring urine infection, which still prevails. The bacterium keeps changing and creating resistance to more and more antibiotics, which there are only 3 left of to treat her with now. No need to say what happens, once her body has created resistance to them as well. Since the end of chemo, we also have to cathederise Lara every 3 hours, in order to avoid any pee-pee reflux into her kidneys, which will cause major damage.
Due to all the bone pain and nausea Lara experienced during chemo, it was impossible to work Lara's muscles and give her the physiotherapy she needed. Due to that, the scoliosis in her back is now at a shocking 43% and her club feet have worsened beyond belief.
We tried to get her a corset fitted here in Spain, but the lack of the necessary know-how forced us to take Lara to Germany and get everything done at our own expense again, confirming once more that whatever Lara needs in the future, cannot come from here, but needs to be made abroad.
As Lara's defences were too low to sit her on a plane, we took her on a 5000kms round-trip in the car to get her leg braces and a corset that will help her.
Luckily, we found out this week that Lara's immune system seems to have finally kicked in now, which means that we can take her out carefully again, even though it will be difficult as everyone is coughing and sneezing at the moment and Lara catching a normal cold or cough always means major complications with her due to the internal malformations of her respiratory tract.
Unfortunately, chemotherapy has destroyed a lot in her little body, making every-day life even more complicated than before.
With your donation, you can help us to get the medical and orthopedic treatment for Lara she needs to make life as liveable as possible for our baby.
God bless you.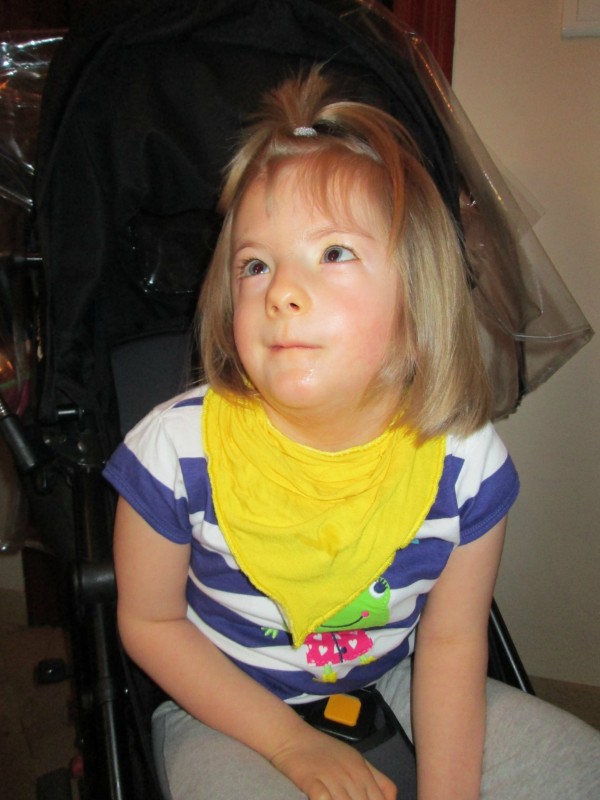 Organizer
#1 fundraising platform

More people start fundraisers on GoFundMe than on any other platform. Learn more

GoFundMe Guarantee

In the rare case something isn't right, we will work with you to determine if misuse occurred. Learn more

Expert advice, 24/7

Contact us with your questions and we'll answer, day or night. Learn more