"Confronted with a tragic second wave of the pandemic, the current challenges that India is facing are critical. Whilst media coverage focuses on urban cities, the outbreak that is now spreading through villages and marginalised communities means that numbers are undocumented. Access to health care is complex and families in rural India are experiencing unbelievable hardships."
With a donation (minimum of $11 / £8 / 10€), you can support the most vulnerable people living through the effects of the coronavirus pandemic in India right now. In return, we will offer you the access to an exclusive full-length film of dance and music celebrating the spirit of India: once you make your donation, REGISTER HERE and enter your Paypal Giving Fund transaction ID, so we can send you a private link within 24 hours to watch Trespassing Humanity the film.
___________________________________________
Mavin Khoo — Bharatanatyam artist and Creative Associate of Akram Khan Company — and Akram Khan — choreographer, dancer and Artistic Director of Akram Khan Company — have initiated this fundraising campaign with Indian Carnatic vocalist T. M. Krishna, in collaboration with Bhuvana Foundation  and Sumanasa Foundation . All proceeds will be received and distributed directly by Bhuvana Foundation.
___________________________________________
"Thinking of our fellow artists who live under a system determined by caste and class, provokes a realisation of the devastating circumstances marginalised communities are experiencing in the wake of this crisis. We as artists, together with Anoushka Shankar and Nitin Sawhney, have found our voices in the diaspora drawing from the Indian creative spine, it's impossible for us not to (in some capacity) do something as an offering to the creative soul of this country and its people.
We are joined by one of the most prolific artists from India today, T.M. Krishna who himself has been actively immersed in creating awareness and raising funds to support marginalised communities through these challenging times. Together, we share a poetic offering of our works in an exclusive film."
— Mavin Khoo and Akram Khan
We want to thank you for your support and generosity. You will receive Trespassing Humanity, the full-length film of dance and music featuring Mavin's and Akram's classical work alongside performances by Anoushka Shankar , Nitin Sawhney  and T M Krishna , who offered their time, heart and talent for this cause. Produced by Akram Khan Company in partnership with The Coronet Theatre, the event was filmed in this very special venue in London that recalls the spirituality of Indian temples. We hope that this humble gathering and unique artistic collaboration, evokes within you the same deep connection and empathy we have for India.
___________________________________________
Who you will help
The Covid-19 pandemic in India has severely impacted thousands of marginalised people and performing artists, who already live in dire economic conditions.
Since March 2020, Bhuvana Foundation & Sumanasa Foundation have raised over 11 million Indian Rupees to support over 3500 artists representing 250 art forms, which has helped cover their day-to-day needs. This has been a pan India effort, spanning over 22 states and 2 union territories. The foundations also raised 3.5 million Indian Rupees to support over 20,000 migrant and daily-wage workers who were left without any source of income due to the pandemic.
Unfortunately the second wave of the pandemic hit India very hard. Artists who live below the poverty line, migrant labourers, transgender communities and people discriminated based on caste, religion and gender, have been critically affected. They are struggling for their day-to-day survival. Bhuvana Foundation & Sumanasa Foundation are continuing their efforts to support these marginalised communities.
What your donations will go towards
We want to be ambitious and bring together the global community in support of this cause. From wherever you are in the world, your contribution will make a difference.
100% of the profits will go towards supporting the basic needs of these marginalised communities across India. Beneficiaries have been identified through local NGO partners and volunteers in the respective regions of the country. All funds will be given as cash transfer to the beneficiaries' bank accounts, or will be provided as food provisions, which include rice, dal, oils and spices. Once all funds have been dispersed, the details about the beneficiaries and the kind support they received will be shared with everyone who donated for this fund.
A film to thank you
Each of you who have made a donation and registered HERE , will receive a private link within 24 hours to watch Trespassing Humanity the film.
In this poetic event, sitarist Anoushka Shankar plays a raga created by her father Ravi Shankar accompanied by mridangam & tanpura; Mavin improvises a Bharatanatyam solo with four musicians (mridangam, vocals, nattuvangam, and flute); Nitin Sawhney plays two intimate pieces of his composition accompanied by tabla; Akram performs a classical kathak piece taken from his solo XENOS; whilst Carnatic vocalist T.M. Krishna gives a powerful interpretation of the Sanskrit mantra Om Tat Sat. To further embark you on the journey, we will also be sharing our personal memories of India between the performances.
With love and gratitude,
Mavin & Akram 
___________________________________________
We're so excited to give you an insight at the making of Trespassing Humanity with this first trailer. Everyday in the lead up to the film premiere we released a series of behind-the-scenes clips on the Akram Khan Company website.
It's an honour to share with you these intimate photos captured during the filming of Trespassing Humanity at the beautiful Coronet Theatre. You can explore more special moments of this event by heading to the Akram Khan Company website .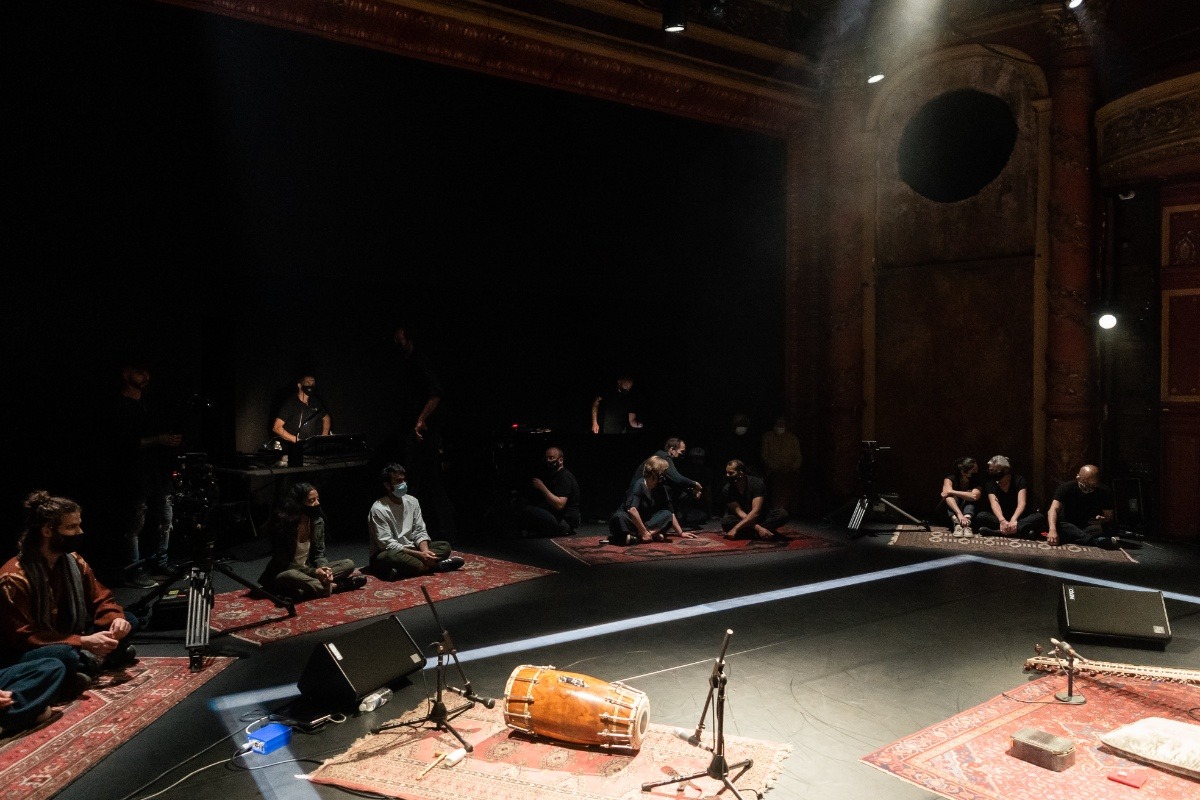 Photos 1, 2, 3, 5, 6 and featured visual by © Rehmat Rayatt 
Photo 4 & 7 by © Ambra Vernuccio
Fundraising team (2)
Akram Khan 
Organizer
Raised $2,040 from 56 donations
Nashville, TN

Registered nonprofit
Donations are typically 100% tax deductible in the US.
Mavin Khoo 
Team member
Raised $1,237 from 37 donations