Save Our Bacon - Australian Letterpress Collection
SAVE OUR BACON! Help preserve this historic letterpress collection and help build a mobile printmaking studio, housed in a custom 40" shipping Container.
The Bacon Factory is a working collection of letterpresses that has served as a classroom, public workshop studio and Australian typographic archive for over 10 years. It was established and funded by Australian designer and educator Clint Harvey in 2010. 
The Bacon factory has conducted many workshops and typographic classes with students, professional designers and the curious public over the past ten years. For Clint, and for many students and designers, the Bacon Factory is their typographic temple.
The Bacon Factory's first home was a rundown, brick warehouse in Fortitude Valley, Brisbane Australia that was once a small goods factory known for its bacon. The Bacon Factory has gained a worldwide following amongst typographic and letterpress enthusiasts and is sometimes referred to as the ugly step sister to its American brothers and sisters.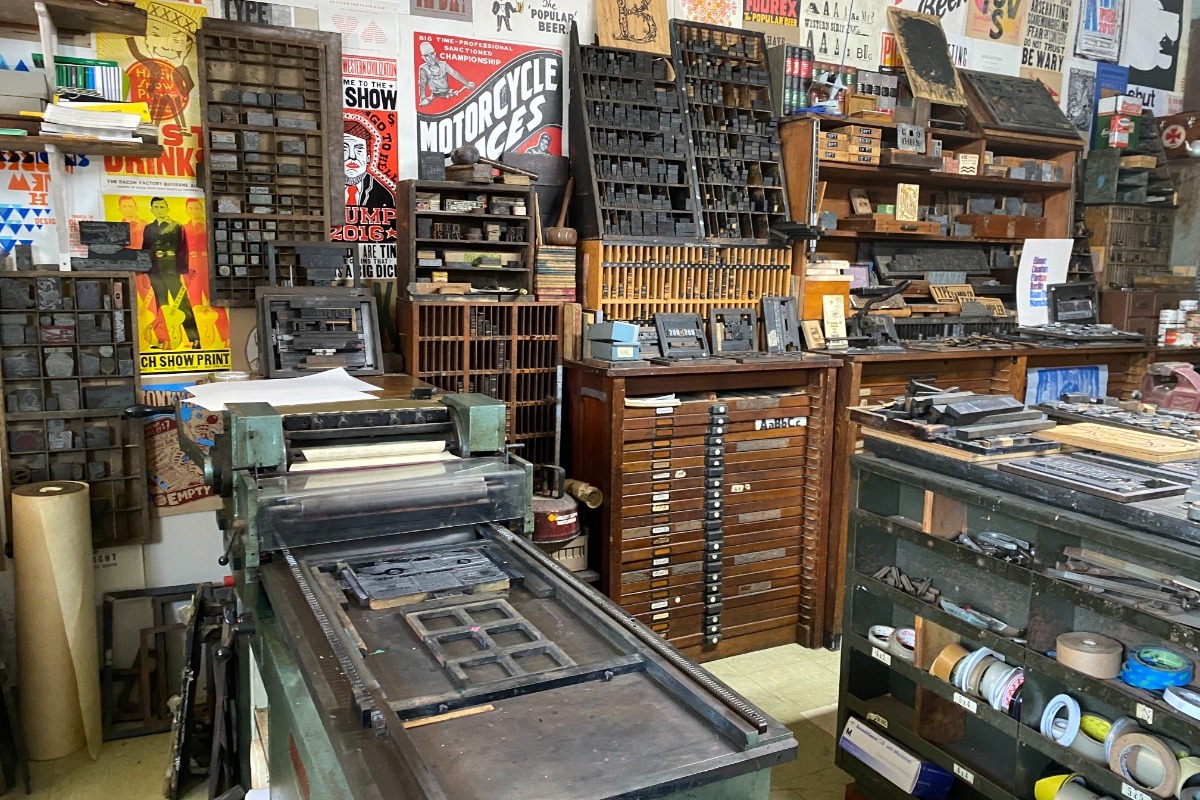 In 2017, real estate prices skyrocketed and the Bacon Factory was forced to relocate to the commercial suburb of Eagle Farm in Brisbane. Unfortunately, the real estate developers and high prices followed and the Bacon Factory has been issued with 30 days to vacate the building.
Your generous support via Go Fund Me will allow us to secure a shipping container so that we can  preserve this unique archive, continue to give the public access to letterpress printing and so that the Bacon Factory won't become homeless again. 

Funding Goal 1: Storage - $8,500If we raise $8,500, we will be able to buy a used, 40', high cube, shipping container to store the collection in. We will also need to hire equipment to move the presses and a truck to move the container to a secure location. While we won't be able to use the presses, at least they'll be saved from sale or worse... the scrapyard.

Funding Goal 2: Print Studio - additional $12,800 (total funding of $21,300)
After we reach Funding Goal 1, an additional $12,800 will be needed to make custom modifications to the container so that it can be used as a letterpress studio. Modifications include insulation (so we can bear the heat), creating a side opening in the container that will enable us to access and use the presses, wiring and lights and, some other necessary upgrades to make a safe workspace. This level of funding will ensure that the public will continue to have workshop access to the Bacon Factory presses.  Public access and workshops will help ensure that the ancient craft of letterpress will continue to live another day.

Funding Goal 3: Taking Presses to the Public - additional $8,250 (total funding of $29,550)
Funding Goal 3 is the dream. For an additional $8,250 (or a total of $29,550), we can create a mobile letterpress printmaking studio. This additional funding is needed to complete the container's conversion. This includes securely fixing the presses and equipment to the container and obtaining certifications that will enable us to legally take the mobile letterpress printmaking studio on the road. 



Why build a Mobile Printmaking Studio?
It's all about taking letterpress to the people (and of course, saving the collection)
The converted shipping container will allow the Bacon Factory's historic letterpress equipment to travel to any location in Australia that can be accessed by a truck and shipping container. For many residents in regional and remote areas of Australia, this will be the first time that they've had access to a letterpress studio. 

The mobile printmaking studio will offer community demonstrations and workshops on the history of printing, the art of letterpress and its relevance to graphic design in a digital world. 

We plan to use the mobile printmaking studio to expose new people to printmaking and work with them to share their community's stories via the printed word. Doing this will enhance local artists and designer's knowledge base and keep the craft and knowledge of letterpress printing alive in Australia.

In total, we need to raise $29,550.000 AUD to preserve this collection and to continue to offer letterpress access to the creative and broader community. At the very least, we need to raise $8,500 so we can preserve the collection. 

A personal note from Clint… 



For the past 10 years I have spent in excess $20,000 AUD per year on rent to preserve this collection and give the public access to the printing presses and I just can't keep doing it. But with your help I can turn this situation into bacon and take the presses to the people while at the same time giving the presses a safe home. 

With your support, we can preserve this collection and continue to offer access to the dying craft of letterpress.
I am asking you to pledge to this Go Fund Me campaign as we have 30 days to save this collection. With a positive outlook and the support from the design and print communities, I ask for your support and to spread the word in assisting us to #saveourbacon
By supporting our Go Fund Me campaign, you'll help bring the art and history of letterpress printing to educational centres, public libraries, schools and cultural events, street fairs, and festivals ― where lovers of graphic design, books, arts & crafts, and the written word, can enjoy this old and venerable printmaking technique in a new and modern way.

A mobile letterpress workshop will offer the community an understanding of traditional printmaking basics that will change the way the public will look at books & printed material forever. Demonstrations and workshops will be modified to suit groups of any size or age; from a 30 minute in-classroom event for 1st graders with short attention spans to an all-day or week long workshops designed specifically for serious artists and printmakers. For those who wish to extend their art practices combining letterpress, photography and bookmaking further, the mobile workshop will offer membership access to the studio as it resides in rural and remote locations for a number of months before moving onto the next exciting location.

Let's spread the word. Literally. Even if you can't spare $5 to be part of our Go Fund Me campaign, we would appreciate it if you could spread the word to your designer and creative friends.

We need your support to save this unique Australian Resource.



OTHER WAYS YOU CAN HELP:
1) DON'T FORGET TO LOOK BACKWARDS TO MOVE FORWARD whether or not you decide to support the Save Our Bacon Campaign
2) FOLLOW the #SaveOurBacon on Instagram. 
3) Purchase a ticket to our farewell Ink & Drink Party on eventbrite (coming soon)
4) SHARE the campaign to your friends & family by using the power of the social network to make good things happen! 
5) SEND the campaign out to your letterpress, craft, and art news groups

Together, we can Save Our Bacon
Fundraising team (5)
Clint Harvey 
Organizer
Raised $15,286 from 136 donations
Clayfield QLD
Fabien Barral 
Team member
Raised $250 from 3 donations
Edward Coghlan 
Team member
Raised $15 from 1 donation