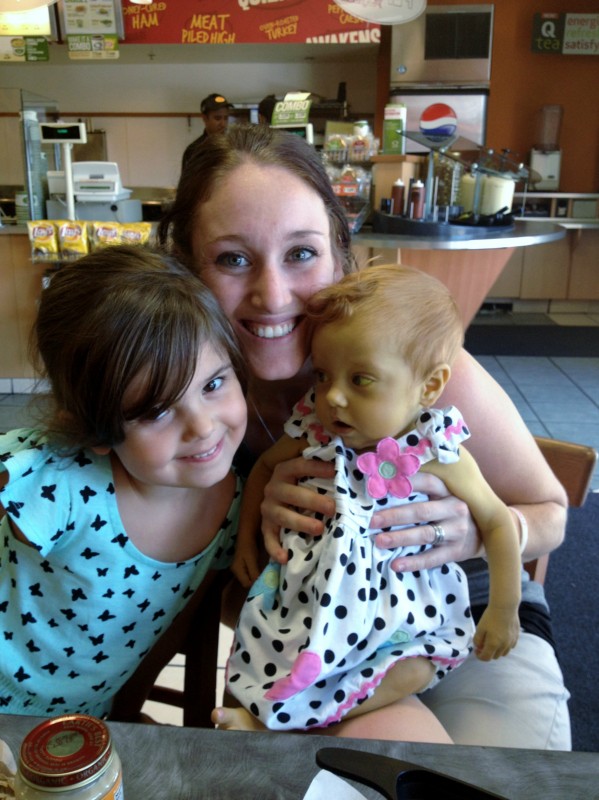 Dear Friends,

On Mother's Day I had the privilege of spending the day with the strongest Mom I know, my sister, Veronica. She is the mother of Brayden 5, Bowie 3, and her baby girl Hazel who is 7 months. With Veronica staying in Los Angeles and me now living just an hour and a half south, it wouldn't have made sense for me not to visit! So my sweet girl Scarlett and I hopped in the car and went to LA to have a Mother's Day "˜girl party' filled with lunch, laughs and pedicures. The best part was after seven long months of staring at photos and videos of Hazel, I finally got to meet my niece. AND Scarlett got to meet her only girl cousin!

Unfortunately, I am not posting this story to recommend the place we ate for lunch. Instead, I want to share how our visit began and ended at the L.A. Ronald McDonald house. That is where Veronica and Hazel have been living since April and will be for the next several months. The house was an impressive place filled with wonderful little darlings, but it is impossible to describe the horrific feeling of seeing my little sister living in a Ronald McDonald house with her sick little Hazel, and worst of all, without her boys and husband, Ken, who are back in Tucson, AZ where they live.

Hazel has a liver disease that is gradually blocking her body from absorbing essential nutrients it needs to grow, to function:and to live. She is currently awaiting a new liver that is small enough for her body to adopt with transplant surgery. She is enduring many of the symptoms any person would in liver failure. Her skin color has an orangey tint, the whites of her big, beautiful, blue eyes are yellow, and she is irritable because she is itchy and uncomfortable all of the time. Although she is growing slowly in length, her body is no longer gaining weight and has lingered just less than 14 pounds for a couple of weeks now. Her limbs are skinny and she has a big round belly, but she is very alert and sweet as can be.

Hazel has a procedure scheduled for this week to insert a permanent IV tube in her chest, which will feed her nutrients. The goal is to get her to grow so her options for livers open up. She is so tiny that, even as she quickly moves up on the transplant list, the functional livers for her mini body are few and far between.

Since December, Hazel has endured several tests, pokes, and prods by doctors and specialists to diagnose her, sending my sister and her family on a rollercoaster, and leaving little miss very anxious around adults. They received many predictions and ideas of what was causing the discoloration and discomfort of their little Hazel, but not until April could the doctors, Veronica and Ken finally put a plan in place to make her better.

Now, being in the Ronald McDonald House and close to the specialists Hazel needs at UCLA, they can rest assured that she is where she needs to be. It is challenging for Veronica to be away from Brayden and Bowie, and especially for Ken to be away from his daughter while her sickness gets scarier. However, as a family they are trusting prayer, God, love, and their doctors to make Hazel strong so she can finally be healthy and live a long and normal life.

I share this story to ask for prayers, positivity and love for this strong family. They would like to distribute "˜Praying for Hazel' bracelets to anyone and everyone that is willing to wear one. They have been so moved by all of the support received thus far, and are finding solace and comfort in spreading the word about their little girl. This is my attempt to also do that for them.
I created this forum to ask for special words of inspiration. Anyone who contributes will receive a "˜Praying for Hazel' bracelet to where.

As her sister, I also hope to raise money for the family to help cover extra expenses they are now incurring. I ask that you please consider a donation of $1, $5, $20, $100:maybe more? My goal is $15,000, and anything to help me get there would be appreciated more than I can express. $15,000 would help them cover the costs of medicine, daytime help for their boys, and the Ronald McDonald House stay for up to 6 months. Of course, it is just a "˜goal' and I like to reach high, especially for my girls! Anyone who donates even just a word of inspiration will receive a "˜Praying for Hazel' bracelet and many, many thank you's from the bottom of my heart!!!

Please email your mailing address to me and I will send you as many bracelets as you request.

I'll update this GoFundMe site on Hazel and her condition as time progresses:please keep Praying for Hazel!

Fort Palmer Presbyterian Church, Pennsylvania 
Organizer
#1 fundraising platform

People have raised more money on GoFundMe than anywhere else. Learn more

GoFundMe Guarantee

In the rare case that something isn't right, we will refund your donation. Learn more

Expert advice, 24/7

Contact us with your questions and we'll answer, day or night. Learn more