Hello, and thank you in advance for taking the time to read this. I am not one that is good at asking, receiving help or sharing much online but I am creating this right now, my first Go Fund Me,
to help do whatever I can to save a very special little cat that is very dear to me. Her name is Mary on paper but I always called her Mommy cat aka Momma/ Mommas.  Long story short, this is one of the cats that started it all for me. I moved to a new place in Brooklyn many years ago and there I saw her and her three babies (Autumn, Susie (Mini) and Earl.)
They were the first ones that led me to start TNR work. After trying for a very long time, I had found a sanctuary willing to take them so they could have a better life and stay together. Mary would not go back in the trap. So I took two of her babies. (The 3rd (Earl aka Mush) escaped somehow and ended  up back with Mary and now is one of my cats inside. Mary never went back in a trap again so i remained feeding her outside with many others that came and went through out years. (I got many adopted which is why.) A couple months ago Mary started becoming very sick. She needed antibiotics right away. On top of that I witnessed her starting to crawl inside of cars to keep warm. I was able to get her this time with a different form of trap called a drop trap lended to me by the  amazing girls from Greenpoint Cats. They showed me how to use it and wallah! I got her! It is more difficult to use but it was so much easier to get her with it! It was victory! One of the best moments of my life because I had been wanting to and trying to get her off the street for years. One of Mary's friends (my beloved Daisy) got hit by a car two days after. Street life was no longer an option. I also knew Mary could not handle another winter at this stage in her life.  Once Mary was inside she became a new cat. She was SO happy to be indoors! Through out all those years she would not let me touch her but once inside she experienced her first chin rub and it just went up from there! She became so affectionate. Grunting for constant attention ( yes that is how she communicates! She only meows when saying hello to other cats) With the medicine, love and finally a warm cozy place to sleep Mary was healthy again. I didn't have a plan for her yet but all that mattered was she could not crawl inside another vehicle and she was safe.  Mary has the cutest personality. I am convinced she is part Gremlin. (She looks and sounds it!) Another amazing thing about her coming inside was she was able to reunite with  her son Earl after about 3 years of not seeing each other. She always waited outside for me everyday laying in front of my building and she was always looking up at my window.
 The window Earl would lay at. I feel they knew.  

As hard as it was though,  I knew I couldn't keep her and had to keep moving onto the next ones that needed help. The most lovely woman ended up adopting Mary but it just wasn't the right fit so I took Mary back and now I know I was meant too. So I could be with her right now now. My little fuzzy gremlin spunky little girl woke up 4 days ago no longer herself. She stopped eating out of no where. Became extremely lethargic and seemed too weak to even stand. I had spent  two nights in the Er with her this weekend and all day yesterday at the vet. Bills running sky high and no answers yet but a very scary X-ray,  which I am waiting to hear back about. Mary could have used hospitalization last night and I brought her but I had to take her home because  I was unable to afford it. Today we carry on. She needs an ultra sound. I am praying for more answers so we can start to proceed with a plan. She is not doing good right now, worsening everyday and I want to be able to do everything I can for this precious baby.  I love her more then anything! She is so happy to finally be an indoor cat! She deserves this chance. She has been through so much. 
Unfortunately this came out of no where and at a very difficult time. Due to the pandemic I have pretty much no work right now. Even so, I have always donated whatever I can to these things  even though I have so much on my plate already with very little to spare. Anyone who knows me, knows that I have always done as much as I can for any animal or situation that comes to me and the amount I feed on a daily and vet bills I have always paid for  out of pocket for rescues. I told myself, it's okay to ask for help for her. This is me doing whatever I can to help her. She is one of the only reasons why I even stayed where I currently am so I am not about to give up now! I am beyond grateful for any little bit as I know times are hard right now for us all. 
Thank you and bless you. 
I will post updates here. 
Love,
Ashley and Mary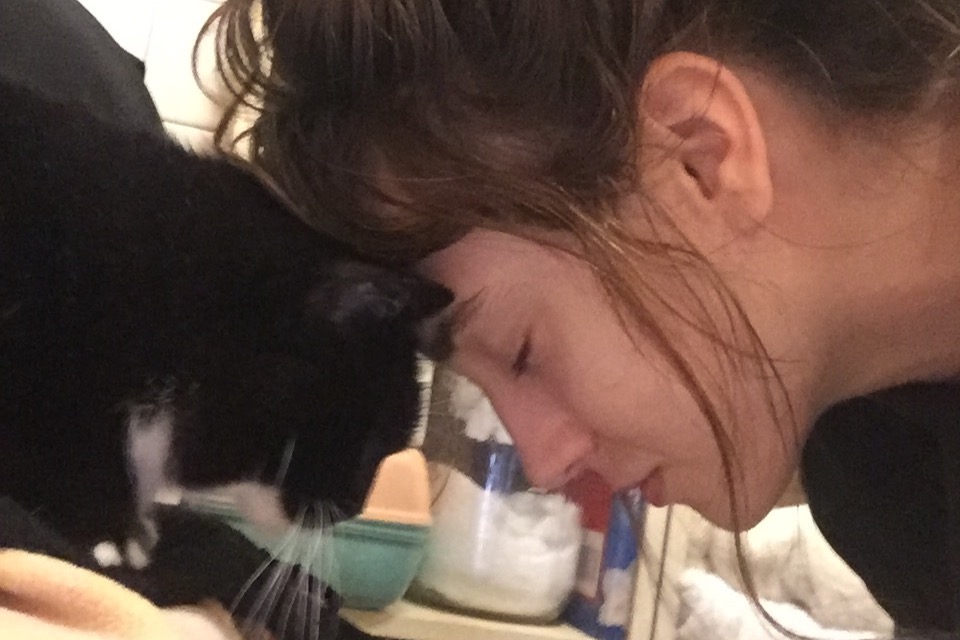 Organizer
#1 fundraising platform

More people start fundraisers on GoFundMe than on any other platform. Learn more

GoFundMe Guarantee

In the rare case something isn't right, we will work with you to determine if misuse occurred. Learn more

Expert advice, 24/7

Contact us with your questions and we'll answer, day or night. Learn more