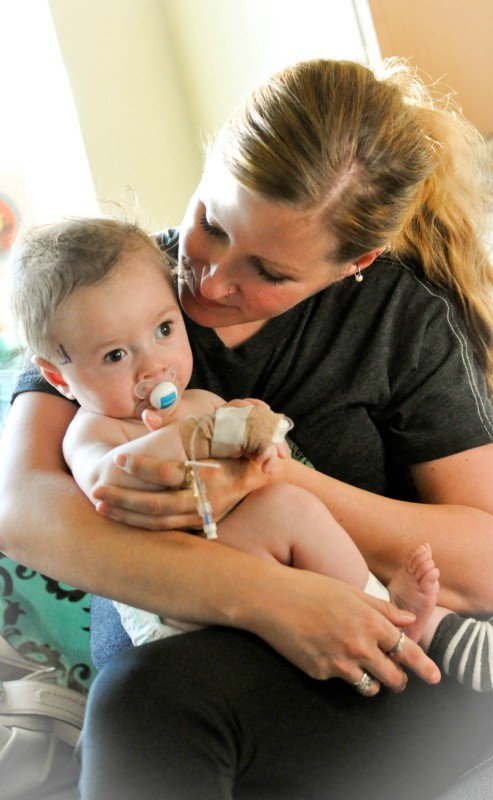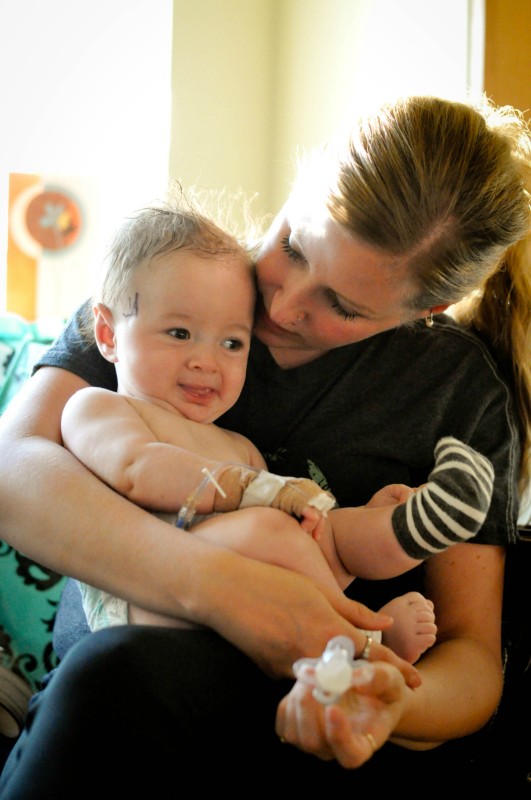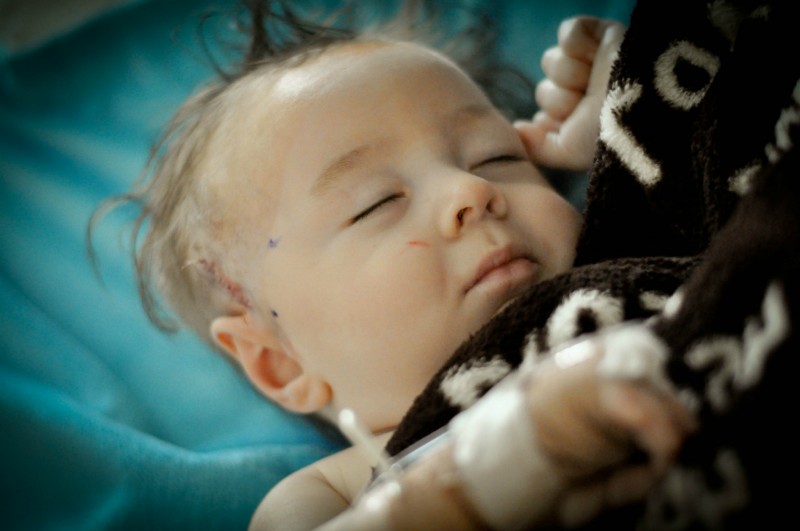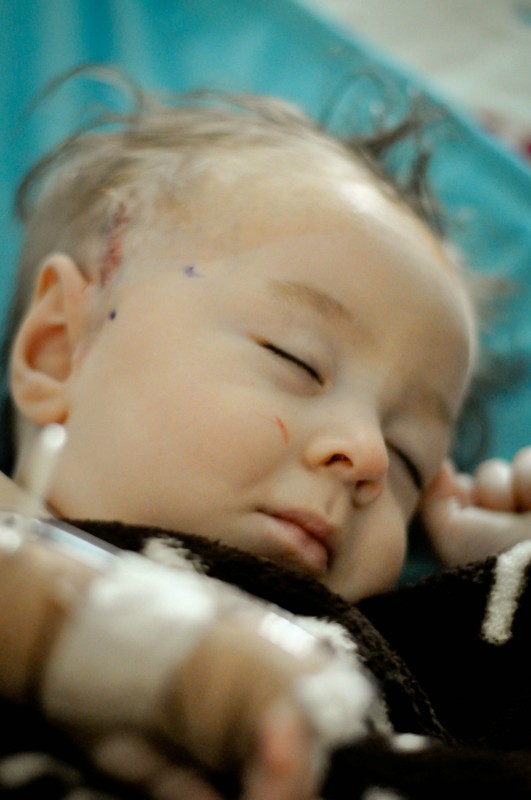 Dear Family & Friends, all who have been faithful in praying for and loving precious little Jude:
The extended family of Molly, Jude, and Jahvon has decided to put together a site in order to allow everyone who has been so supportive and loving and have been praying so much for this little blessing, to stay informed about his medical treatments and also as a way to help coordinate a fund to help out with some of the financial needs and burdens that are becoming apparent as they continue to move forward.
At his two month checkup, the doctor noticed some visual impairments and an irregular growth pattern in his eye, and after further testing concluded there was also a large cataract in his right eye. At his 4 month checkup, his doctor was concerned about some abnormal growth on the top of his head, and decided to watch it carefully, and order an MRI in the near future. About three weeks later (last week), while Molly was giving him a bath, she noticed a swollen bump area on the right side of his head. After calling the doctor, and getting into the pediatrician, they immediately decided to do an ultrasound at Doernbecher Children's Hospital. Once the ultrasound was done, an urgent MRI was ordered, because they could see abnormal enlarged ventricles that weren't draining the cerebral fluid. The MRI revealed a large cyst that was causing fluid to accumulate and modeling of the cranial skull. The MRI also revealed the corpus collosum was missing he has larger reservoirs than normal in the lateral part of his brain, and smaller ones in the frontal area, a condition called colpocephaely. These are all things that they will be carefully watching and determining the next steps on, but the cyst was something that needed to be dealt with soon, so after a visit to the neurosurgeon on Wednesday two days ago, they decided to admit him that afternoon to Doernbecher, and keep a close eye examining him, until they could do surgery today, Friday, May 3rd. The surgery was at 7:30 am this morning, and he was put in PICU at about 10:45 am. The surgery went well, and little Jude was a little trooper and we are so thankful that God's hands were on him during the surgery. The neurosurgeon feels good about the amount of openings she put in the cyst to drain it, and said that the cerebral spinal fluid is now communicating with the rest of the fluid in the brain correctly. There are certain things they will be looking out for, one that the openings don't close back up, and also that the fluid doesn't build up in the already large reservoirs, and of course, watching for infections, but right now they feel like this is a good start. They will be doing an MRI in a couple of days to see what things look like but they don't expect to start to see any changes or improvements for a couple weeks or more. He will be getting quick MRI's every two weeks for a while and then monthly. He has also been assessed by the neurosurgeon and team and child development team while here at the hospital as they try and figure out the next steps to take with his treatments and therapies. We are starting to realize that this will be the beginning of a long road for them in helping them figure out the best medical interventions for his neurological, visual, and developmental health. There will certainly be a financial need and burden that is starting to become apparent as we are realizing that that him and Molly have a long road ahead, and one of the first things is that there will be many appointments back and forth to Doernbecher and the OHSU campus for appointments, treatments, tests, and therapies, and the 2 hour round trip ride will be difficult as she does not have her own transportation currently. Currently she, Jude, and Jahvon are staying with one of her sisters, but we are hoping that a more convenient, permanent and possibly closer living solution will come up. We know that any little amount that anyone feels inclined to give will be received with so much gratitude and thankfulness by Molly, Jude, and Jahvon and will be so very much appreciated.
We are so thankful for everyone that has spent time praying for baby Jude and Molly and been so encouraging and supporting during this time. We are blessed to have a wonderful support group, and are resting in God's peace and thankful for his faithfulness.
Thank You all and God Bless,
The Family of Molly, Jahvon and Jude Salyer

Organizer
#1 fundraising platform

More people start fundraisers on GoFundMe than on any other platform. Learn more

GoFundMe Guarantee

In the rare case something isn't right, we will work with you to determine if misuse occurred. Learn more

Expert advice

Contact us with your questions and we'll answer, day or night. Learn more