Please help Travis fight cancer.
Hi! My name is Julie  and I (along with many friends and family members) am raising money to help my brother-in-law fight cancer. This is a picture of Travis a year ago with his two kids.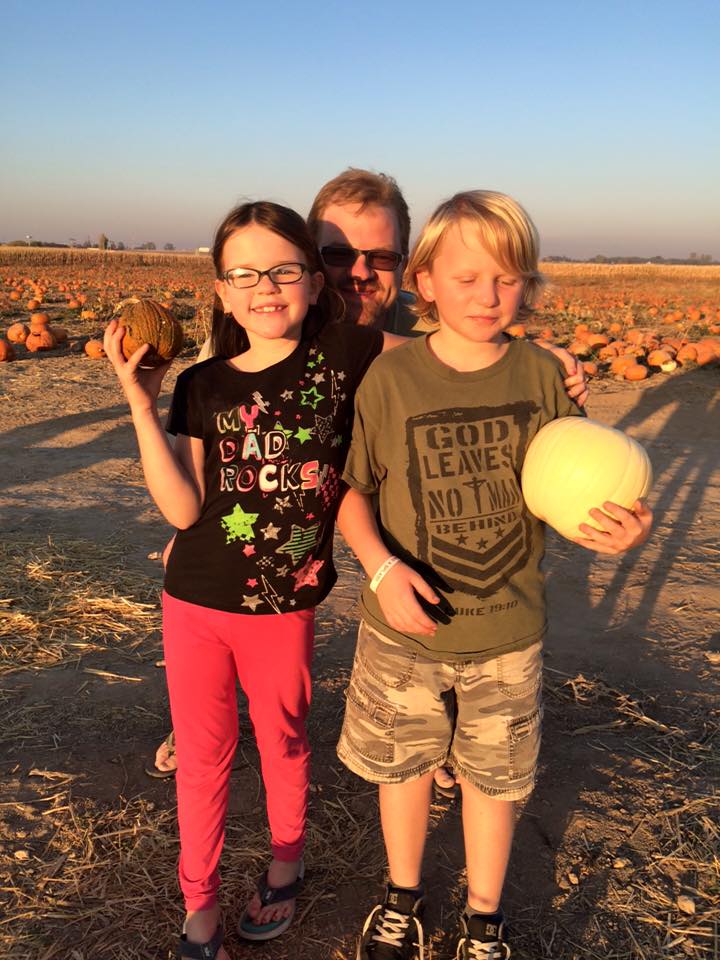 We were out picking pumpkins and enjoying the day at a corn maze with his family. This October Travis is fighting Esophageal Cancer.
Travis has been struggling with stomach/acid reflux issues for most of this year. He was finding it harder and harder to eat; sometimes even swallowing liquids was a challenge. 
Finally, after losing a significant amount of weight due to his inability to eat very much, his wife told him he needed to see a doctor and figure out what was wrong. Here is Travis' post after that doctor's appointment:
" 'It doesn't look good. It appears you have cancer'- I just heard those words I never thought I'd hear at 38 years old just now.
I've had trouble swallowing for the last couple of months and Salena Culver and I have grown concerned. So, after a swallow study yesterday revealed a mass, we got in today for a scope. After awakening from the scope, I learned that it wasn't scar tissue, that it appeared cancerous. And. Malignant. Pathology will likely confirm that in a few days. I have a CT scan coming up at 10:00 am MDT which is to see if it's localized. If it is, that's better news than if it's spread. If it has spread. Well. That's not good news.
Please pray. God is good. He is the Mighty Conquerer and the Master Physician. Pray for my family. My precious wife. She's scared. We all are. Pray I can find the words to tell my kids. Please pray that God's will be done. Whatever that is because His will is best. Always.
Thank you."
We now know that the cancer appears to be localized, we are still waiting to see what treatment recommendations are on the horizon. Radiation and surgery?? Surgery and chemo?? Radiation, surgery and chemo??  
Some of you may have heard Travis on the KTSY radio station. Or perhaps you were in his class at Gem State. Or maybe you have seen his movie reviews on "Reviews for the rest of us". Or maybe you have seen him on "Love Where You Live", or maybe you have seen him at a local elementary school where his children attend. Or maybe you don't know him at all, but those of us who do love him dearly and want to help him and his family through this challenging time.
Please join us by donating to help pay for Travis' medical expenses. Thank you so much for taking the time out of (what I am sure is a very busy) day. We all very appreciate your time, prayers and support.
Organizer and beneficiary
Julie Stoltenberg Culver
Organizer
Caldwell, ID