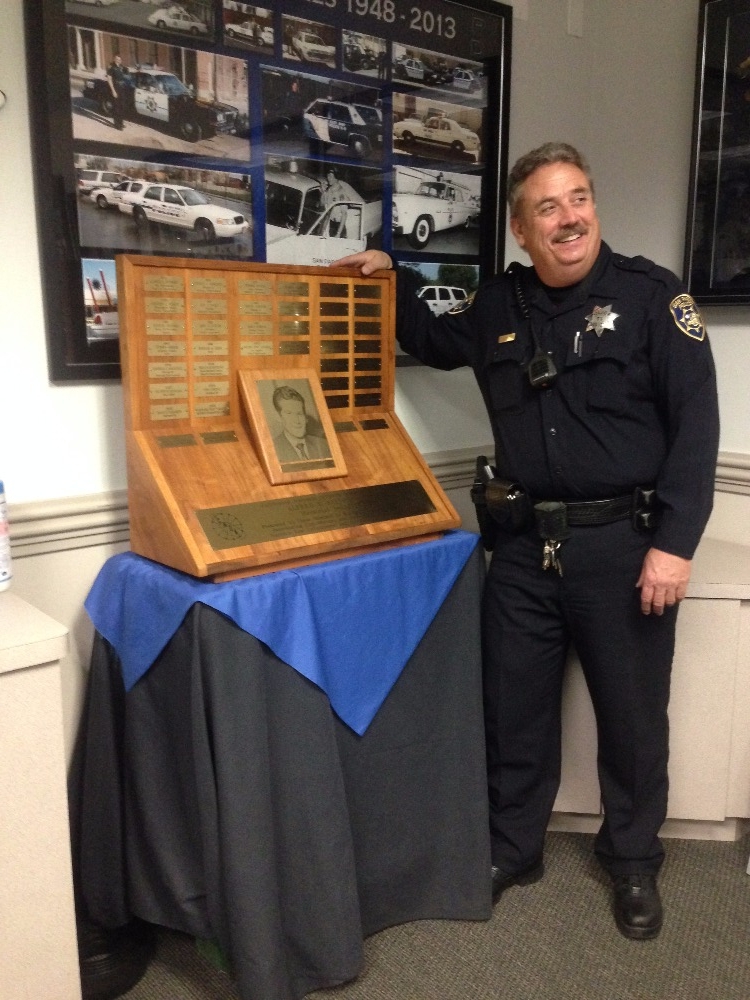 On the morning of September 29, 2016, at approximately 6:30 am, Officer William Kenneth Zink (Ken) was killed during a traffic collision while riding his motorcycle to work.  The incident occurred on westbound Interstate Highway 80 in Vallejo near Redwood Parkway.  
This account has been created by the San Pablo Police Employees Association.  All donated funds will be deposited directly into the account of Ken's daughter, Amy Zink, and immediate family to assist them with associated costs during this difficult time. 
Ken was 53 years-old and preparing to retire soon.  He is survived by seven children, a host of additional relatives, and a huge law enforcement family.
Ken Zink was a prime example of a positive and productive member of society.  If all of us accomplished even a fraction of his good deeds, the world would be a better place. 
Prior to his law enforcement career, Ken served in the U.S. Coast Guard at multiple locations and performed various assignments including narcotic interdiction.
Ken became a sworn police officer with the El Cerrito Police Department in 2001 and came to work for the San Pablo Police Department in 2007.  Ken held a wide variety of positions including Patrol, Bike Patrol, Detective, Traffic Enforcement, Task Force Special Agent with the West Contra Costa Narcotic Enforcement Team (West-NET), and most recently School Resource Officer (SRO). 
Ken had a passion and a true knack for narcotic enforcement.  Not only Contra Costa County, but the State of California and beyond were positively affected by his efforts.  The following is just a few examples of his accomplishments:  In 2010, Ken was noticed as San Pablo PD Officer of the Year as well as awarded the "Case Agent of the Quarter" award by the Department of Justice San Francisco Regional Office of the Bureau of Narcotic Enforcement.  In 2014, Ken was again noticed as San Pablo PD Officer of the Year as well as awarded the Al Stewart Award presented by the California Narcotics Officers Association for Narcotic Officer of the Year.  Ken received the Al Stewart Award as case agent for Operation Crystal Lens, a two year investigation affecting the Sinaloa Cartel, Norteño gang members and additional suspects that yielded the seizure of approximately 475 pounds of methamphetamine (worth over $17 million dollars), additional narcotics, multiple firearms and vehicles, and more than $950,000 in cash.
With the listed achievements and the dangerous clientele that Ken dealt with on the streets, one might assume that he was a hard-nosed and unapproachable cop.  Ken was the exact opposite.  If Ken noticed that you were having a rough day, he would greet you with hugs, smiles and words of encouragement; not just other officers but everyone.   
Ken was one of the most humble and unassuming people you could ever meet.  He did not do his job for the recognition and would often change the subject if you brought up his accomplishments.  He had a vested interest in the community and despised the damage our youth suffers at the hands of drugs.  Ken truly loved kids and committed a great deal of his time to volunteer work outside of the PD.  He is irreplaceable.     
Ken, we will strive to carry on the sense of humility and professionalism you taught us all.  Thank you.  You made a profound impact on our lives here at the PD as well as the lives of so many others.  We are all blessed to have spent time with you here.  Until we meet again, rest your knees old sheepdog.  We will cover your watch from here on out.  Rest in Peace.