Hello everyone, and thank you so much for taking the time to drop by and read this story.
My name is Jodi. When I was 9, I moved to a new school and knew noone. Shy and awkward, I felt so alone. One young girl, Michelle, was particularly kind and spoke to me soon after my arrival... we became the best of friends. Talking at school, talking on the phone AFTER school (as if we didn't talk enough all day), sleepovers, birthday parties, fun, fights, and the inevitable "lets be friends again". Two peas in a pod... rarely one without the other.
We sang together, around the livingroom, and at school functions. Joined cheerleading together. Cried (and ranted) over boys together. She kept me out of trouble, and I amused her immensely. haha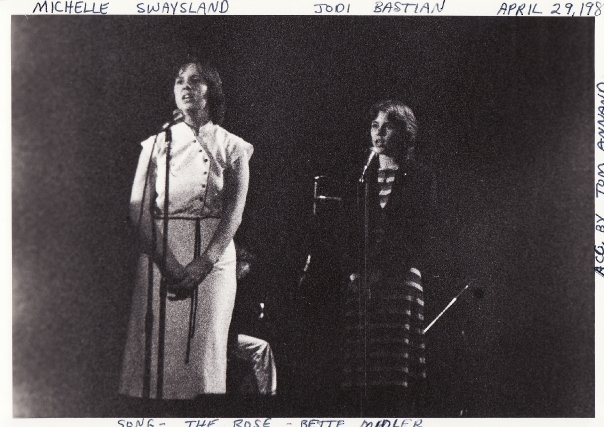 That was 40 years ago, the day we met... and now... a lung cancer diagnosis to bring us close together yet again. For the last number of weeks, she has been through two rounds of chemotherapy and 15 radiation treatments, with two more rounds of chemo to go. Should all go well, another 10 shots of radiation to the brain, in case some cancer cells migrate up there to hide from the onslaught of chemicals meant to destroy them.
She has lost her hair, her skin is irritated and burning in spots, and she has lost so much vitality... too tired most of the time to walk more than a little bit around the house. Common tasks take too much out of her; her partner does almost everything now. When I've taken her to treatments, it is her oldest, best friend pushing her in a wheelchair, as she gets too winded to walk all the way down the hallway to the treatment rooms.
She is brave, and her outlook astounds me. I am so proud of her for the way she is handling this challenge. Positive, future-thinking, lets-blast-this-beast-and-get-back-to-real-life. We laugh about all kinds of absurd things that only two best friends can get away with, considering the circumstances. As much as I wanted to crumble and cry for days with the diagnosis, her strength inspires me to stay positive and strong too.
In the midst of this battle, the company that she and her partner work(ed) for has closed it's doors, suddenly. They are both out of work, totally out of the blue, with the same ol' bills piling at the door. There is no way she can work until this battle is over and she regains some strength. Her partner is needed daily to get her back and forth to more chemo treatments, and to take care of her, the house and pets, as she is not able to in this part of the journey. They are proud, and want to do this on their own, but it just isn't possible to keep up with limited money coming in and bills adding up. There are also many unexpected expenses they hadn't counted on as being part of battling cancer... from special creams to deal with the burning and itching skin, to medicines to help her swallow food, to all the gas and parking fees for 5-hour long chemo treatments. All these small things add up to alot when you have very little coming in. Not to mention mortgage payments, heat, power...
They need some help immediately to tide them over until he can get back to work, and until she finishes her treatments and regains her strength and vitality to get back to work as well, which she is anxious to do! The financial stress is not something that is helpful right now... she needs every ounce of positivity and ease to make this battle easier to win.
Anything you can spare would be appreciated so much. Positive thoughts and wishes are also very welcome and appreciated. :)
Michelle has been my best friend for four decades... she knows me better than anyone on the planet (whether that is good or bad is questionable! haha) and I want her around for at least four more. We have so many more memories to make, giggle fits and hour-long chats to have. Please help her get through this little rough patch; we aren't asking for alot... just enough to take some pressure off so she can focus on the task of winning and healing.
Thank you from the core of my immensely grateful heart... and thank you from Michelle, a woman who has always been independent, never asking for help. She can do this, with just a little hand to get over this unfortunate and awfully-timed double job loss. Every dollar is a help, and our gratitude is endless. :)

Organizer