Princeton Library Expansion Project
We are the little library that could. Perhaps you remember the children's story about the little train engine that had to make it up a big mountain. That is us. And our big mountain is a much needed expansion to our current building. With your donation...we think we can, we think we can, we think we can. 
We are a small rural public library in Wisconsin if we want to continue being a crucial support for education, technology, cultural services, and community enrichment we need a bigger building. Our current building is 2,800 square feet no longer serves the growing needs of our community. Our $900,000 project would allow us to grow to 7,500 square feet. But this fundraising goal is a stretch for our working class and retired community, and so we are reaching out to our expanded community for donations.
We think we can. We think we can.
The expansion project will add additional space for computers, which are a necessity in an area where not everyone can get internet in their home; community space for studying and working; shelving space for our growing collection of books, music, and movies; and a multi-purpose room. The library provides the crucial space for community gathering and community growth.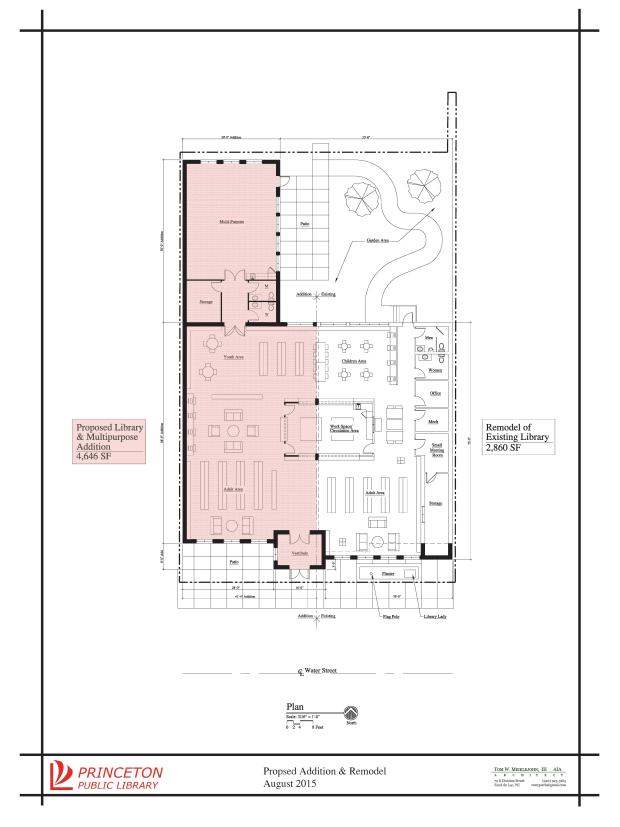 The image above includes a blueprint of our hopeful expansion. The pink shows the proposed addition, with the white representing our current building. 
We think we can. We think we can.
I promise you that libraries are still important, even in the age of the internet. We guide our patrons through changing technology; we help them understand personal, professional, and academic problems as they arise; we provide the means to communicate with friends, family, and the greater community; and we allow access to materials that make people laugh, learn, play, and engage.  
If you want to know more about the work and programs provided by the Princeton Public Library, check out our website
here
or our
Facebook page
. Every donation, small or large, makes a big difference in the life of each person in Princeton, WI.
And that is the beauty of public libraries: we are here for every person, young and old, rich and poor, married and single, working and not, and through your help we can continue to serve everyone. 
 Help us become the little library that did!
Organizer
Clairellyn Sommersmith
Organizer
Princeton, WI