Save the "Thud!"  
​What?  Yes, and more specifically, save the "Thunderchief," the F-105 aircraft of the Hickory Aviation Museum (HAM).  HAM has been on a journey since 1992 with the acquisition of its first aircraft, which lead to the acquiring of facilities at the Hickory Airport in 2007. HAM is a featured venue of the airport and hosts countless military and foreign aviation aircraft, uniform and weapon systems artifacts dating back to WWII.  Among our many aircraft artifacts is the Thunderchief or "Thud," tail number 54-0107.
 HAM's "Thud" is quite a unique aircraft with few hours (~250) on her.  She is No. 9 - a  pre-production prototype.  Ours is the 3rd oldest Thud in the world!  She was dressed in her arctic paint scheme and sent to Ladd Field in Alaska for climatic testing.  She went on to set two distance and time world records, enroute to additional testing at the McKinley hangar aboard Eglin AFB in Florida.
Our HAM Staff and our many visitors are very proud of her and want her restored back to her youth, and in museum show-piece condition.
​
Historically, aircraft have been modestly restored by local donations by way of monetary and volunteer restoration services.  As our inventory continues to grow so does the need for further restoration resources.  Our "Thud" is first in a long line for restoration completion, hence the release of our appeal for external support.
​
Specifically, the "Thud" requires airframe repair, painting and military and safety warning markings reapplications.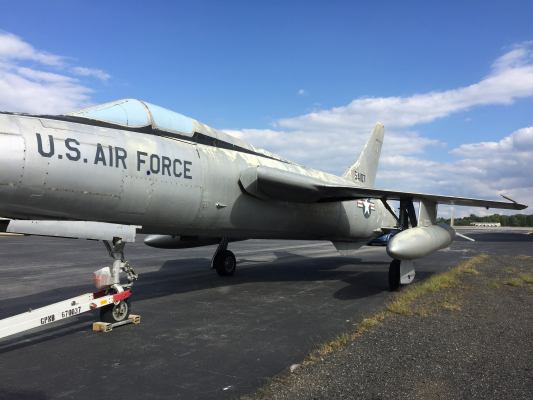 Today, all our aircraft are on display outdoors on our HAM flight line and require perpetual sustainment actions. Our ability to maintain museum-ready, acceptably viewable aircraft is our highest calling and a key metric in achieving our strategic objectives – construction of our own HAM aircraft facility. 
This starts today with our first needy aircraft – the "Thud."    Please consider donating today!
 Hickory Aviation Museum is a 501 (c)(3) organization;  your donation may be considered tax deductible.
Organizer
Hickory Aviation Museum
Organizer
Hickory, NC
SABRE SOCIETY OF NORTH CAROLINA
Registered nonprofit
Donations are typically 100% tax deductible in the US.