Jarrod Clowery Recovery Fund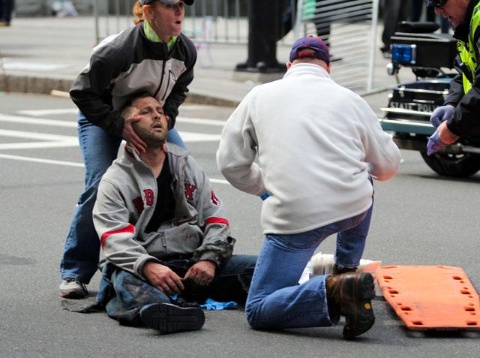 My Son Jarrod...
My son Jarrod Clowery, was severely injured in the bombings at the Boston Marathon on Monday. Having been right next to the second explosion, and with several friends, he was taken to the ER at Brigham & Women's hospital. Since the explosion happened, 37 pieces of shrapnel have been removed, including nails, ball bearings and bee-bees yet there are so many more left inside that cannot be taken out. Jarrod has suffered third degree burns to his back and flash burns on his face, arms and legs too. The concussion from the blast has taken away most of his hearing, the doctor's say he only has about 15% of it right now, and there's no telling how much he may recover. He really has to be looking right at you to see your lips move to understand what you're saying; you can't just call for him from behind and expect a response.
From the moment Jarrod got out of surgery, he's selflessly been concerned only about his friends and not worried about his own health and condition. His friends J.P., Paul (brothers) and Mark all lost one of their legs in the blast and they're roofers who'll never be able to work in what they know ever again. Jarrod's compassion and love for other people is so easy to see, he still lights up the room and makes everyone laugh. It's awful to see your child in pain, you just want to take it away and put it on yourself so they don't suffer anymore but it's the opposite, he takes my pain and the pain of others away with laughter and joy.
Jarrod loved working in carpentry and construction and was looking forward to getting back into the busy season, but now due to his injuries he won't be able to work again for a really long time. It's going to be a long road ahead; he's going to need so much help with things both physically and emotionally, so I am hoping to raise money to help relieve my son of the financial burdens that will most assuredly follow. We have received and outpouring of prayers and kind words, from so many people, and are so thankful for all of them. Jarrod has said he is so thankful!
An interview with Jarrod:
http://on.aol.com/video/boston-bomb-victims-face-difficult-recovery-517748778
If you would like to send donations by check directly to the bank, an account has been opened at the National Grand Bank of Marblehead, MA:
Jarrod Clowery Fund
C/O National Grand Bank
PO Box 4
Marblehead, MA 01945
Words cannot express how thankful we are for your kindness and support. THANK YOU SOOOO MUCH!!!