2nd Chance for Strays Animal Rescue
**We really need your help!**

Hi. My name is Rita Sanders and I am the founder of 2nd Chance for Strays. My home is a Private Non-Profit NO-KILL CAGE-FREE ANIMAL RESCUE HOME mostly for SPECIAL NEEDS KITTIES. I am NOT funded in any way. I don't receive the grants and veterinary discounts that most larger rescues do. I operate using my own money out-of-pocket and rely on your kind and loving support to help enable me to do the work that I do.

There are currently 35 cats and kittens in residence here; many of which have special needs due to various medical conditions including hypertrophic cardiomyopathy, mitral valvular displaysia, asthma, eosinophilic granuloma complex, stomatitis, renal failure, cysts, allergies, feline herpesvirus, and irritable bowel disease.

All of the furbabies here are strays that have been rescued. I provide food, litter, toys, medical care, love, and a furever home to the special needs kitties that are not able to be adopted because of their conditions. I believe that they still deserve a life even if they can't be adopted. 

I also care for many homeless community cats by providing food, shelters, TNR, medical care, and active protection by working closely with local humane officers whenever a threat arises. I have been able to successfully stop local poisonings and illegal trapping and dumping of neighborhood cats. Additionally, I work to reunite lost pets with their families and to help find homes for those needing to be adopted.

I spend my days cleaning litter boxes, feeding according to individual needs, administering medications, transporting cats to and from veterinary appointments, and providing love and affection to all of the kitties. I also tend to our homeless community cats, and none that come to my door go hungry or lack for shelter.

I TNR whenever possible. And I run a Facebook page, which strives to educate and raise public awareness of the plight of  homeless community cats. I also work on reconnecting lost pets with their families, and networking adoptions and rescues.

When I'm not tending to the kitties, I'm working hard to make extra money to support them. 

It's not an easy life. It requires lots of time, money, emotional commitment, and sometimes both financial and heart wrenching devastation. But I do it out of love and it is the most satisfying work I've ever done.

All donations go only to the needs of the kitties. I take nothing for myself but the love and gratitude of the furbabies I help.  And I really need your help in order to keep helping them. 

Below are photos and the stories of some of the 2nd Chance furbabies that you can help.. If by chance, your heart is touched by one in particular that you would like to sponsor, just name which one in your comment when you donate and I will be happy to oblige, including providing receipts, updates, photos and videos by email, to keep you posted on the status and activities of your special cat. 

Your loving kindness is greatly needed and immensely appreciated. And even if you can't donate, you can still help by sharing.. Because your share could easily reach someone who can.

No donation is too small, and every gift is precious.

Thank you for taking the time to read my story. 

These are some of the kittens of 2019. Their mother is Beauty, one of the homeless ferals that has been coming here for food and shelter since she was just a small kitten. I have spent the past 2 1/2 years attempting to TNR her, but she's extremely smart and will not go near a trap. Her only babies to survive are the ones I rescued last fall, and now this spring. 

*Update Sept. 2019* I have managed to trap Beauty, along with her next (and final) litter of 6 kittens. She will be spayed, and I hope to acclimate her to the life of a house cat. Her final 6 kittens are all now 7 weeks old, and in need of vaccinations and spay/neutering to be adopted. I could really use your help!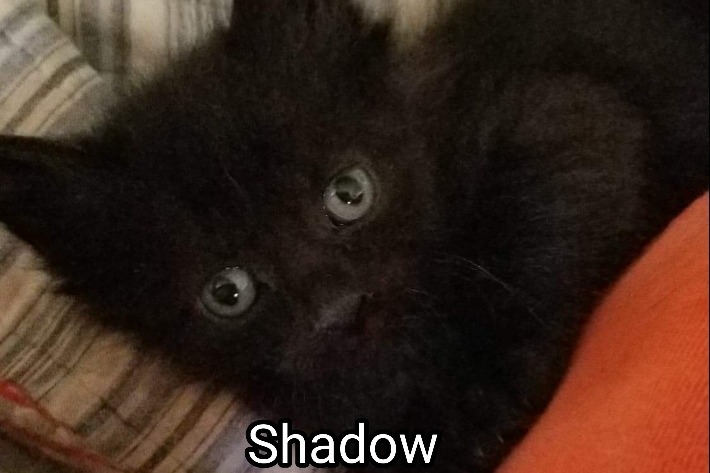 These are kittens I rescued last fall. Tuxie and Bright Eyes were adopted. Pepper and Raven are now bonded and hoping for a home together. 


Oreo and Twilight are 2 of my senior residents.. At ages 12 and 14 respectively, and now experiencing renal failure, I do my best to keep them happy and comfortable in their final time here with me. Twilight was rescued back in 2004 in Clearwater, Florida. He is the founding cat of 2nd Chance for Strays. He adopted Oreo as a kitten, rescuing him from the deadly streets of Newark, New Jersey back in 2006. Oreo had been born in our apartment building and he was cast out when the family moved. He would come to our second story window and cry to come inside. At first, I only let him in to eat and play with Twilight. But it wasn't long before the day came that Twilight let me know that he wanted Oreo to be a part of our family, and Oreo was no longer allowed back outside.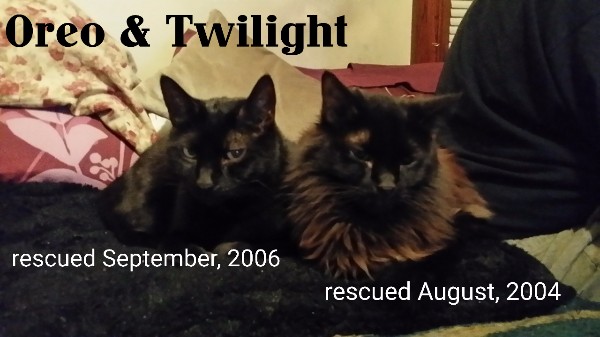 **Update: Twilight passed naturally and peacefully in my arms on October 25, 2019. Oreo had no desire to stay without Twilight, and after a rapid physical decline, was helped to join Twilight at the Rainbow Bridge on Januray 25, 2020. I am greatly saddened by the loss of my most special boys. 


Chance and Nellie are siblings. Both suffer from defective hearts. Chance has hypertrophic cardiomyopathy. Nellie has mitral valvular displaysia. Their condition is terminal, with complications of eosinophilic granuloma complex for Chance, and asthma for Nellie. Their brother, my sweet Angel, died from his heart defect just 12 days before their first birthday. Knowing that any day could be the last for either of them, I try to make each and every day extra special for them. 



Oscar has had a particularly difficult life. Literally kicked out the door in the dead of winter as a kitten, after suffering terrible abuse at the hands of his family, Oscar was one of my homeless community cats. When he became ill, I took him to the vet, only to discover that he had stomatitis and needed all of his teeth removed. Returning him to the harsh outdoors was not an option. He was extremely fear aggressive when I first took him in; desperately craving affection but scared to death of being hurt. He would lash out and draw blood when being caressed. Now, he still lashes occasionally, but without using his claws, and only to say "Don't stop petting me!" 



Tiger aka Ti Ti, was abandoned twice. Once, before he was even weaned. When a family up the street moved, they left him behind to die. I was unable to locate his mother and siblings. Then some neighbors asked to adopt him, but within a few days, he was found abandoned once again by the same kind neighbor who brought him to me the first time. Tiger suffers from severe IBD, but he handles it like the trooper he is. 



Pretty Girl was dumped on my doorstep as a kitten, starving and shivering in a freezing January rain. She has a severe skin allergy and a lump that has developed on her back. The vet thinks it is benign based on a mini biopsy. But without the full detailed biopsy that I haven't been able to afford, we do not know for sure. 



Little Girl spent the first 8 years of her life with litter after litter of kittens, the elements ravaging her body, and the constant heartbreak of seeing most of her kittens die. Pregnant at the time she was rescued, her last babies were probably the only ones she got to raise without the burden of starvation and the emotional devastation of watching her babies die. Now entering old age at approximately 10 years old, she also suffers from IBD. 



Mama Kitty was part of a colony cared for by an elderly woman who passed away. She too was pregnant when rescued and still a kitten herself at that time. She has an active cyst that has developed on her side which fills up with a bloody puss and then drains in a neverending cycle. I have not been able to afford the surgery to have it removed, and now a second one has shown up on her left hip. 



Lover was born with a large cyst in his armpit that fills up, drains, and then appears to heal; only to surface over and over again. It is a challenge to keep antibiotic ointment and a shirt on him when the wound is open to bacteria. We've been lucky so far, in these first 3 years, that it has not gotten infected. I cannot afford a diagnosis but believe it to be a chronic symptom of eosinophilic granuloma complex . 



Midnight nearly lost his right eye to a very virulent strain of feline herpesvirus. But this little guy beat the odds and recovered beautifully. However he will always be a lifetime carrier of the disease, and still has occasional bouts with it. 



Goldie and Beauty are my two most favorite community cats. Goldie has been ruling his domain for years. He is very friendly and is very protective of Beauty every since she was a kitten. Beauty was born feral in a garage across the street. I never saw her mother. She and her sibling, Tux, were the only survivors of that litter. But sadly, Tux lost his life at the hands of my monstrous neighbors, who poisoned some of the homeless community cats as well as some private pets.  I was able to stop them with the help of the local humane officer before Beauty met with the same tragic end.




Coal is a sweet and healthy boy. But like Ti Ti, he too was twice abandoned as a kitten. He was found by a man and his family, who took him in and gave him a home for a  time.. Then one day, while staying at the man's father's house as the family was moving, he slipped out the door. A few days later, he showed up at one of my feeding stations. He was so scared and hungry; and he cried to me for help from the bushes. As luck would have it, at that time, I came across a lost kitten post from the man. It said that Coal would answer to his name. And sure enough, he did! But when I contacted the man, he refused to come and get Coal, stating that he just wanted to know if Coal was alright. I tried to tell the man that he was NOT alright. That he needed his family to come and get him. But the man was resolute. He refused to come and bring him home. He thought Coal was fine because he was at my outside shelter. I guess he thought I was kidding when I tried to explain to him that the local cats would not hesitate to kill a strange kitten in their territory.  And so, Coal got lost.. and found his furever home here with me... 



Squeaker and Dora are the logo kitties of 2nd Chance for Strays. Both healthy, happy, and full of life. Born here in my gym room that was converted to a nursery for their pregnant mother when I rescued her just 2 days before she delivered. They missed their kitten window for adoption when I became very sick and unable to do the things I needed to do to find them a home. They are all grown up now, and are the dominant cats in the home. They are as sweet as sugar, and as tough as nails.. Nobody messes with these girls! 


 ‌
 2nd Chance for Strays - Facebook ‌

 2nd Chance for Strays - Twitter ‌
Become the first supporter
Your donation matters
Organizer
Rita Sanders
Organizer
Kingston, PA