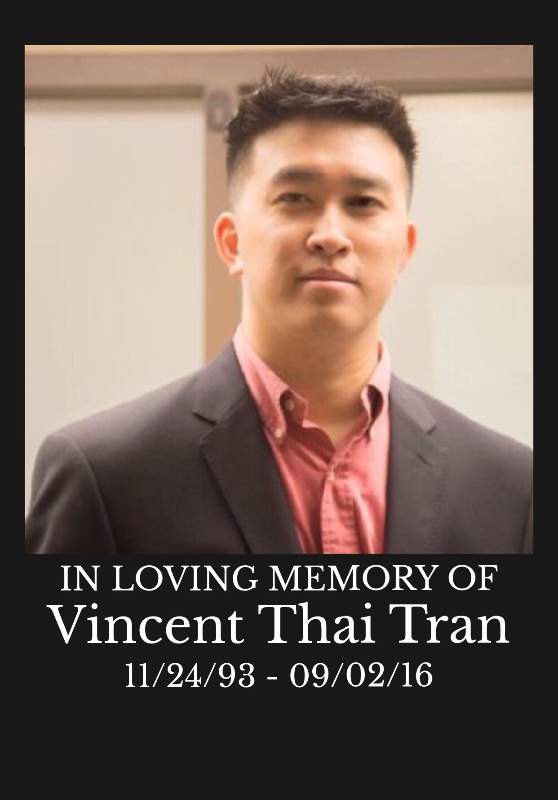 Hi Everyone, I am writing with a heavy heart & can't even believe this is really happening. Our beloved family member Vincent Tran, who was a middle brother, the middle child and my baby cousin passed away from a sudden death in his home last night. He was 22 years old and still have 1 year of college left before he begin his career in Public Relations. Our family is very devastated with his loss. He was so young and as far as we knew he didn't have an major medical issues. Baltimore hospital is working on an immediate autopsy to find out his reason of death. I am asking on behalf of his family because I know it is hard for them right now as it is for me to do this. We need your help, support and love to send Vincent to a better place where I know God will take better care of him now.I ask for prayers and support from everyone who knew Vincent. He hasn't even lived long enough to enjoy his 20's and I am extremely devastated to see him go. We were pretty close in the family and now I can only count on our memories.
**UPDATE**
Dear All,
We had a set back with our preparations for the funeral. Our viewing, memorial and burial services date will change.
Viewing will be held on Thursday September 8, 2016 from 2 to 4pm
and 7 to 9pm at Francis J. Collins Funeral Home.
The following Memorial Service and Burial Ceremony is on Friday September 9,2016.
Memorial Service: 9:00 AM to 10:30 AM at Francis J. Collins Funeral Home.
Burial Ceremony: 11:00am at Gate of Heaven Cemetery- 13801 Georgia Ave, Silver Spring, MD 20906.
Please message with any questions.
Thank you so much for your prayers.