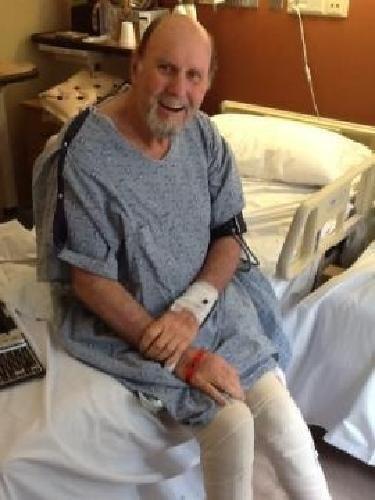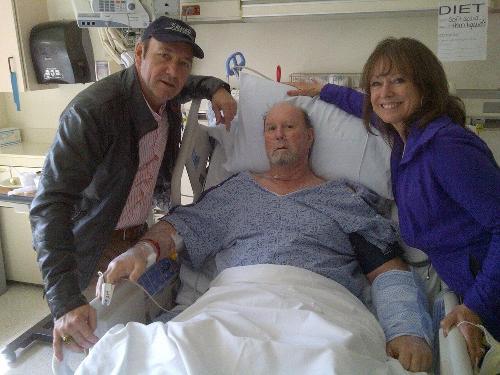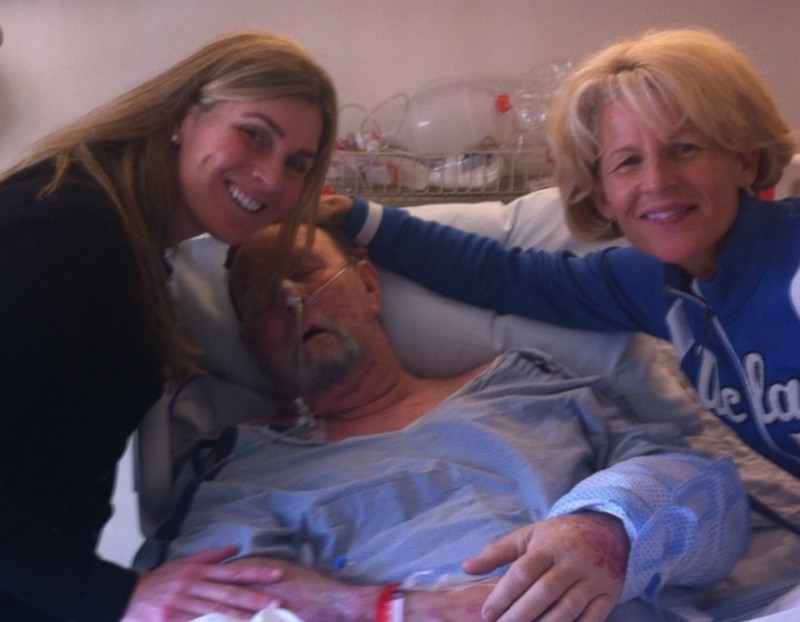 Another interview:
http://boston.cbslocal.com/2013/06/07/boston-marathon-bombing-survivor-john-odom-makes-incredible-recovery/
Here is a link to the interview John did last night June 6th!
http://abclocal.go.com/kabc/story?section=news/national_world&id=9130327
FOR MEDIA INQUIRIES:Please contact Lizz Summers, [email redacted]
John's son-in-law and New England Revolution goal keeper, Matt Reis, will be speaking on 'The Lead with Jake Tapper' in Boston this Wednesday 5/15/13 at 4pm EST. Please tune in to CNN and show your support on the 1 month anniversary of the bombings.
Day 23. As you can see from the photo above, John is getting stronger everyday! Today, he pulled himself up into a sitting position. Little victories!!
Update written late Monday night by Karen, John's wife. News keeps getting better. Please keep the positive energy and prayer high for John. Co

Monday, May 6
Written 7 hours ago
Day 21. Another milestone. John was able to go outside for the first time in three weeks. The sun was magic! Surgery #10 tomorrow to wash out the main wound and remove staples on lower legs. Another good day. Pray for great results tomorrow. Xoxo Karen.

Update!! John is so strong!!! xo
Saturday, May 4
Written 8 hours ago
Day 19. John had another big day. He moved from the bed to a wheelchair and they took him to the window at the end of the hall to sit in the sun and look at the skyline of downtown Boston. He also had his best meal yet! Nicole and Matt's wonderful neighbors are bringing them meals and John got to enjoy homemade stuffed shells! Delicious!!
http://www.washingtonpost.com/local/victims-in-recovery-john-odom/2013/04/22/f957dae0-ab9f-11e2-a8b9-2a63d75b5459_story.html
Another day & more great news!!! xo

Friday, May 3
Written 25 minutes ago
Day 18. More little victories. Today they were able to remove the oxygen tubes and he is breathing entirely on his own. PT came by and John stood with help for 10 seconds. John feels like this was his best day so far. :)
http://boston.cbslocal.com/2013/04/27/reis-father-in-law-starting-to-communicate-after-bombing-injury/
John Odom was critically injured in the recent Boston Marathon bombings. John has undergone numerous surgeries to remove shrapnel and repair nerve and artery damage caused by the blasts. John has a long road ahead of him with many more surgeries and rehabilitation.

John lives in Southern California and was here to watch his daughter, Nicole Reis, cross the finish line. John is a dedicated husband, father and grandfather.

You can help by donating funds to help with the mounting medical bills and the expenses that the family is facing including hotel stays, child care, transportation, etc. so that the family can be close to John.

Thank you for your ongoing support, prayers and concern.

Family Prays For Torrance Man Critically Injured In Boston Bombings To Pull Through - CBS Los Angelelosangeles.cbslocal.comThe family of a Torrance businessman who was one of 17 people critically injured in Monday's Boston Marathon bombings is praying he's able to pull
through.
I just wanted to give you all a little information on me and why I have created this page. As a friend of John's daughter Nicole,I have seen first hand the devastation this terrorist act has caused. I was with John and his family at mile 14 cheering on Nicole as she raced to the finish line. After a brief stop from Nicole and hugs all around John continued on to the finish line and was only about 20 feet from the bomb site. ***All funds raised will go directly towards medical and recovery expenses