Nick and Gabriella Macchiarolo
Baby Cash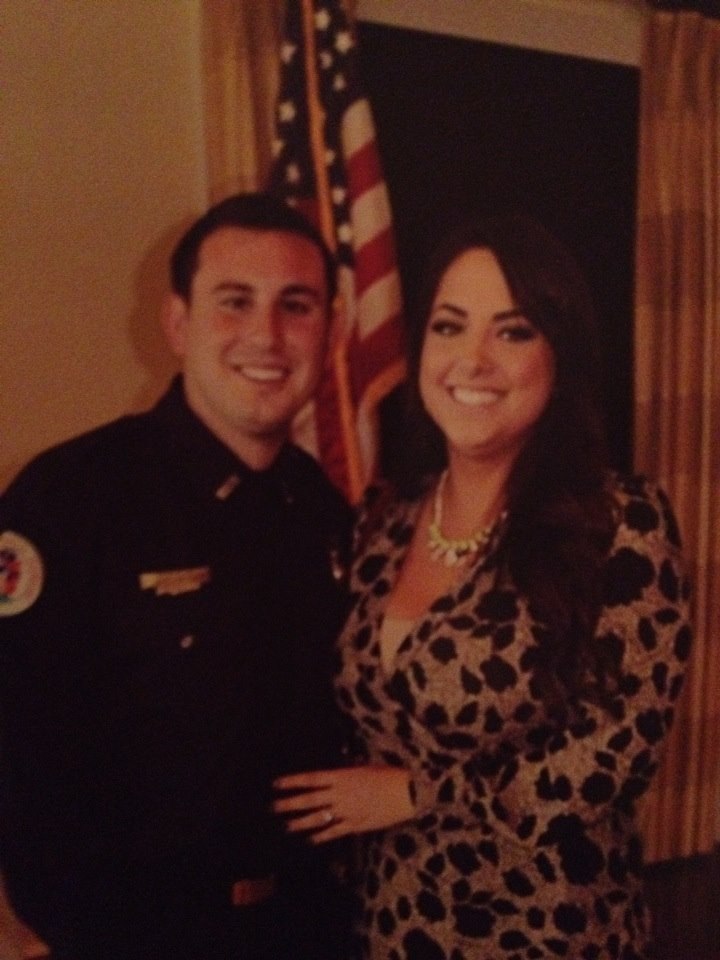 Our world was turned upside down on Tuesday August 23rd when Gabriella went in for a simple check up for my 35 week appt. I told my doctor I have been googling around and judging from my feet & legs being SO swollen, like to the point of not being able to walk... And my headaches, dizziness, other little things I think I have something called "preeclampsia" well he checked me in such a rush (like usual) and said why don't you head down to the birthing center so they can check you out... So la te da... Here I went, thinking ugh, this is just another bill I will get in the mail.
I get to the birthing center and my blood pressure was THROUGH the roof & they took one look at my feet and legs and said I'll be right back with the nurse... I was like hmm they seem way too over concerned with just swollen feet and some high blood pressure. After sitting in Triage for 2 hours wondering when the heck I'm going to be able to get home to finish watching "Pretty Little Liars" and eat some food finally... They come back and say "ok well Gabriella lets get you robed and ready, we are transporting you right away upstairs you need to have this baby" my heart dropped I said "uhhhh can I call my husband...?"
It was like someone was playing a joke on me. I called nick, who was on his 48 hour shift at the fire station at the time... He of course flipped out and drove right on up. 45 mins later, we found ourselves in the delivery room with no questions answered yet, sitting clueless, all we knew is that we had to deliver this baby 5 weeks early and had no idea WHY.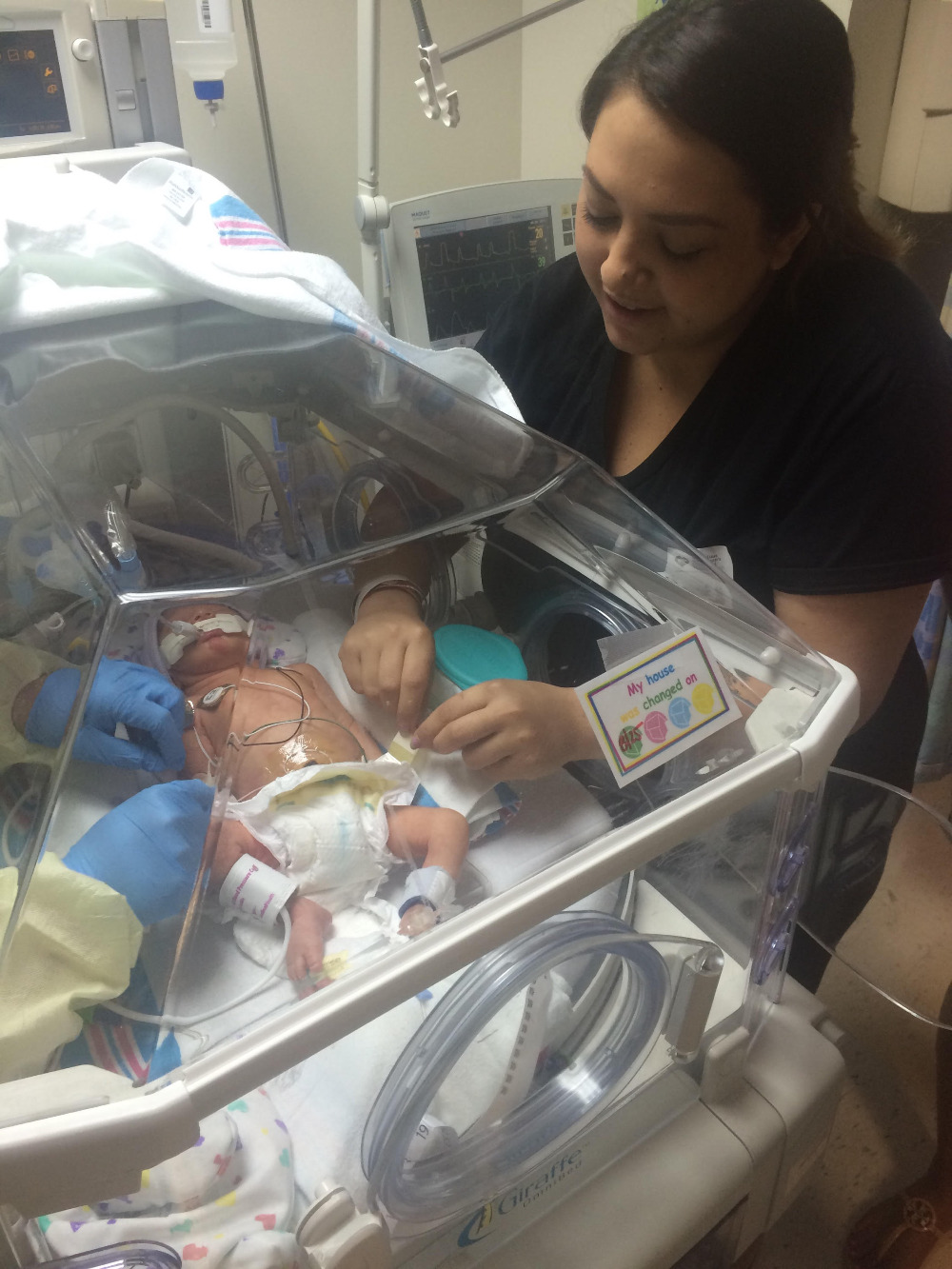 After begging for some answers and googling the CRAP out of preeclampsia.. We were informed that I had "severe preeclampsia" and that meant that it was a condition if not treated can lead to extreme complications and sometimes fatal to not only the newborn but the mother as well! The only way to cure preeclampsia is to actually give birth. So here it goes!
We had an extremely hard time, in our case, at NCH birthing center. To the point where it makes us angry and we are still questioning some of the things that they did... Anyway, I won't get into the yucky "TMI" details of the full delivery so I'll just kind of shorten it so you get the idea Doctors orders, I was induced by 3 different methods that didn't work and was taking the pains pretty well... I was 0% dilated the entire time and 4 hours later I was having strong-ish contractions but every time they checked me, I was getting nowhere... I was being fed all these different cords and IVs and medicines, being prodded 2 times every 2 hours in the SAME spot to draw blood for a DIFFERENT test...(if you saw pictures of my arm, you wouldn't believe it. It looks like it was chewed on by a puppy) Well 12 hours later and me being in EXTREME agony with the full blown labor contractions I was having, also being told I am not able to have the epidural because it may wear off and who knows WHAT time I was going to be actually delivering... I was going into shock and having shaking seizures and nick would be talking to me trying to keep me awake and I would doze off and black out and then wake up. It was VERY scary. It got to the point where I was having those "extreme" contractions and seizures every other minute... My husband finally rounded up enough of the nurses and said listen, I know my wife, her pain tolerance is unbelievable and THIS is not her. I even told nick "if I don't give birth in the next hour I don't think I can go through with this... I don't know what to do, I can't take it anymore to the point where I think I'm going to die" the nurse came in saying that my doctor is nowhere to be found and she is going to get me prepped without his approval for a c section in hopes that he will OBVIOUSLY think that's the only option, so that's what I did... About an hour later I was vibrating down the hall nervous as hell to get my spinal tap & c sections but... It. Was. The. Best. Feeling. In. The. World. who would have known that getting your stomach literally torn open and ripped apart and sewn back up would be a breeze.
I was talking with Nick, making sighs of relief, making jokes with the doctor.   I heard Cash cry and the lady put him by my face for 10 seconds and that was all I needed. I fell in love with a human that was less than a minute old.
Wheeled into the recovery room, on cloud nine, the doctor on staff then came to us with "a concern" the concern was a problem with his lungs (that i posted about previously) and then she was describing a large chunk of his skull missing and was telling us that his brain tissue was out and all this TERRIFYING stuff that made me just go numb.
She then told us that he's being flown out to Miami children's hospital right away. Nick somehow got to go on the helicopter ride with him, I think maybe because they knew he was an emt, I could only imagine how scared my husband was. Leaving his wife in a room alone just after 24 hours of dealing with the mess and flying with his newborn son seeing work being done having no idea what to expect. He was been SO so strong I can't even begin to describe how much of a rock he has been. I didn't exactly "heal" for the full 3 days for a c section either. Especially since I kinda did both a c section and 12 hours of extreme false contractions. But I NEEDED to see my son and husband. My amazing sister drove me to Miami and I was then long story short, filled in... Cash didn't have a lung issue... And the worries about his head ISNT fatal like NCH told us, he simply has a type of "road rash" type scrape thing that with a little care and time will heal and be just like new! But Cash Carter Macchiarolo really is JUST like mommy he has Tetralogy of Fallot, which is the same exact heart surgery that I had to go through when I was 8 months old...
Only his is the most severe kind of it Tetralogy of Fallot & he's 5 weeks premature. I only had to get 1 surgery and the holes in my heart were fixed.
Cash has to do 3 surgeries... his first surgery is to correct his pulmonary artery which is too small so they have to make it bigger surgically but cutting and patching it. The second surgery is to move extra arteries that were grown to help his lungs because his pulmonary artery was too small from his aorta (my smart little boy) and attach those to the oxygen side of his heart. The third and final surgery will be to close the hole in his heart (which is like mine) he will also need multiple cath labs to take pictures through the heart and also dilate a couple more vessels, they do that my going through your leg and up to your heart with a needle size device. So 3 open heart surgeries & 4-6 non invasive heart surgeries... Over a matter of 2-3 years the surgeon predicts and our sweet baby warrior angel will be as good as new!❤️ looks like Miami will be our new part time home. Everyone here at this hospital is SO incredible. Between the nurses, the doctors, the patients and their success stories... It's all so overwhelming how awesome we feel about such a not so awesome situation.
We have the highest hopes and our head is in the right place! We can't wait to get our little miracle baby home! But for now, he is in gods hands with the best doctors and nurses in the world that ARE going to work miracles
Baby Cash's ongoing medical expenses will be unsurmountable without your help.  Please help us to ensure Cash receives the best possible care as he fights for his life.Every dollar donated wil go to supporting Cash's medical expenses and ensuring we are with him through the surgeries expected in the future.We cannot thank you enough for your contribution.
This gofundme page has been created to assist Nick and Gabriella Macchiarolo in Cash's care on behalf of Cash's grandmother, Toni Ann Gruppuso Macchiarolo.
An account has also been created at 5/3rd bank of Marco Island for direct donations in the name of Toni Ann Macchiarolo/Nick Macchiarolo.