Veteran Enhancement Project Inc.
What Is Veteran Enhancement Project Inc.?
Veteran Enhancement Project Inc. is a 501c(3) that is a very unique grassroots movement towards the brotherhood of all things motorcycle.
- Many veterans can't afford to maintain and most do not know how to work on their own motorcycle. Veteran Enhancement Project Inc. will give veterans a place that they can work on their bikes and those of others. If they need help, it will be available and so they will be able to learn what needs to be done.
- This will put them on the path to developing a skilled trade. They will then be able to fix things up on their own. If they choose they will then be able help to fix up motorcycles for those in need.
- Some veterans come back from war as single/double amputees and cannot afford to make the conversion to a three wheel trike with special accommodations for their medical situation. Veteran Enhancement Project Inc. will provide a service to these veterans AT NO COST!
Veteran Enhancement Project Inc. Primary Goals:
- Teach a valuable skill that could place them in a possible trade in the work force involving motorcycles and possibly sending them to a trade school.
- Assist veterans in need of motorcycle repair that cannot afford it to make the bike safe and reliable.
- Assist veterans with a battlefield inflicted handicap to be able to ride again and cannot afford the modifications to their bike.
- Provide assistance with Veteran Affairs care and treatment for veteran issues.
- Provide the brotherhood and comradery of working and healing together.
A Message from Tom Busche, Founder of Veteran Enhancement Project Inc.
I strive to maintain a supportive role for my fellow veterans. The daily rate of veteran suicide, for all eras in the U.S. is staggering, with a large percentage of those attributed to Post Traumatic Stress (PTS). It is estimated that up to 400,000 Global War on Terror veterans suffer from Traumatic Brain Injury, and most go undiagnosed and untreated – this leads to Post Traumatic Stress issues. Multi-faceted awareness campaigns are crucial in encouraging affected veterans to seek help, as well as increasing awareness on the need for funding treatment services.
I am personally active in the issue of veteran suicide and wish to do as much as possible to help my comrades in arms. I believe Veteran Enhancement Project Inc. will help to turn the tide of the daily war our veterans are fighting at home. Veteran Enhancement Project Inc. will provide creative arts therapy and trade skills. These are things that have been successfully used in other programs that support the mental health recovery of our veterans.
Many veterans find that riding a motorcycle is therapeutic. As a member of a large veteran's group, I know how therapeutic it is to be with those who have the same issues and may be craving the same thing. The first motorcycle clubs were born from returning veterans after war. Many military members that came back from WWII, Korea, Vietnam, Iraq, and Afghanistan found it very awkward to talk about their feelings with a group of people they did not know or therapists they had no link with. This is one thing that we veterans all have in common.
What I found and embraced is that this works! And so that's where Veteran Enhancement Project Inc. is going to start. This idea was born out of the effort to combat the 22 veterans a day that take their lives. It has unlimited possibilities.
Veteran Enhancement Project Inc. is in need of sponsorship on all levels to serve the veteran motorcycle community. As the program grows so will its financial responsibilities.
- Purchase parts and specialty parts for the motorcycle projects to facilitate veteran amputees to be able to ride.
- Purchase tools, tool storage and shop equipment for the facility.
- Shop supplies (oil, filters, gaskets, cleaning supplies, safety equipment).
-Pay for assistance outside of the program to assist with builds and other program related items (powder coating, Dyno calibration, other specialty assistance).
Our goal are simple. To enhance veterans!
"Enhancing veterans for tomorrow's challenges."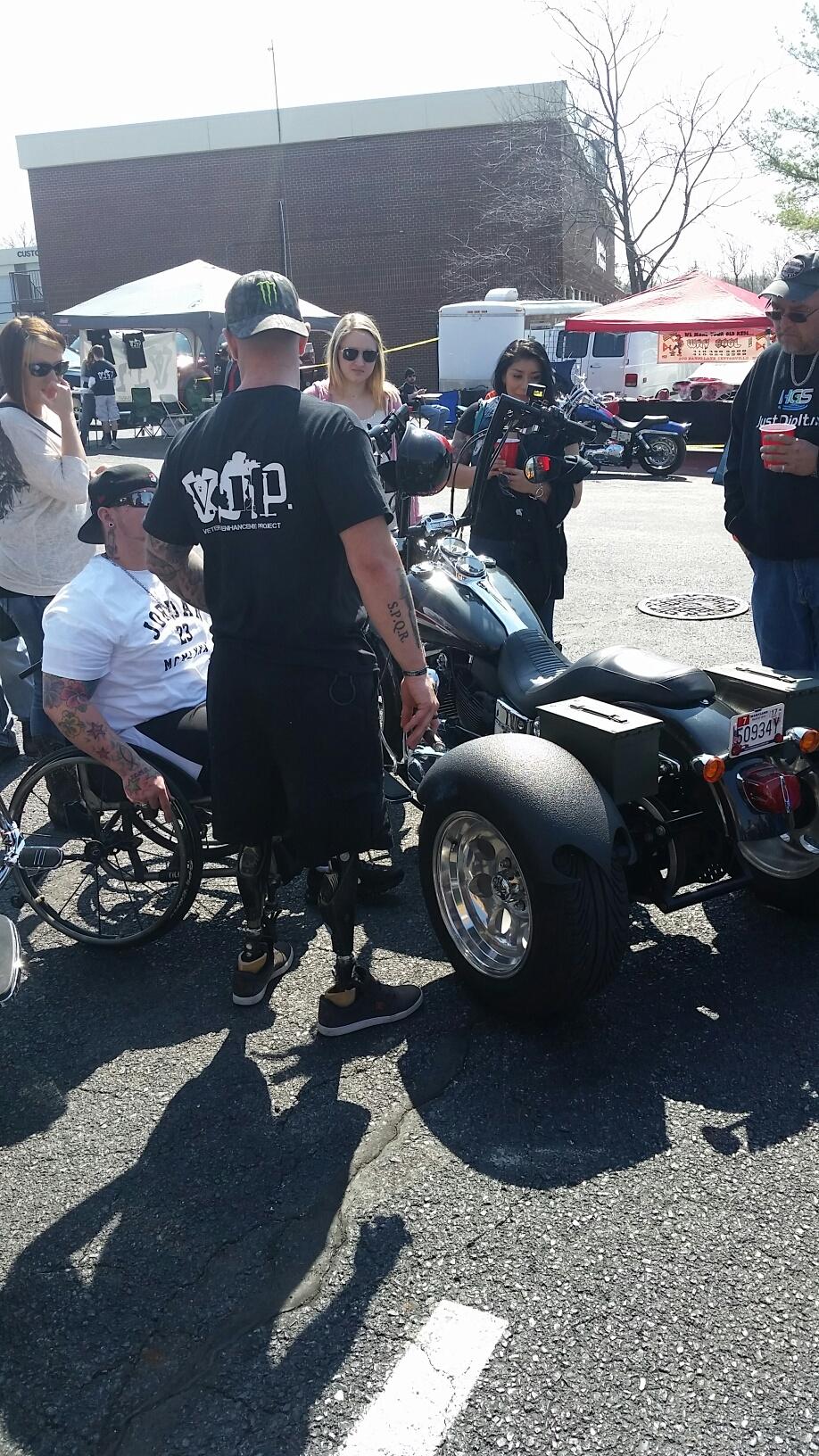 Become the first supporter
Your donation matters
Organizer
Tom Busche
Organizer
Frederick, MD