Possibility Space:A Mass Effect analysis
Possibility Space will be a book-length analysis of the Mass Effect games, written by video game and pop culture critic Rowan Kaiser. It will be released as an ebook comprised of a series of chronological essays about many of the components of the Mass Effectgames, like characterization, ethics, combat, and genre.
The first excerpt on the Mako
has now been posted at Kotaku!
(special thanks to twitter user @ABillionSuns for the cover image)
Frequently Asked QuestionsWhy support this project?
I see four good reasons. First, Mass Effect is quite possibly the most interesting, discussion-worthy game series of all time, and youcan't read enough about it.
Second, maybe you're a fan of long-form video game criticism, like Brendan Keogh's
Killing Is Harmless
, one of the inspirations for this project.
Third, maybe you'd like to support me, Rowan, trying to break free of a freelance writer's rut. I don't want to turn this into a major sob story, but crowdfunding for this project seems to me to be the best way to stop living check-to-check, while still writing about the things I like to write about most, and that I hope you like to read about.
Fourth, maybe you want to help Percy afford a visit to the vet.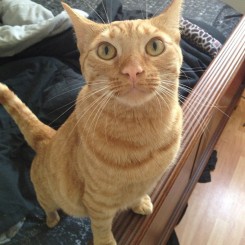 Who are you to write about Mass Effect?
I'm a freelance critic for a variety of different outlets. I'm the
Western role-playing game columnist
at Joystiq, and have been published at Bit Creature, 1Up, Gamasutra, Unwinnable, Ars Technica, Gamespy, IGN, Gameranx, and more. I've also been published on video games at general sites like Salon and The American Prospect.
Some articles I've written on Mass Effect: a critical analysis of
the ending
, an examination
of its genre
, or a list of spinoffs
I'd love to see
. Some other general work includes an examination of
why violent video games
hold appeal, or my
review of Baldur's Gate
.
I also work as a television and occasional book critic at The A.V. Club. What I love most is analyzing the narrative structure of speculative fiction--I'm
currently reviewing Babylon 5
for TV Club Classic. I also
reviewed Game Of Thrones
for PressPlay.
This combination of video game and storytelling interests makes Mass Effect just about the perfect game series for me to think about, and I hope you'll agree that my experience makes me a great match for writing about it.
Do I really need to give you my address?
Only if you want the hard copy! Otherwise just put in whatever nonsense seems appropriate.
When will it be done?
Having never written a full book before, I'm hesitant to make promises--let's just say I'm closer to
Valve time
than EA time. Still, I'm aiming for this fall, and I would be disappointed in myself if it wasn't released in 2013.
Why are you crowdfunding a book?
I'm self-publishing because I don't know if there's a market for long-form game criticism in conventional publishing (although if any publishers see this and want to make an offer, I'll listen).
I'm crowdfunding because, as I mentioned above, I am a freelance writer living check-to-check. My time is spent pitching and playing anything I can that might earn me money. Only with the financial flexibility of a successful GoFundMe campaign will I be able to free up the time to write the long-form criticism that I want to do, and that Mass Effect deserves.
What does "Possibility Space" mean?
The thing I find most fascinating about Mass Effect is the gap between what it tries to be--a massive space opera epic--and what it actually is--an occasionally wobbly collection of different ideas and gameplay mechanics. The series manages to make its disparate parts work together by giving the player the space to see all of its possibilities and assume the best of the games. Mass Effect works because we
want
it to work, and it very rarely totally fails.
Also, it's a science fiction story and it's got "space" in the title! Get it?
(I would consider changing the title if I come up with something better, of course, but I'm not going to worry about it too much. This one works.)
Will this get in the way of your other project?
No. That's almost finished, and in will probably be finished even faster if this crowdfunding campaign is successful enough to let me stop chasing freelance work for a few days.
But the ending ruined everything!!!!~~!@!
Don't get me wrong, I have huge issues with the ending myself, and I'm certainly not going to pull any punches when I get to that point. However, part of the reason the ending hurt so much was that everything else was so good. I try not to lose sight of that.
How long will the fundraiser last?
GoFundMe pages can stay up indefinitely, so until the book is near release, this will stay up. How much I publicize it will change, of course. But there's no deadline if you're broke now, but will have money in a month.
How exactly are you going to write about Mass Effect?
As this is a critical analysis, I'm going to focus directly on the games themselves. This means that I am not, at this point, interested in interviews, explanations or authorial intent.
I view my role as a critic as something like an expert guide. I will offer different ways to view and think about the games, while adding my subjective feelings and experiences. My hope is that, like most good criticism, Potential Space will be readable and interesting even if you don't agree.
Finally, I'm planning on focusing exclusively on the main trilogy of games and their add-ons and expansions. This means I'm going to avoid Mass Effect transmedia texts like the novels and mobile games, unless I'm given a compelling reason to change my mind.
Will you do press for this project?
Great Maker yes! I need this to eat! If you want to do a news piece, interview, podcast, whatever, I'm probably interested. Feel free to contact me here, on Twitter @rowankaiser, or my email is my Twitter name at gmail.
Become the first supporter
Your donation matters
Organizer
Rowan Kaiser
Organizer
Oakland, CA