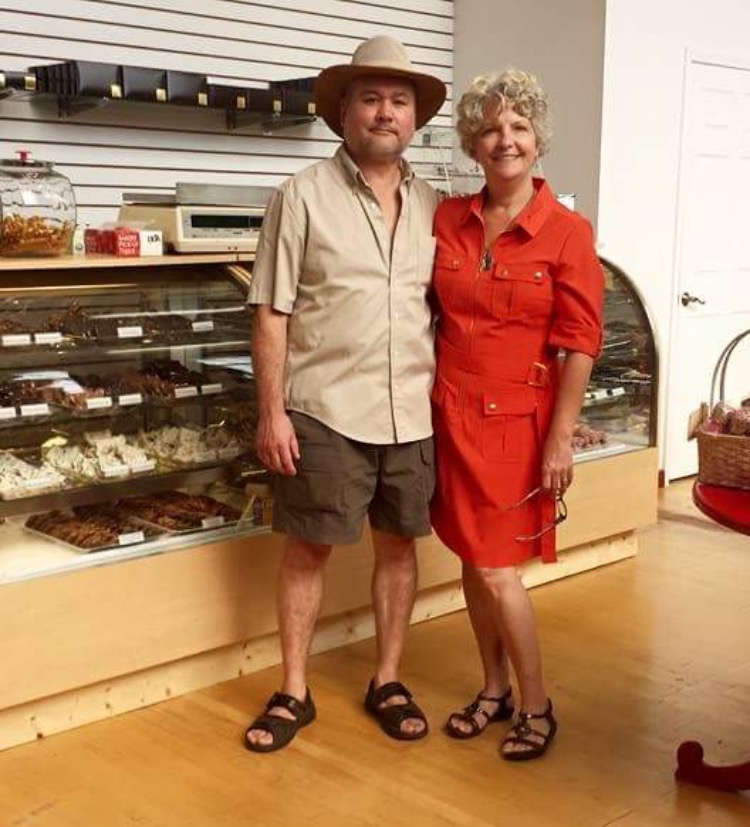 Sue and Rick Whary's journey began on September of 2005, when Sue decided to make a major change in her career- Sweet Cascades was established.
Five years later, I was hired. Sue had taught herself all about chocolate by that time and her business was flourishing. I began to learn the trade as well. Some of you might know me as the girl that can not see over the counter, others of you may still think that Sue and Rick are my parents. Which ever that may be the Whary's have become a very influential part of my life and I can never imagine being without them or Sweet Cascades. I have grown through high school and college working at Sweet Cascades and I remain there today, six years later. They have become my family and my best friends.
Sue and Rick are the two most hardworking individuals I know. Sweet Cascades has become their life and home, as well as mine. Most of their time is dedicated to the lovely shop, with little allowed moments for vacations, outings, or even family- things that we often take for granted. For all of the years that I have been with this amazing couple and business I have witnessed their kind hearts, always helping family and friends before themselves (myself included). For everyone who knows Sue and Rick personally will understand their true character and compassion for the work that they do. 
With the disaster that struck Ellicott City on July 30th, it has left a lot of business owners and residents in devastation. Shops have been ruined and inventory has been washed away. Sue and Rick have always been there for me, and I would like to be there for them through this hard time. Help us rebuild the shop we all love! 
I appreciate everyone's generosity and help as we begin to restore Sweet Cascades! Thank you :) 
Organizer and beneficiary
Rebecca Metcalf 
Organizer
Ellicott City, MD