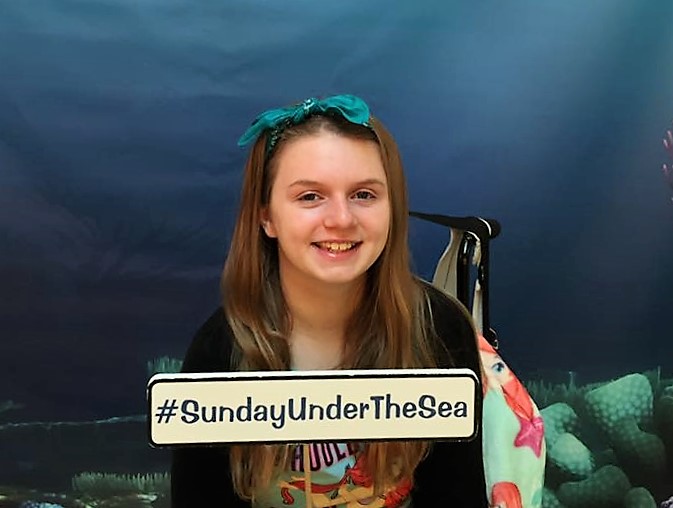 This is my niece Ashley-always smiling, but always suffering.  Please take a second and read about Ashley's journey, written by Ashley's Mom, my sister Mary Valenti.
Anyone who knows us, or follows our family on Facebook, has seen our smiling girls Ashley (13) and Lindsey (15). Our family loves Disney. We are Florida resident annual pass holders and frequent the parks for many reasons, but the biggest being it's our happy place. The memories we've created are priceless, and it offers the girls an escape from their reality. Most don't know about the pain hidden behind the smiles seen in the many pictures from our visits. 
 Ashley and Lindsey both suffer from Juvenile Arthritis and an immune deficiency. Both girls have ports implanted in their chests, with which they receive monthly infusions of antibodies to help their broken immune systems. They also receive Remicade for their arthritis and to keep their spines from fusing. Our lives have revolved around treatments and hospitals, but, we've managed everything for over 7 years. We were always trying to maintain a normal life and were able to handle it. The girls went to school and danced, pretty much normal kids to the rest of the world.
 About 2 years ago, Ashley started to medically decline. Our once bubbly little girl took a turn and this started a journey that we never could have imagined. This would lead us to multiple doctors, hospitals, hundreds of miles driven, so many painful tests there are too many to list, and many new medications. In addition to her arthritis and immune conditions, she was diagnosed with Epilepsy, Vasovagal Syncope, Colitis, Crohn's, and Gastroparesis. Any one of these things would bring a person to their knees, but she pushed on. Ashley began to experience weakness in her upper legs, which has now progressed to full weakness and numbness in both legs and is losing the ability to walk. Along with this came loss of bladder function and reliance on a wheelchair. She has severe neuropathy pain and is under the care of a hospice doctor, but her pain is still uncontrolled. We now have to give Ashley IV saline at home to keep her functioning, due to the fact she's been close to kidney failure several times. She has been hospitalized 6 times since April, her body is weak and growing weaker by the day. We have realized that her body isn't metabolizing pills and will most likely will have to have a feeding tube put in. 
Ashley's favorite princess is Ariel, the Little Mermaid, so growing up, she has always had an appreciation for mermaids. It is her theory she has the "mermaid disease", seeing she has showcased many conflicts a mermaid on land may come across, such as a need for saltwater (saline infusions), and the struggle to walk. She tells everyone she's a mermaid as a way to cope with her ever changing life.  
We have desperately searched for help for Ashley, including applying to Mayo Clinic, but every corner led to a dead end. One of our doctors, who was frustrated with Ashley's declining health, ordered multiple tests. It was then discovered there was an abnormality in Ashley's spine. We made the decision to take her to Boston Children's Hospital and met with a neurosurgeon who found 2 more issues with her spine, one being a tethered spinal cord. We will be heading back to Boston in mid-September to meet with other specialists who will team up to see if they can figure out an overall treatment plan for Ashley. She is also scheduled to have spinal surgery in October, for which we've been given 50/50 odds of helping and have been told the feeling in her legs may not return. We also know that her bladder is damaged and will be needing surgical repair in the near future as well. In total we will be in Boston over 6 weeks, but it may be longer and we would need several return trips in the future. 
 Out of pocket costs for hospitals, medical testing, infusions and medications run about $12,000 – $15,000 a year on average. With the trips to Boston, that number will run well over $20,000 this year. Up to this point we have tried to manage on our own, Tony  took on a second job to help cover the mounting medical expenses while trying to give our family some sort of normal life. But, with each hospitalization, things are getting harder and harder to keep up. We have no idea what the future holds or how much more expense it will involve. Ashley is requiring full time care at this point.
Through all of this we have all tried to maintain a positive outlook. The girls have shown the world just how resilient and strong they are. We as a family have fought this battle together and, we will continue to do so. We are ready to face whatever battles face us and are praying our little girl can return to some sort of a normal life. 
Thank you for all the love & prayers for our family. 
~The Valenti family