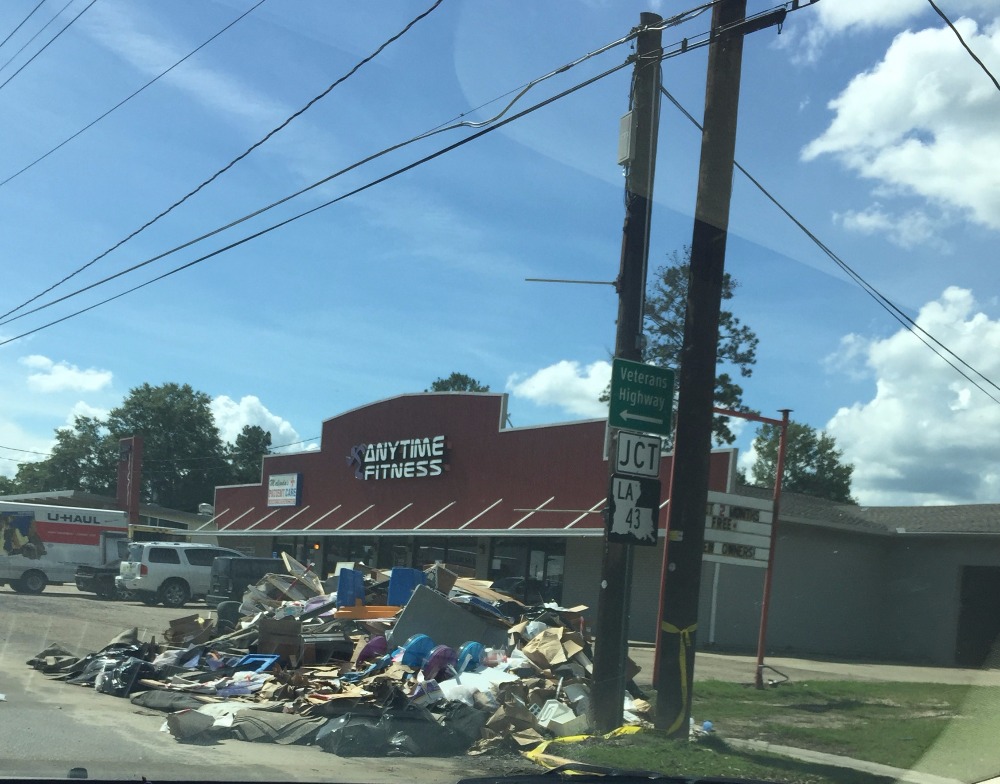 Hi. My name is Mallory Bonck and my husbands name is Norman Bonck, III. We are trying to raise money for Anytime Fitness in Albany, LA that recently flooded.
We own a business doing gym maintenance and service called The Gym, MD. Norman started this business about 3 years ago and since then I have been doing all of the office/billing and I also stayed home with our two year old son. Over these 3 years it became a dream of ours to own an Anytime Fitness. Last year we tried to purchase an Anytime Fitness but when it came down to it, the bank confirmed that we were not quite ready. We were bummed about the news for a day or so but we just kept trying to stay positive and stay super busy so that we could work towards having our own club. That's exactly what we did. We doubled what we had made the year before and the next time we went to the bank, they told us that we could finally purchase oa club. We were so excited. I was so excited to have an income. I was excited for my son to start daycare and make some friends. I was excited to be able to buy myself something nice every now and then. I was excited to have our own club and meet new people and become part of the community. There were times that we struggled whenever we just had The Gym, MD business. We never once paid ourselves. The money we made went to bills. So we were excited to have another income so that we didn't have to worry about having a little fun every now and then. We took over the Anytime Fitness in Albany, Louisiana on July 1, 2016. I cannot even describe how it felt to walk into that building knowing that it was all ours. I was so proud.  Norman and I actually argued over who was going to work on Saturdays because he and I both wanted to be there. It was our home away  from home. We enjoyed every minute of it. We spent the first two weeks cleaning the club from top to bottom. We spent most of our time meeting and greeting our members and trying to find out from them what they would like to see in their club. We had just bought a new stair master and a vending machine. The members were very happy to already see that we were trying to turn the place around. For the first three weeks I didn't pay myself just so that we could make sure that we had enough money to cover our bills.
On Thursday August 11, 2016 I left the club at 5:00 to go pick our son up from daycare, never thinking once that we would not be going back there any time soon. On Friday morning (August 12, 2016) we woke up and sat on the couch to drink our coffee as we do every morning. We turn in the news and realize that we had a ton of rain coming our way. I ended up getting a notice stating that Livingston parish schools would be closed. When I saw that I figured we would close for the day as well because our sons school was closed. Norman left that morning just to drive to the club to make sure that everything was okay. He got there and there were about 7 people working out and all was good. On Saturday morning we woke up and we saw a video on Facebook of a man riding in a boat down the main highway that our club is off of. At that point we realized that the parking lot was flooded but still no water in the club. Norman immediately jumped in the car and tried every route that he could to get to the club but all roadways were flooded by that point. All we could do was anxiously wait around and hope for the best. On Saturday evening we saw another video and the club was completely under water. Still absolutely nothing that we could do. On Sunday afternoon after the water had receded we drove to the club. When we walked in it was eerie. The music was still playing just like we had left it on Thursday. The TV's that were sitting closest to the ceilings were on. Yet the entire club was a disaster. We wallked in and realized that every penny that we put into this club had went down the drain.  All of our equipment was ruined including the step mill that we had just gotten the week before and the vending machine. Everything that we had worked so hard for was just gone. This was our livelihood. We were depending on this place. This club is what was helping us pay our bills, our sons daycare and our every now and then splurges. We had only been in there a little over a month and it was all destroyed. Now we are stuck paying a loan for the club, rent for the club, insurance for the club and electricity for the club on Norman's income because our club is not open. We did not have flood insurance.  We were not required to have it because it was considered a "no flood zone". We did have insurance on all of our contents inside of the building but since it was a flood and not a "fire" they don't cover a dime. We not only lost our club, we lost about 75% of our members. Flooding has a massive economic impact in the three parishes (counties) that most of our members live in, it is estimated that up to 75% of homes were flooded. We have members, and family members that lost homes and vehicles, leaving them with nothing but the clothes on their back. At this time, over 70,000 people have been displaced and water is still rising in some areas.
Some of the members thankfully didn't lose anything and are waiting for us to reopen. We are not ones to ask for help however at this time we are desperate. We are wanting to get back up and running again as soon as possible so that the community has something to look forward to but we just don't have the funds to do it since we had already taken out a large loan to buy the club.  Any donations would be greatly appreciated. Donations will go towards getting back all of the things that we lost during the flood. Equipment, tanning beds, Sheetrock, paint, floors, camera system, office supplies , office desk, phones and computer system. If anyone wants to donate to our community that would also be greatly appreciated. We have a lot of great people in our area that are in need.