We took our 2 year old daughter Teig to the Children's Mercy Hospital in Kansas City, Missouri on July 19th for left ear pain and bleeding from her ear. Doctors thought it was just a bad ear infection with ruptured ear drum and scheduled a surgery to clean the infection and put in tubes. But during the procedure the Dr. called us into the consult room and told us he found a mass in her face that looked cancerous. We were devastated and unprepared for the news that our baby girl has a medium sized tumor running from her left ear canal, under her cheek bone, to the base her nose.  It's a stage 3 Embryonal Rhabdomyosarcoma (muscle cell tumor) that surrounds the nerves and blood vessels in her face. We caught it before it spread to other parts of her body but it had started to damage the bone very close to the brain.  Because of it's location the Dr's can't remove it but they are hopeful that after a year of treatment (radiation and chemotherapy) she will be completely cancer free.
I'm Teig's mom Erin, an ER nurse for 10+ years, and had just started a new job as a nurse in the OR when we found out about her cancer. I'm still in orientation and dont qualify for medical leave. My husband Al had taken his dream job in Illinios and planned to commute back and forth but after hearing her diagnosis, that is impossible.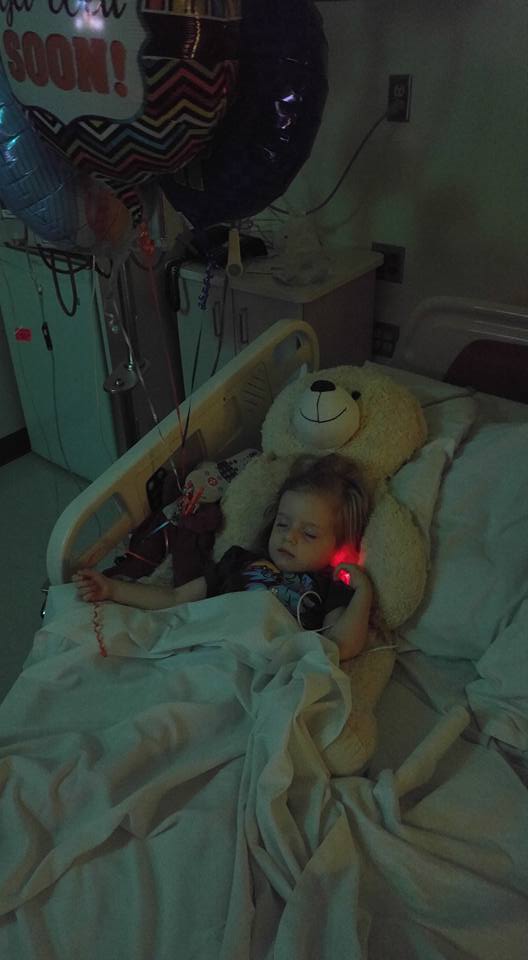 Teig requires round-the-clock treatment. She has a Mediport  in her chest for Chemo and IV medicines (a Mediport is an access point below the skin that has a tube running directly into the heart). She also has a MIC-KEY button feeding tube in her stomach for medicines and tube feedings since she eats very little. She has almost daily Dr's appointments for either radiation or chemotherapy, sometimes both. Because of these special needs she can't go to daycare or have a normal babysitter, one of us has to be home with her at all times.
Luckily, we have good health insurance, but even with the health insurance, the medical bills are making our budget very tight and making everything more stressful. We have 3 other kids, Kane age 11, Roan age 10 and Blythe age 5, who are very concerned for their baby sister. Our main goal is to bring joy and happiness to our entire family during this difficult time.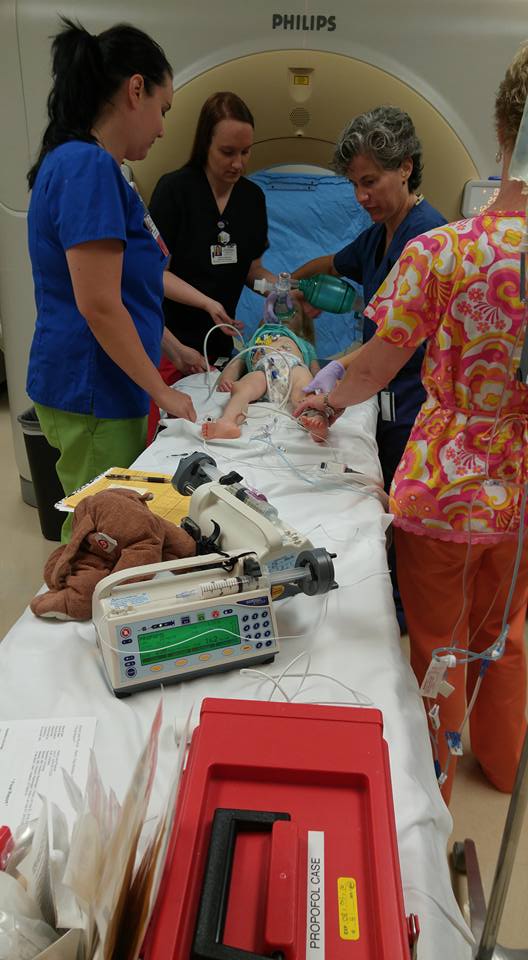 We feel very fortunate to have so many loving friends and family members. I'm often overwhelmed by the outpouring of support from all of you and I'm so grateful. I know Teig's story has touched many of you and you want to help. If you'd like to give please know that the money will be used to pay for medical bills, house bills, and time away from work for Al and I to spend with Teig and our family. Thank you all.