My niece's life has been a battle for survival from Day 1. Born prematurely at 33 weeks and weighing only 3.3 lbs, Maya endured 37 long days at the NICU and fought one infection after another to grow big enough to go home. And by God's grace, she was victorious. We watched her bloom into a strong and beautiful baby. She was steadily catching up with development milestones, and her parents were elated and grateful for the gift of her.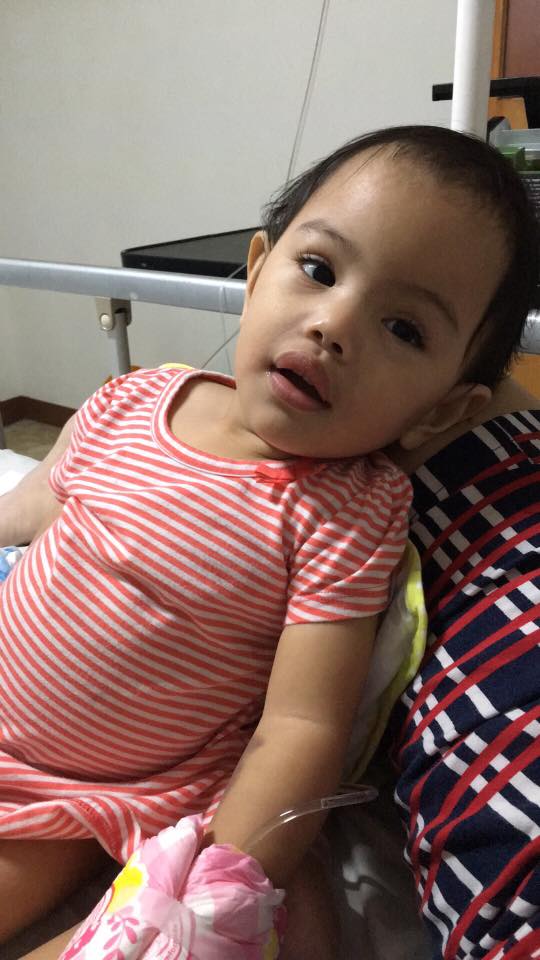 Little did we know that the fight for her life was far from over. At seven months old in September 2015, Maya started having bleeding episodes. She would vomit and poop fresh blood without warning: no fever, no rashes, no lethargy and loss of appetite. Doctors ran countless blood tests and ultrasounds, stuck tubes through her nose and her mouth, and prohibited feeding for days. The diagnosis back then was cow's milk allergy. Maya and and her mom (because she was breastfeeding) were put on strict hypoallergenic diet. The bleeding would stop and we would be sent home to pick up the pieces: a traumatized baby who lost significant weight and parents who are scarred with memories of her suffering.
But the bleeding did not stop. It happened again when she was nine months old in November 2015 and then when she was one year and two months old this April 2016. The bleeding was massive and Maya began to have blood transfusions to compensate the blood loss.
This June, Maya was finally old enough and big enough to undergo esophagogastroduodenoscopy. We can finally find out what's causing her to bleed. The result showed that Maya is suffering from multiple esophageal and gastric varices because of extrahepatic portal hypertension and portal hypertensive gastropathy, secondary to portal vein thrombosis. In ordinary speak, a clot or scar in her portal vein, the largest vein in the body that is responsible for transporting blood in the portal area (liver, to be precise), causes high blood pressure in the area. Similar to what happens to water in clogged Maynilad waterways, blood finds other routes through other veins, but these veins aren't built for that kind of pressure. They become varices, and they swell and burst. When they do, Maya vomits or poops blood.
The clot or scar in her portal vein is a result of umbilical catheterization. When she was in the NICU, her navel (umbilical vein) was used as the IV line for the first two weeks of her life. It is a known complication. Sadly, we found out too late.
Apart from medication, we have three options for treatment: ligation (varices are banded), sclerotherapy (varices are injected with medicine), or surgery (to bypass the defective vein and reroute the blood flow). None of the options are viable for Maya right now because she's too small. They have seen many doctors and been to many hospitals, and it seems Maya is the youngest to be diagnosed with this condition in Metro Manila. And what hurts is that until she's big enough, we have no choice but to accept and expect bleeding episodes that come out of nowhere.
This July, right now, Maya is suffering from her greatest, most critical bleeding episode so far. We've used three blood bags for transfusion. After a week in the hospital, They were sent home because the bleeding had stopped, only to be back at the hospital one day later because she's bleeding again. In one week, we've used up her entire medical insurance limit, and she is still not better.
It pains us to watch her suffer so much. We die a little every time she shouts and shakes and sweats in fear of an IV insertion. But we get the strength to soldier on when I see her capable of laughing and playing despite the purple and yellow bruises all over her body, despite not feeding for days, and despite the dreary, depressing environment of hospitals that have become her playground. We will see this through, and through God's mercy,  she will see better days.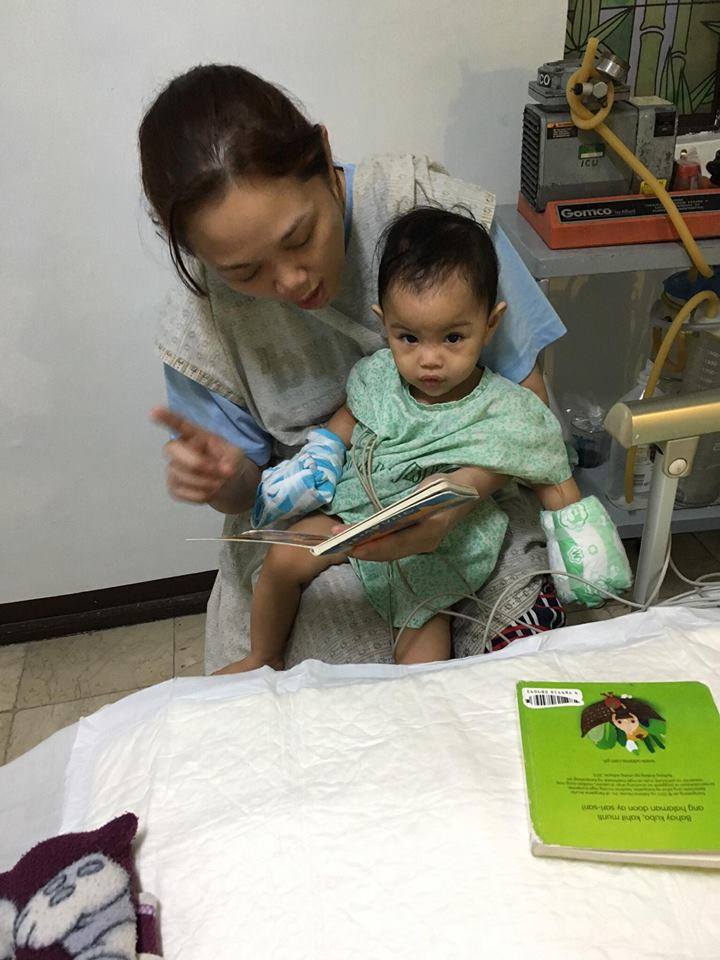 I am sharing this with all of you to ask help and to help: If you know of any doctor, institution, or even a similar family suffering from this condition, please let us know. We hope to exhaust all options to make Maya better in the safest and most effective way. We hope to connect with other families to share coping mechanisms, strategies, and learn from their experience as well.
We humbly ask for financial help, or any leads to any grants that can address Maya's condition. Our finances have only been barely enough to cover for her multiple bleeding episodes, and we haven't even tackled therapy. Ligation and sclerotherapy only address the varices but not the hypertension. That means every few months for the rest of her life she needs to be scoped to check for varices and to have them ligated/injected. The procedure isn't cheap. For a shot at a normal life, Maya needs surgery.
Most important of all, we beg for your prayers. More than treatment and money, what we need for Maya is a miracle. My sweet little baby is such a fighter, but we are storming heaven's gates to beg that she doesn't have to go through all this. Please join us in prayer.