Send Elisa and Johnny to Burghley
"Life is a succession of moments, to live each one is to succeed." -Corita Kent. 
I found this quote as a senior in high school and for me it really resonated what my life is like with horses.  Horses are my passion and my life, as well as the sport of Eventing.  As long as I can remember, I've always had big dreams of riding around the amazing courses of Rolex, Badminton, Burghley, and most of all making a team and representing the United States of America.  I've had some amazing moments which in turn have allowed me to succeed. I attained that life long goal of competing at the Rolex Kentucky CCI****, not only once but twice!! It still feels so surreal to even think it happened let alone that we did so well (top finishing rookie in 2015 placing 17th and in 2016 finishing in the top TEN placing 8th) To my amazement I then was named as an alternate for the 2016 Olympics in Rio de Jinero, Brazil.  While, I'm so proud of my horse and our accomplishments, there is a little part of me that is still dissapointed that we didn't make the team.  But that is why  I love Corita Kent's quote because it's always given me perspective, a way to stay positive,  and a way to keep moving forward.  In order to succeed and one day being named ON THE TEAM,  I need to set my next goal.  That next goal is the Land Rover Burghley Horse Trials CCI**** in Lincolnshire, England during the first week of September 2016. 
Simply Priceless (aka 'Johnny') is a 15yo 16.3 dark brown/black off the track Australian Thoroughbred gelding.  He is the epitome of the Three Day Event horse, athletic, brave, and has an amazing heart.  While our partnership began in 2013, it has been a long three years of building a relationship.  He was a horse that was so closed off and  in a shell. It was very difficult to get him to connect to me.  It's hard to explain, but with horses there is a connection of energy that you can tap into and communicate with them.  So this took time. We had to work together on building the relationship of trust through consistancy in training.  For us, the cross country has always been the best part, we both LOVE it. The dressage and showjumping on the other hand has been a work in progress and now I'm so proud of the horse Johnny has become.  I know he can be competitive and beat the best of the best.  The love I have for Johnny is unmeasurable,  and to me he is certainly his name sake.  He has helped me accomplish so many amazing goals and I feel as if we are just getting started.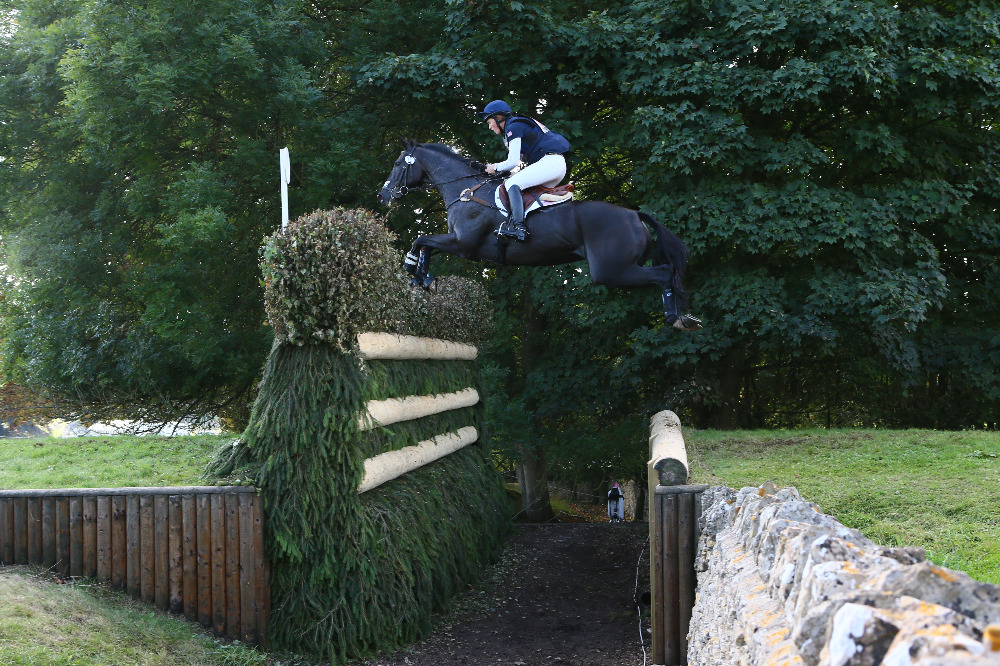 In 2015, we were named to the National High Performance Training List, and were awarded the USEF Land Rover grant to represent the USA in England at the 2015 Blenheim Palace CCI***International Horse Trials.  This was an amazing opportunity, as traveling abroad with your horse is not a cheap endeavor, and by aqcuiring the grant I was able to do so.   Not only did it feel incredible to represent the US (not on a formal team but still cool!), but it also allowed me to gain experience traveling abroad and competing against the best.  International experience is vital if I am going to compete successfully on the world stage, and accomplish my life long goal of making the United States Equestrian team.
Unfortunately, this year I was not able to attain a grant in order to attend Burghly Horse Trials CCI****, however, I am listed as first alternate should any of the other recipients decline.  But time is running out and I can not depend on the "possibility" of the grant. It is a expensive venture- flights for horse and humans, veterinary care(making sure my horse is in top form), accomadations, and transportation will roughly be around $30,000 +.  I have one third of that already due to the support of some amazing people.  I am so thankful to my super supportive syndicate owners, Vicki and Steve Sukup, and Susan Day as well as all of my many sponsors for generously assisting me with the products and equipment that help me attain my life long goals, as well as to my family, friends, and many other supporters.
Taking that into account, I am hoping to raise enough money that Johnny and I can attend Burghley.   Not only attend but also be successful.  
Competition at Burghley will not be possible without your help.  Please donate in support of Johnny and me as we take this significant step towards a "succession of moments" and one day realizing our dream of joining Team USA.
#GoJohnnyGo

Organizer
#1 fundraising platform

People have raised more money on GoFundMe than anywhere else. Learn more

GoFundMe Guarantee

In the rare case that something isn't right, we will refund your donation. Learn more

Expert advice, 24/7

Contact us with your questions and we'll answer, day or night. Learn more