U of T is making its comeback on the international stage! On August 28, Andrei Vovk and Jacob Giesbrecht will be heading to Poznan, Poland to row for Canada at the FISU World University Rowing Champiosnhips. 
We will be representing Canada, the University of Toronto and Hanlan Boat Club when we head overseas to race in the Lightweight double scull (Lwt2x) event.
This momentous opportunity however is self funded, as flights, entry fees, uniforms, accomodations and food (or lack thereof) are not provided. Maintaining an elite level of training while remaining students and managing part-time work is a difficult task, and despite our best efforts our ability to fund this trip ourselves is unrealistic. For this reason, we are looking to the generous support of others to help us acheive our rowing dream of racing for Canada at a world event.
Bios
I (Jacob) began rowing relatively early in life when my sister Emma registered for the learn-to-row program at South Niagara Rowing Club after being encouraged by our two older cousins who rowed for St. Catharines Rowing Club (one of whom had rowed for UofT!). Ironically, i am constantly reminded of how much i hated the first few sessions and begrudgingly stuck it out in the last week only because my parents had paid for the whole program. As fate would have it, as i began high school a vast majority of my friends and some strong role models promted me to keep rowing (all of these people have since quit the sport), and i learned over time to not only enjoy the sport, but more importantly to respect it.
In the coming year I will be in my 4th year of my undergrad studying Bioethics at U of T and looking to further my education after I graduate, all the while training to represent Canada on as many international stages as I can! At this point i have been rowing for 9 years and coached the sport to Junior rowers and Learn-To-Row athletes for 6.  I am currently a coach of the Hanlan Junior program as well as a lead Learn-To-Row and private lesson instructor. Finding time to work multiple jobs to support my rowing habit and the FISU dream has so far been impossible, even despite the Ontario Carding status I have recieved this past year. Previously a rower for South Niagara Rowing Club and E.L. Crossley High school, I have enjoyed some success having represented Canada before at the CanAmMex regatta in 2010, and I currently hold a running 7 year long Ontario erg record in the Junior B ltw category. On the water I have also won events at the U.S. club nationals regatta, C.S.S.R.A. (Schoolboys) regatta, Stotesbury cup regatta, Royal Canadian Henley and recieved a notable 2nd place finish at the Head of The Charles regatta. Despite all these accomplishments, nothing compares to the opportunity to race for Canada at an international event at the U23/Senior level of rowing.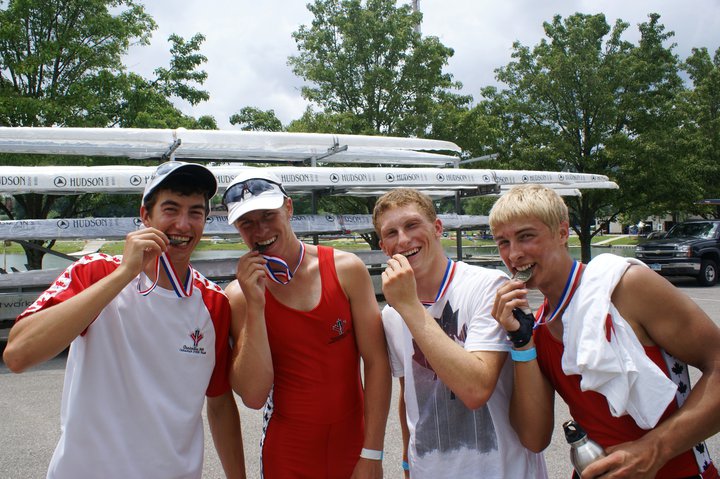 After winning the Sr. ltw 4x at US nationals in 2010 with team Canada when i was younger and cuter.
*Handing the mic to Andrei*
I (Andrei) joined the sport fairly late. I first tried rowing during the third year of my undergraduate degree and  immediately became hooked. My addiction to boat speed and self improvement over the past 5 years has seen results congruent with the development and success of the rowing programs at UofT and Hanlan, (Jacob- which is to say he is on a positive trend!). I amis currently pursuing a PhD in Biological Physics at UofT while continuing to train for FISU. Over the past two summers, I have earned bronze and gold medals at the Rowontario Championships as well as a bronze medal at the OUA Championship Regatta this past fall. I have also competed in the Canadian University Rowing Championships and the National Rowing Championships over the past 3 years, but this will be my first opportunity to compete and represent Canada at an international level.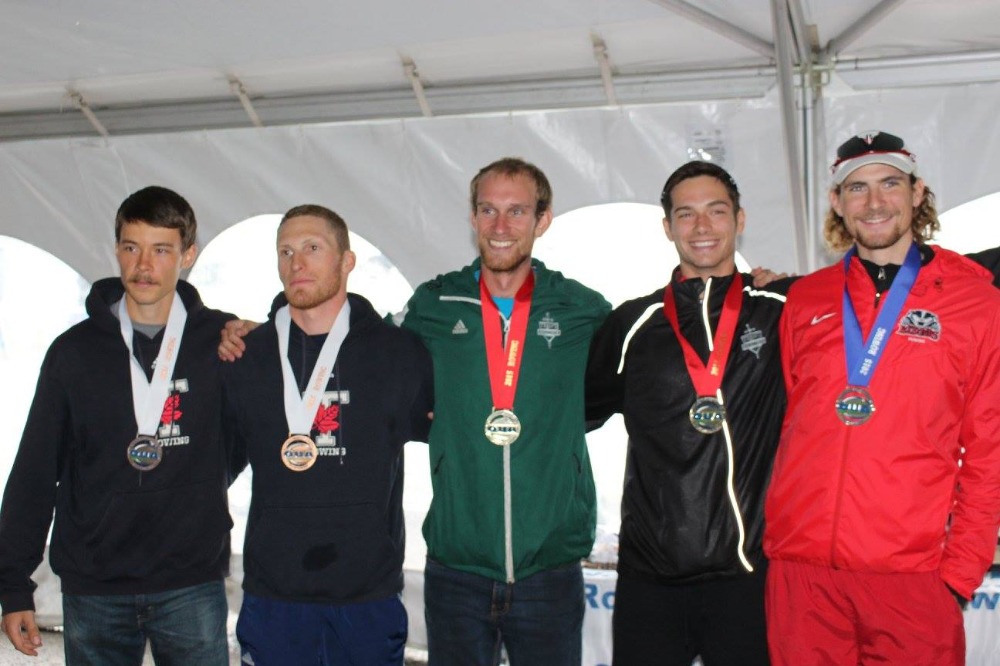 Bronze at the 2015 OUA Championships in the ltw 2x
We would like to reward those who donate in excess of $400+ with a private lesson taught by Jacob hosted at Hanlan boat club (or at the donor's own home club if feasible).
For all those who donate $50+ you will also be entered in a draw for a private lesson instructed by both Andrei and Jacob!
Your donations will go directly toward the costs incurred by our trip to poland, which has been officially pegged at $3,700 each!
We will be updating this page over the next few days with the feedback we recieve from and friends and family, and thank everyone in advance for their support and generosity!
In the meantime, here's a video of us rowing just to prove we know how to!