HELP FIGHT ALD WITH DALTON!
Please follow on FB:
https://www.facebook.com/Daltons-New-World-Order-272515986440163/?fref=ts

Please send words of encouragement and prayers to Dalton Minnick at:
https://sslforms.fairview.org/ecard/
Room C4121

With the approval of my cousin Jennifer Lindsey I am going to share in as much detail as we have at the moment. This is very hard for me to wrap my head around, so bear with me.

Jenny's son Dalton is a 10 year old young man with a heart of gold. He is the most grateful kid I have ever met, and the most important person in Jenny's life. Jenny lost her mother just a few years back on Christmas. Which was Dalton's grandmother and man they sure did love each other to pieces.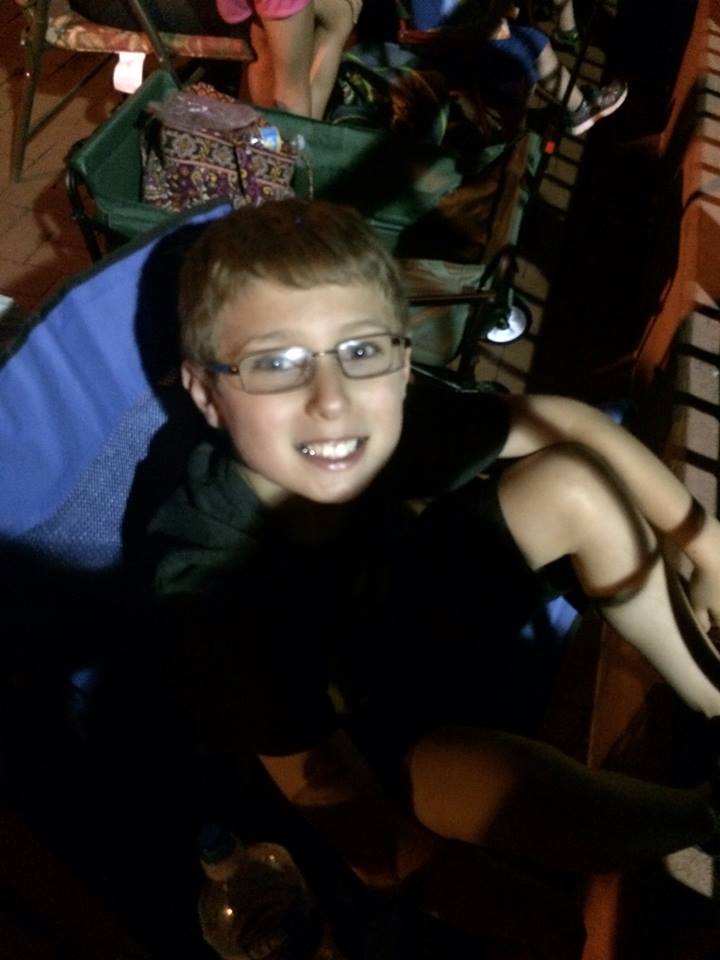 Jenny started noticing some changes that were going on with Dalton that concerned her. After seeing numerous doctors and getting different opinions finally on July 12th they ran an MRI of his brain. The results;
"Well they found an abnormality so we will be going to Riley's in Indy for a while. Hopefully it's an easy quick fix"  She was very worried it was a brain tumor.

On July 13th they checked into Riley Children's hospital Outpatient Center hoping for any goods news/answers praying it wasn't cancer. The news was way worse than they imagined. "I know there's several of you on here that want to know the results of Dalton's appointment today. I will not go to deep into it but we did not get good news. It is highly likely he has ALD (adrenoleukodystrophy) and will be needing a bone marrow transplant soon. We are waiting on the results of some more tests and will know for sure. Prayers are needed majorly! We need a miracle!" After being told about this disease and reading up on it, a brain tumor would have been way better news.

So...what is Adrenoleukodystrophy? I am sure you are wondering as was I!
X-linked Adrenoleukodystrophy (ALD) is one of a group of genetic disorders called the leukodystrophies that cause damage to the myelin sheath, an insulating membrane that surrounds nerve cells in the brain. Women have two X chromosomes and are the carriers of the disease, but since men only have one X chromosome and lack the protective effect of the extra X chromosome, they are more severely affected.  People with X-ALD accumulate high levels of saturated, very long chain fatty acids (VLCFA) in the brain and adrenal cortex. The loss of myelin and the progressive dysfunction of the adrenal gland are the primary characteristics of X-ALD. While nearly all patients with X-ALD suffer from adrenal insufficiency, also known as Addison's disease, the neurological symptoms can begin either in childhood or in adulthood. The childhood cerebral form is the most severe, with onset between ages 4 and 10. The most common symptoms are usually behavioral changes such as abnormal withdrawal or aggression, poor memory, and poor school performance. Other symptoms include visual loss, learning disabilities, seizures, poorly articulated speech, difficulty swallowing, deafness, disturbances of gait and coordination, fatigue, intermittent vomiting, increased skin pigmentation, and progressive dementia. The milder adult-onset form is also known as adrenomyeloneuropathy (AMN), which typically begins between ages 21 and 35.  Symptoms may include progressive stiffness, weakness or paralysis of the lower limbs, and ataxia. Although adult-onset ALD progresses more slowly than the classic childhood form, it can also result in deterioration of brain function. Almost half the women who are carriers of X-ALS will develop a milder form of AMN but almost never will develop symptoms seen in boys the X-ALD.  X-ALD should not be confused with neonatal adrenoleukodsystrophy, which is a disease of newborns and young infants and belongs to the group of peroxisomal biogenesis disorders.

Prognosis for patients with childhood cerebral X-ALD is generally poor due to progressive neurological deterioration unless bone marrow transplantation is performed early. Death usually occurs within 1 to 10 years after the onset of symptoms.  Adult-onset AMN will progress over decades.

So, the plan???? "We go back to Riley August 16. One blood test could be in as soon as today or tomorrow. The other is a gene marker so it takes a few weeks. We are hoping if he passes the IQ test Monday she can get a rush put in on it. Then with the diagnosis and if he passes test he will be eligible for a bone marrow transplant hopefully." 

*PLEASE READ UPDATES AS MANY THINGS HAVE CHANGED!!! DALTON IS ON HIS WAY TO A TRANSPLANT AND NEEDS MORE PRAYERS THAN EVER!
Updates will be added as we get more information. 
Prayers are accecpted in lieu of donations.