Tim & Michelle Cascio Family Fund
DIAGNOSIS
My brother's wife, Michelle, recently learned that she has pancreatic cancer. At 21 weeks pregnant, she underwent major surgery on November 10th, 2015 to remove her spleen and 50% of her pancreas. Michelle has been recovering slowly while their baby girl continues to thrive and grow in utero. The baby is due March 25th, 2016. The doctors informed Tim and Michelle that this is a very aggressive form of cancer which remains active. They are recommending intensive cancer treatments after the baby is born.
FAMILY
Their youngest child was born March 2015 with Down's Syndrome. He participates in the Early Therapy Intervention Program bi-weekly and is a very happy 9 month-old who has been a real joy to their family! Next in line is his three-year old sister who loves to keep up with the older girls.
Michelle homeschools the two oldest girls, who are very good students. Since Michelle's surgery, it has been necessary to have additional assistance in the home during the week so that Tim may continue working to provide for the family along with maintaining their health insurance.
CHURCH
Their parish community has been very supportive to the family during this time; Tim and Michelle are extremely grateful for their kindness and generous donations of food, prayers, and childcare. The Cascios are members of St. Stanislaus parish in Milwaukee:
www.institute-christ-king.org/milwaukee/
HOPE
Along with her excellent doctors, Michelle has entrusted her medical condition to Our Lady of Good Success through the intercession of Mother Mariana Francisca de Jesus Torres. The novena to Our Lady of Good Success is included below if you would like to join them in prayer. Learn more about this 17th century apparition, which is approved by the Church:
http://www.ourladyofgoodsuccess.com/frames-3-4-2005/article-ologs.html
SUPPORT
Please help support the Cascio family through your prayers and, if possible, financial contributions. Your donations will be used for medical expenses, home and child care needs, and the future welfare of the family. All donations will be transferred directly to Tim.
If you have any questions, please email us at
[email redacted].
Thank you in advance for your prayers and financial support!
David and Kamela (Cascio) Gleason
Kenosha, WI
Beautiful baby girl Cascio at 24 weeks!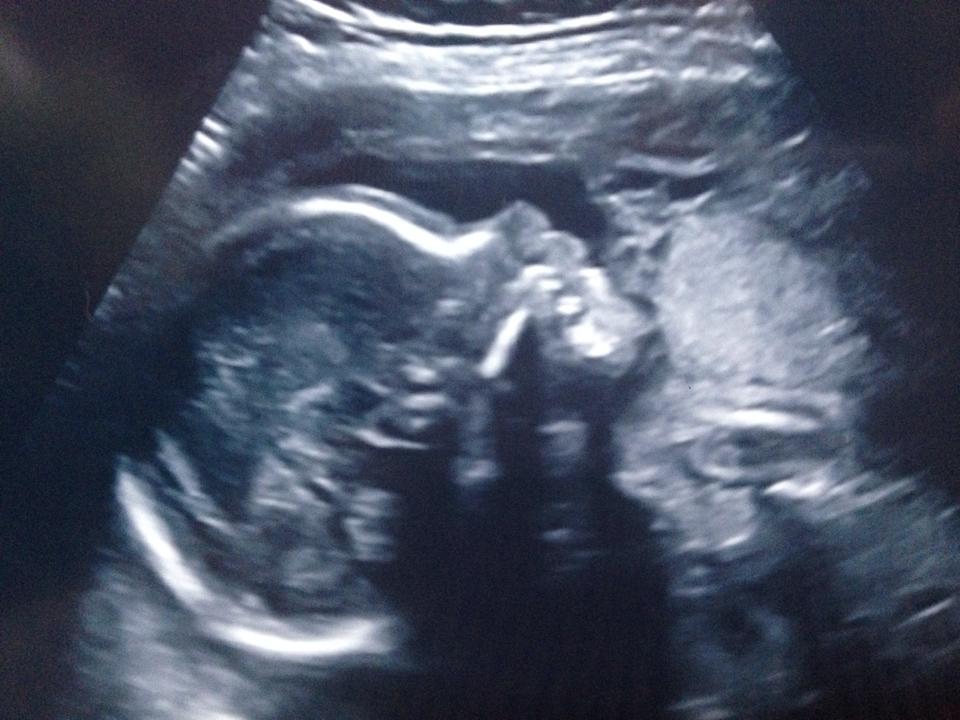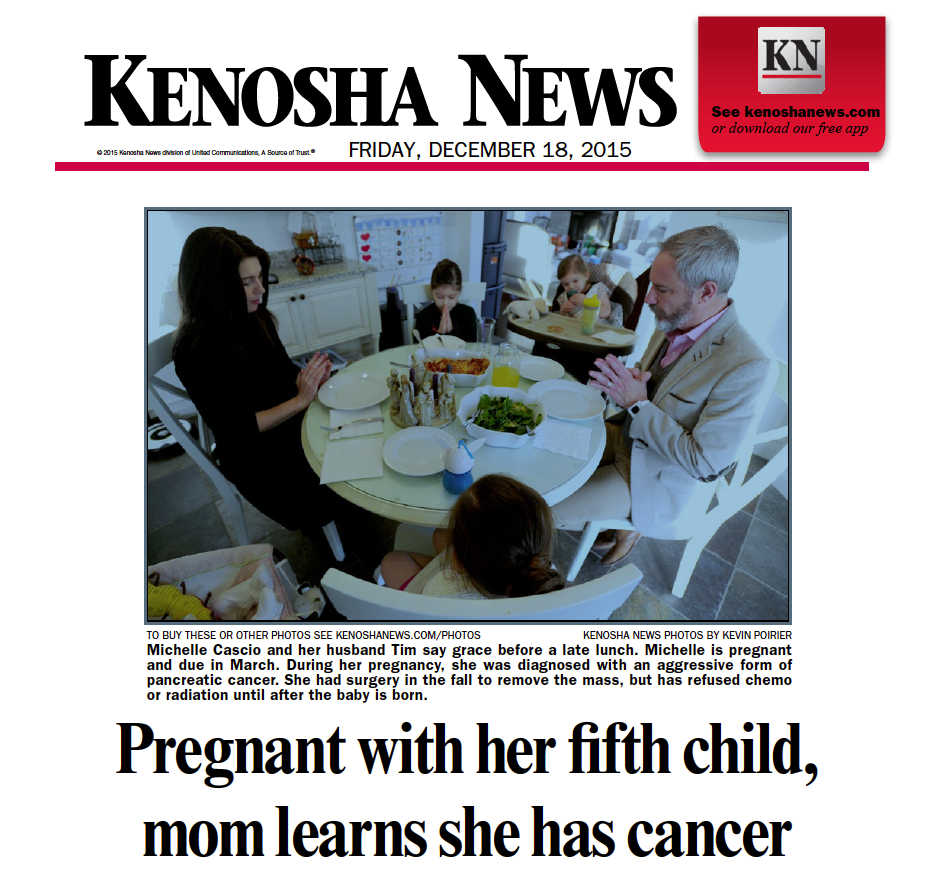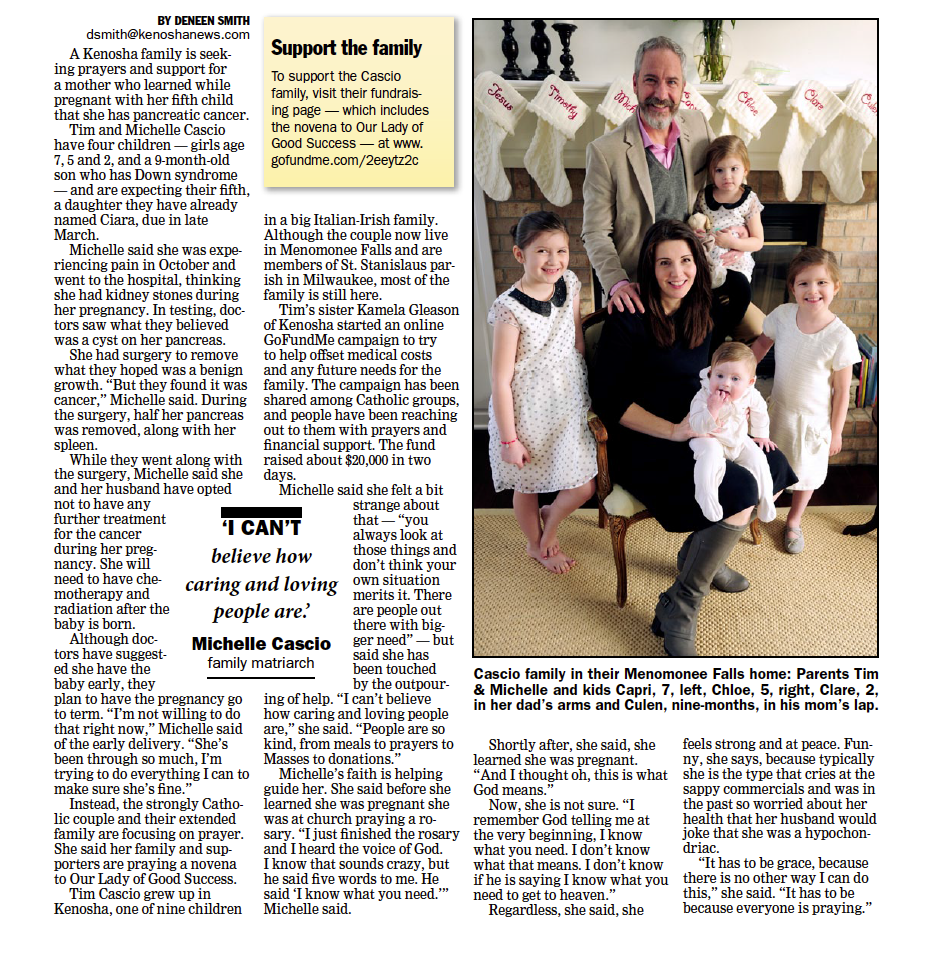 Video
with The Kenosha News 
Michelle Cascio talks about her experience of being diagnosed with pancreatic cancer while pregnant.
https://www.youtube.com/watch?v=A2beZWgOJMc
The Remnant (Catholic Newspaper)
An appeal from Michael Matt:
http://remnantnewspaper.com/web/index.php/fetzen-fliegen/item/2221-pregnant-home-schooling-mother-of-4-desperately-needs-our-help-this-chirstmas
The Wanderer Press
https://www.facebook.com/TheWandererPress/posts/711437468958067?fref=nf&pnref=story
The Badger Catholic - Matt Korger
http://badgercatholic.blogspot.com/2015/12/please-remember-this-pregnant-mother.html
Fr. Z's Action Item:
http://wdtprs.com/blog/2015/12/action-item-mom-of-4-with-5th-on-the-way-pancreatic-cancer/
Finer Femininity - Leane VanderPutten
https://finerfem.wordpress.com/2015/12/19/help-for-the-cascio-family/
AKA Catholic Blog - Louie Verrecchio
https://akacatholic.com/help-needed-in-seeking-a-miracle/
OnePeterFive - Steve Skojec
http://www.onepeterfive.com/the-cascio-family-needs-your-help/
Church Militant - Michael Voris
https://www.facebook.com/michael.voris.7/?fref=nf&pnref=story
WSFI Catholic Radio - Bill Snyder
On this Episode of WSFI Spotlight Bill Snyder, talks with Michelle and Tim Cascio about their journey of faith, devotion to Our Lady of Good Success and Michelle's Pancreatic Cancer diagnosis. This program aired February 2, 2016 on the Feast of Our Lady of Good Success:
http://wsfi.podbean.com/e/wsfi-spotlight-michelle-and-tim-cascio/?token=d3d805bb9e070b5dc40420cd1a8bf278

Novena to Our Lady of Good Success
V. In the Name + of the Father . . .  R. Amen
V. Soul of Mary,  R. Sanctify me.
V. Body of Mary, R. Purify me.
V. Heart of Mary, R. Inflame me.
V. Sorrow of Mary, R. Comfort me.
V. Tears of mary, R. Console me.
V. O Sweet Mary, R. Hear me.
V. With thy benign eyes, R. Look on me.
V. Through thy holy steps, R. Guide me.
V. To thy Divine Son, R. Pray for me.
V. Pardon for my sins, R. Achieve for me.
V. Devotion to thy Rosary, R. Infuse in me.
V. Love for God and my fellow man, R. Grant me.
V. Permit me not, R. To ever be separated from thee.
V. In the hour of death, R. Comfort me.
V. From my enemies, R. Defend me.
V. With the shield of they Holy Name, R. Protect me.
V. With they mantle, R. Cover me.
V. In the fatal instant of my agony, R. Assist me.
V. From dying in sin, R. Free me.
V. Into the arms of Jesus, R. Deliver me.
V. To the eternal mansion, R. Bring me.
V. So that, with the angels and saints, R. I can praise thee forever and ever. Amen.
Our Lady of Good Success, Pray for us.
Blessed Mother of Good Success. Thou didst have such a privileged love for thy daughter and confidant, the Servant of God, Mother Mariana Francisca de Jesus Torres, during her mortal life.
Obtain for us from Our Lord Jesus Christ, That we may prove they preferential love for Mother Mariana by granting us the grace we now ask of thee.
(for Michelle's cure)
And the extraordinary favor of seeing Mother Mariana soon raised to the honor of the altars.
So that the Chuirch and the Ecuadorian nation may count on a powerful intercessor who will save us from the physical, moral and social evils that beset our lives and bring us to the brink of despair. Save us with thy prayers and thy perpetual love of Quito, of all Ecuador, and of all thy children who have recourse to thee.
V. Our Father . . .      R. Give us this day . . .
V. Hail Mary . . .          R. Holy Mary . . .
V. Glory Be . . .             R. As it was . . .
V. In the Name + of the Father . . .  R. Amen.