Hello, My name is  Lauren Barwick  4 star Parelli Professional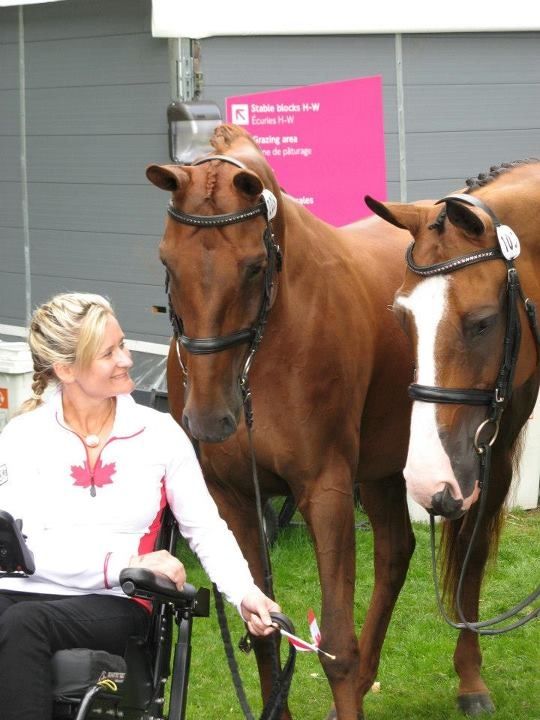 and  a 3 time Canadian Paralympian looking forward to my 4th Paralympics in Rio de Janeiro. During my career  I won a gold and silver medal in the 2008 games in Beijing, most recently a silver and bronze medal at the 2014 World games in Normandy France.   I am the number one ranked Canadian Para Equestrian rider, and I was honored with the Canadian Equestrian of the year award for 2008 and 2014. 
When I broke my back in 2000 and became paralyzed, I never thought I would ride or dance again.   Horsemanship and competitive sport has given me my legs back, allowed me to see the world, and dance better then I ever could.  
With the support of my friends and family, I have been able to pursue what I love, competing in Equestrianism at the highest level.  I have had the opportunity to be able to take my love for horses into a level of horsemanship and make a career out of it.  To attend my 4th games I have had to really focus these last few months on solely training.  In doing so, there is quickly a realization of the financial hardship that comes with the territory of being a performance athlete, not just me but maintaining a competitive horse. I ask you to please support my goal and join me in making this games another to write home about.
The money raised will go toward basic living expenses freeing me to concentrate my final efforts on training, dieting, and exercising and weight lifting every day. Rent, utilities, groceries, equestrian equipment, and performance vet care for Onyx.
Every donation will be greatly appreciated.  In return, I want to offer some amazing gifts which were donated to help my cause.  I will randomly select people from the donation list to recieve these gifts of appreciation.  
1) Parelli Natural Horsemanship -One week education course on the Florida or Colorado Campus. Not valid for Pat or Linda's personal courses. Please view Web site for course options. 
2) Vancouver Island Canada, Malcolm Island
Hotel Accommodations for 4 days and a 2-day fishing charter.  
3) Package of 4 private lessons with Lauren Barwick In Florida at her place, your place for the cost of travel.
4) 4 day intensive or clinic at Laurens Facility in Florida
5) 1 of 10 of my Riding for Gold autographed books.
6) If over 15,000 is raised I will do a 3 day clinic for 5 people at someone else's facility with in North America. 
7 ) 1 of 10 personal post cards from Lauren Barwick while in Rio de Janeiro
I am looking forward to bringing all my supporters from around the world on a magical journey down the center line in the equestrian arena in Rio.  Uniting with my team mates to inspire and motivate the rest of the world to pursue personal excellence in each day.  
Click here for more information.
You have to believe, "Why not me?"
Lauren