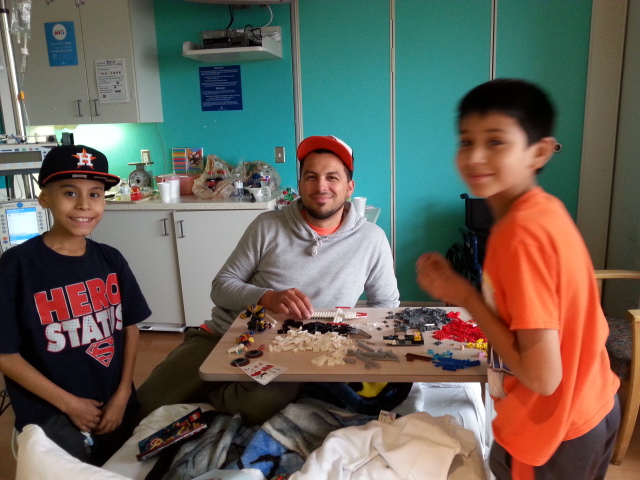 Gerardo "Jerry" Martinez is an 11 year old boy who lives in Kingwood, Texas with his parents, twin brother and two older sisters. He is a fighter and I am so proud to be a friend of his and his family. 
I met Jerry at Texas Children's Hospital while volunteering there and instantly felt a connection with this kid. He has a smile that can light up any room and is as close to an angel that I have ever been. We painted a craft together that day, but something told me there was more. I gave his mom my phone number and I have had the privilege to visit him several times since then. During those visits I learned something incredible - that he was a normal, every day kid, until his life took an unexpected turn and is now dealing with a difficult circumstance, that no innocent boy should ever have to face.  
To understand, you have to go back to late December of 2015 when Jerry started complaining of leg pain. His parents thought they were normal growing pains and the doctors even ran tests but just gave him pain medicine. After a few more months of pain his mom felt a lump on his stomach and took him back to the doctor where they performed an ultrasound and later sent him to Texas Children's Hospital. 
In March of 2016, Jerry was diagnosed with cancer and started undergoing intense treatment. 
Jerry is currently focusing on family time and regaining his strength. 
We love Jerry and know he will continue fighting and overcome this battle - this is our prayer.
In fact his full name means "brave" so we believe that there has always been a special plan for Jerry to bravely make a difference in the lives of others, and that plan is far from over.
After speaking with Jerry's mom Alicia, they agreed to let us set up this GoFundMe account to help them with medical bills and plans for Jerry. They are planning to travel to seek other medical opinions and they would also like to take their family to Disney World or Universal Studios, if possible.
. 
As I finish this story and as you read this, I would ask you to follow your heart and think about your life, your childhood or even your kids - and though yes this story is a sad one, this story is a real one, with a real little boy named Jerry, with a real need for your help. Any gift level is appreciated and thank you in advance for your thoughts and prayers of healing.  
- - - - - - - - - - - - - - - - - - - - - - - - - - - - - - - - - - - - - - - - - - - - - 
"Be strong and courageous. Do not be afraid; do not be discouraged, for the Lord your God will be with you wherever you go." Joshua 1:9
- Created by Chris Garcia and Family for the Martinez Family