My husband says the best way to write when you hate to write is to just start writing. Smart advice from an English major, so I'll start by telling you about me. 
I'm  Nadine Steidl. I'm 51 and my 75 year old mother is in better medical shape than I am. She even has had a personal trainer for three years, which makes me incredibly jealous.  I will have been married to a man I for whom don't have enough good words for 25 years in September. I reached my dream in my thirties of being a Reference Librarian-- since I was ALWAYS at the library, I thought maybe I could get paid for it. I had to go back to for a Master's Degree in Library and Information Science, and adored my job. I loved connecting people with information and still do it now, except I don't charge them!
This all changed around 2001. Fibromyalgia was the most diagnosed disease for women at that time who had severe muscle spasms and were tired as walking zombies. I went through
A LOT
of physical therapy, saw pain specialists and was given a ton of pain pills, since the doctors didn't know what else to do. Then, in the Summer of 2014, I found a neurologist. I'd been having balance problems for many years to go with the pain. I can't do the heel-toe walking, but my husband can do it forwards
AND
 backwards; which just annoys the daylights out of me. The neurologist sent me for blood tests and one came back high for something called a GAD antibody. She thought it was a mistake and had it done again. It came back higher. This is a prime indicator of a one-in-one-million disease called Stiff Person Syndrome. Which is progressive and incurable. Also let me add really, really painful-- it is like a never ending muscle working all over your body. Eventually, I may not be able to swallow and it causes breathing problems with the muscles that control your lungs. There is also a "Startle Reaction" where a sudden noice or even a touch can cause you to fall forward on your face. You can't stop yourself. I was lucky, the neurologist prescribed a walker with wheels and breaks. This rollator is the only reason I haven't fallen on my face. This was confirmed by a specialist (3 hours away-- eeek!) on December 1, 2015. I was lucky, most people with Stiff Person Syndrome take seven years or more to diagnose.
So, we try treatment. Since I had a fibromyalgia diagnosis and was on major painkillers, the physical indicators weren't there, so no one could tell when the Stiff Person Syndrome started. This caused a huge treatment problem. The specialist did two rounds of Intravenous Immunoglobulin (highly expensive, since it is from the donations of about 10,000 people and has a short shelf life). You can see me with my lovely hair in the photo. Both Intravenous Immunoglobulin treatments failed miserably. There isn't much left to try to control this. I was at Target yesterday, with my rollator with my husband. We were there for 30 minutes. I came home to the worst leg and foot spasms. I had to wake the poor man twice to try to get my legs and feet to stop feeling like I had run a marathon.
Why am I asking for help? 

Well, we had to take out a bank loan for $1400 for the first failed Intravenous immunoglobulin treatments. I DO have Medicare, but I have an Advantage Plan, like an HMO. The neurologist and I have had to fight them for every drug and every treatment. Plus there are co-pays. That's where the need for help comes in. The bill hasn't even come for the second round of Intravenous Immunoglobulin treatments and it will bankrupt us. 
My bed is fifteen years old, so I also need a new bed, since I'm there much of the time! Believe me, this bed is BAD, and sealed twice since bouts with bedbugs other tenants brought back with them.
What this means to me...

It means hope that I can walk more than 25 feet. Maybe even cook dinner for my husband again. Try to pursuade my cat, the highly spoiled rescue ZoeLuna use a harness to be outside (this will NEVER happen, she just rolls over).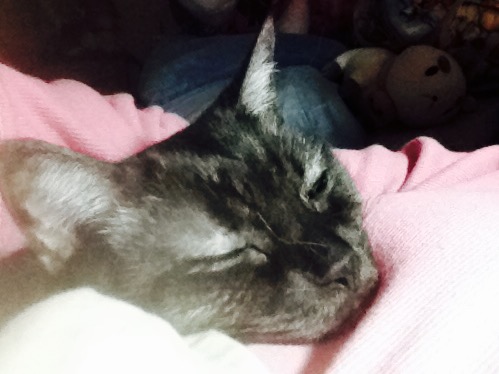 She's sleeping on my right shoulder here and we compete for pillow space. Really!
A new bed could give me such a better night's sleep. This one is way beyond its lifespan. Also I could position myself better to color (I have an impressive collection of adult coloring books. It just happened. Really it did!) Also I could adjust myself for better breathing and less pain. 
Please help me with my one-in-a-million, fall on my face Stiff Person Syndrome cover my medical bills and a new bed. It could make a world of difference in my life. 
As as for when I need the money? Well, now. We had to take out a bank loan for the first failed treatment. The bill for the second will likely be more. If I have the one remaining treatment available to me, which removes the anti-GAD which makes your muscles extremely tight-- sometimes to the point of breaking bone, it will be extremely expensive.
Thanks

It's impossible to express the gratitude and blessing I will feel. My heart will get three times bigger, just like "The Grinch Who Stole Christmas". 
I also promise to pay my generous help forward in donating to Stiff Person Syndrome research and helping animals that were horribly abused get care and a loving home.
Please share this, even if it's just for the great picture of my horrible hair while getting IVIG (this was the first round).

Organizer
#1 fundraising platform

People have raised more money on GoFundMe than anywhere else. Learn more

GoFundMe Guarantee

In the rare case that something isn't right, we will refund your donation. Learn more

Expert advice, 24/7

Contact us with your questions and we'll answer, day or night. Learn more