I've known Danny for a few years but only via somebody else but never really knew him until recently. 
After his response to a message from me I rang him and learnt the true extent of his hell that he  has experienced over the past 18 months and still living, but even though he is in this position he still took the time to ask me how I was. 
We all have our struggles in life and Dan listened to mine, put aside his and for once I found I was on the receiving end of advice, a comforting voice that assured me life would get better. 
Dan is my new hero, wise, kind and super strong. It is a rare trait in a human to find someone who can put their troubles aside to help others, if more people were like this the world would  be such a better place. 
I hope you can take the time to read his story and if you can help in any way it will be greatly appreciated. 
Remember in a world when you can be anything be kind, be more like Dan.
Here's Dan's story 
Imagine just for a second if you opened your eyes one morning and everything had changed. I'm not talking a global pandemic which it seems at this point in time the world is focused on and whilst a lot of peoples lives have been changed they still have the ability to go about some what mundane activities, I'm talking about waking up and realising you are paralysed.
Take a minute to acknowledge those feelings of utter panic, fear, not knowing what had happened just hoping maybe it was a nightmare.
Hello let's start from here my name is Danny and on September 23 rd 2019 this happened to me.
Life was treating my ok at this point after some personal knock backs I felt I was finally getting myself back, I had hope that the future would be bright and despite my story I still have hope one day I will walk again.
Leading up to that day I had been experiencing extreme back pain that had led me to sleeping upright for 2 nights but when I woke on that Monday morning I realised I couldn't move, initially I thought I just had that dead leg feeling but then reality hit me like a ton of bricks I was paralysed.
An ambulance was called and I was taken to Medway hospital and then began the long process of tests, scans to discover what was happening to me.
I had  2 abscesses on my spinal cord and my medical team decided it could no longer be treated surgically but medically.
This quickly accelerated into sepsis and if I'm honest there were many times my reality was lost in just wanting it over, to not live this torture, mentally as well as physically.
I was moved to a hospital that predominantly dealt with chronic stroke patients where it became apparent to myself that with no physio facilities I needed to move on.

I was then taken to Hoffields hospital where they raised a complaint with CQC about the physical condition I was in, the pressure sores on my feet and the upgradable one on my sacrum.(photos shown )
During the 8 weeks I was there I was continually moved every few hours to help alleviate and begin the healing of the sores. Eventually I was allowed gentle physio but once again it was recommended I was sent to a  hospital that dealt with spinal injuries. 

During meetings with medics, my family and myself it seemed the best place I could move to would be Stoke Mandeville, which came with promises of grandeur. 
Finally I arrived at Stoke mandeville hospital and at last I thought a place that was renowned for its care in spinal injuries, how wrong could I have been, the set up was archaic in places and then Covid 19 hit the uk and the hospital was cleared in preparation for those patients.

I found myself in a care home, on an end of life ward. Mentally this hospital had me dealing with days whereby other patients I had spoken to were no longer there, I was literally seeing those new friends dying before my eyes, whereby my only sense of freedom was a small roof garden, my only solace in a world of nightmares and this is where I spent months before I personally realised I needed to do something, maybe this was the time I returned, the Dan that used to be but I researched and fought for funding to get myself to the Peter Gidney neurological care centre, whereby through intense physio I have pushed myself and have starting to rebuild my leg muscles.
To be honest I've skimmed over the details of the countless bed sores that were ungradable, the fear of losing my bowel, my legs, my sanity, the fear of a tumour that may had been cancerous and ultimately my life, those still hang in my mind but I am still here, I'm a survivor and maybe one day I will be in a position to help someone else in this thing called life but at this point I need help to get there.
My next step is to return to my home and continue my physio with the aid of a stim bike, which realistically will be my lifeline to walking again and a few adaptions to my home to allow me to live independently. 
So I'm asking if my story has made you think 'what if my world changed tomorrow and I needed help would it be there' and you can give any amount to help me achieve my goal of walking again I thank you from my heart and will take you on my journey.
Thank you
Danny Maher
Pressure sore on sacrum 
 Pressure sore on foot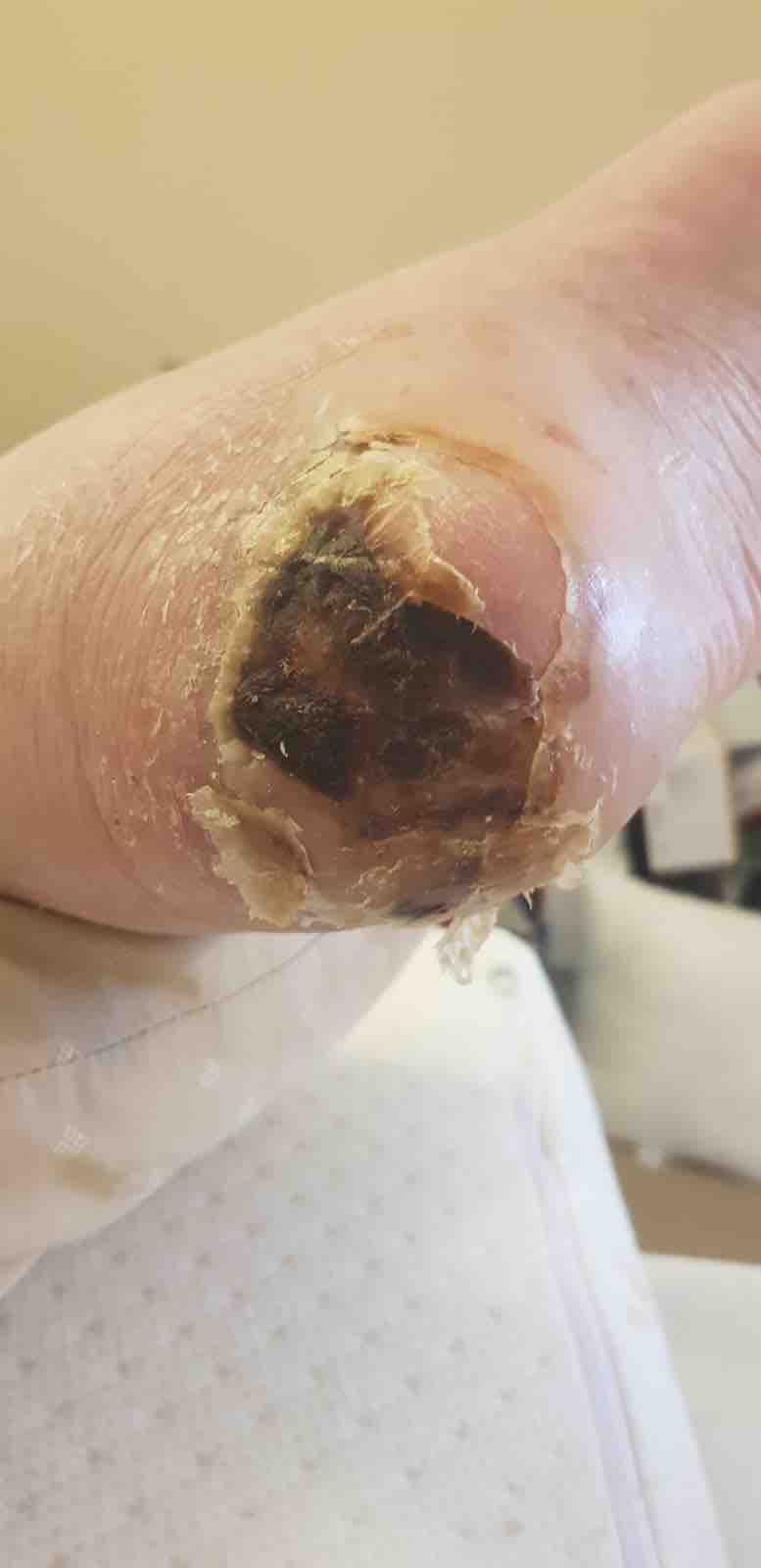 Bike needed for progression of physio 
Organizer and beneficiary