My name is Tara Ryan.  I've lived in the Hudson Valley my whole life.  The photo above is of me and my son.  He's almost 22.  Right now I'm in quite a bit of shock.  On April 28th I was diagnosed with Stage 3 Cancer.  I am scared.  Petrified actually.  This past week the tumor has been growing fast and in the last week alone I've accumulated many new symtons.  Fever, nausia, headaches, burning in my head, the lump is suddenly painful, and I tire quickly.  When I over exert myself the tumor gets bigger.  This Friday I have an appointment with a Melanoma Surgeon Specialist at the Dana Farber Cancer Institite for a consultation.  My oncologist says it's the best place for me to go.  Last year I did everything the doctors told me.  Now here I am again and cancer has come back with a VENGEANCE!  Stage 3.  I need to be aggressive & radical immediately with research and as many treatments as possible mainstream and alternative.  Like I said, I did everything they told me to do last year!  It didn't work!  Now I need to follow every one of my instinct's IMMEDIATELY to reverse this cancer!  I don't have time to waste.
First, can you please take a moment and HIT SHARE IMMEDIATELY so I can have access to as many people as quickly as possible... THEN,  PLEASE read my story.  Your help means the world to me and my family.  Your help will help me BEAT THIS AWFUL DIS-EASE!  I know in every way I can I will turn around and help others.
Thank you for hearing my story and for any donations you make.  You mean my world!  I am asking for a lot, but I can't limit myself.  Not this time.  I don't have time for limitations.  Your financial help will help me:
1. Get a roof over my head that is stable, comfortable , stress free, and healing.
2. Help pay for treatments that are not covered by insurance.
3. Help me pay my bills and groceries.
My story is below.  Thank you Thank you for taking a few moments to read it and share it.  And thank you profusely for your help.  Private message me if you have any questions or other advice.
Tara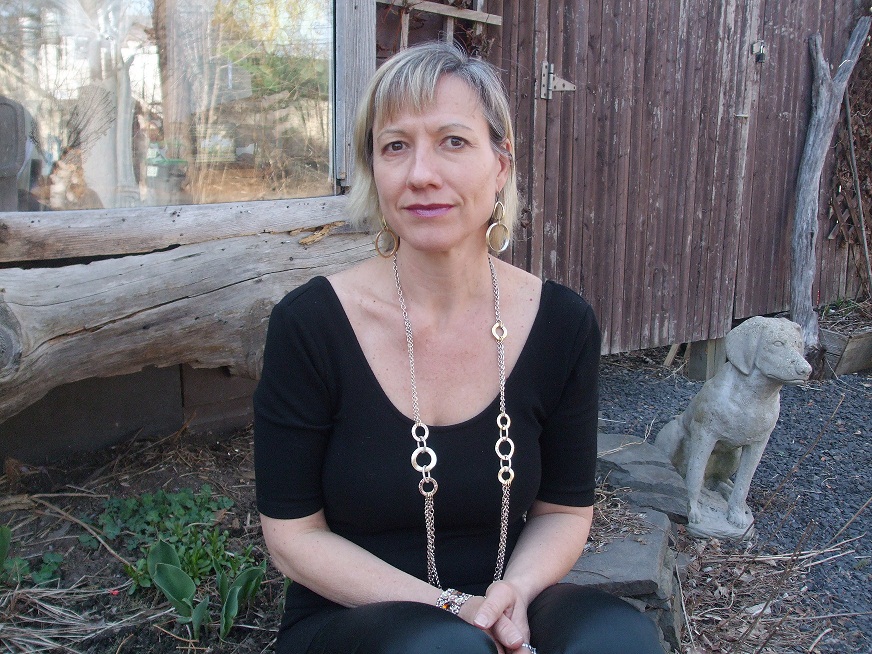 In March of 2015 on a Friday night I went to have my hair done.  My hairdresser found a reddish brown spot with a small black center on the top of my head the size of a half dollar.  It wasn't there 2 months earlier.  She took pics for me and told me I needed to see a doctor immediately.  It wasn't raised, so I couldn't feel it when I showered.  I came home thinking maybe I had a tick in my head with a bullseye and asked my boyfriend to check it out.  Monday morning I went straight to my doctor.  Within a week I was diagnosed with a Very Aggressive Malignant Melanoma.  The cells were dividing very quickly.  Yes, my hairdresser was right.  It wasn't there 2 months previous.  I had to have 2 surgeries immediately.  One in April to remove the tumor and send it to the lab.  The second in May.  (Ironically, this week is my 1 year anniversary.)  They removed a very large portion of my scalp (like the size of my hand) down to the bone, then did a skin graft so I would have hair.  I had 2 surgeons at the same time.  1 doing the above and a second surgeon that remove 6 lymph nodes in my neck to fight the cancers chance of traveling.    After my surgery when all of the results came back from the lab the margins were all clear, which meant in the medical world of Melanoma that I was cancer free.  
It was so freaking scary!  I cried a lot!  And I thought I was going to die!  I had so many doctor, lab and tests... appointments.  It was so overwhelming.  It turned my world upside down.  I was so thrilled and releaved when I was considered cancer free!  So then I needed to heal.  I went back to work 6 weeks later simply because I needed to start moving, however, it kicked my butt!  My work is physical.  December 2015, 7 months later, was the first month that I could function in the evenings after working all day instead of arriving home and crashing.  I was seeing the light... of the self I used to know.  The holidays were here.  I was so happy to be alive and celebrating with my friends and family, but really looked forward to January when I could start having normalcy.  It had been a long year.
In January I got a call that my Dad was very ill.  He lived 14 hours away very remotely in the Alleghany Mountains in Virginia.  He had just been diagnosed with Teminal Lung Cancer.  His left lung was filled with tumors and had shut down.  He was diagnosed with 1 month to live.  I had found my Dad 6.5 years previous after 45 years.  He's my Dad.  I packed my car and drove to him hoping to assess him and set him up with all that he needed.  When I got there, I couldn't leave him.  He was so week.  He couldn't even make meals for himself or get up to go the bathroom by himself.  Hospice is fabulous (so fabulous), but they only come in for 45 minutes 5 days/ week.  I stayed with my Dad and took care of him 24 hours/day and made his world as wonderful and dignified as possible.  It was the hardest and most amazing time we had together.  I was exhausted.  It was like 3 full time jobs 24 hours/day.  My Dad declined so quickly.
6 weeks to the day on March 8th 2016, my Dad passed into heaven at home in his sacred space.  I had given him his wish to be home till the end.  I then had to organize his funeral, sell his things and pack up his house.   He did not own his house, so I had to empty it right away.  
Here's mine and my Dad's hands.  I helped him up so many times a day.  I took a photo at the time because I wanted to always remember our hands joined.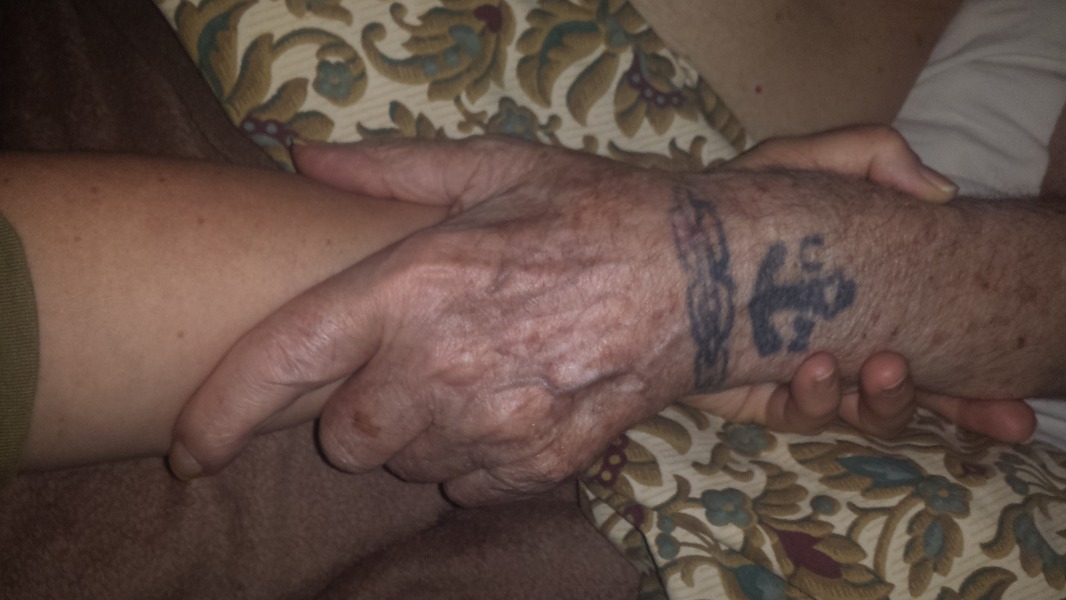 During the time I took care of my Dad a lump appeared on the back of my neck at the base of my skull.  I didn't think much about it.  I thought I was over doing it, overwhelmed, maxed out, and very stressed.  I was away from my family for 9 weeks exhausted, but I did it.  I was so proud of what I had done.  I still wasn't healed from my own cancer experience from last year.  I looked forward to getting home to my family and my boyfriend.  I needed so much sleep and catch up with myself.  I loaded my Dad's van with all the wonderful furniture he had made over the years, and my now 2 dogs (I acquired my Dad's) and towed my car back to New York.  I couldn't wait to get home to rest and grieve.
Here's my Dad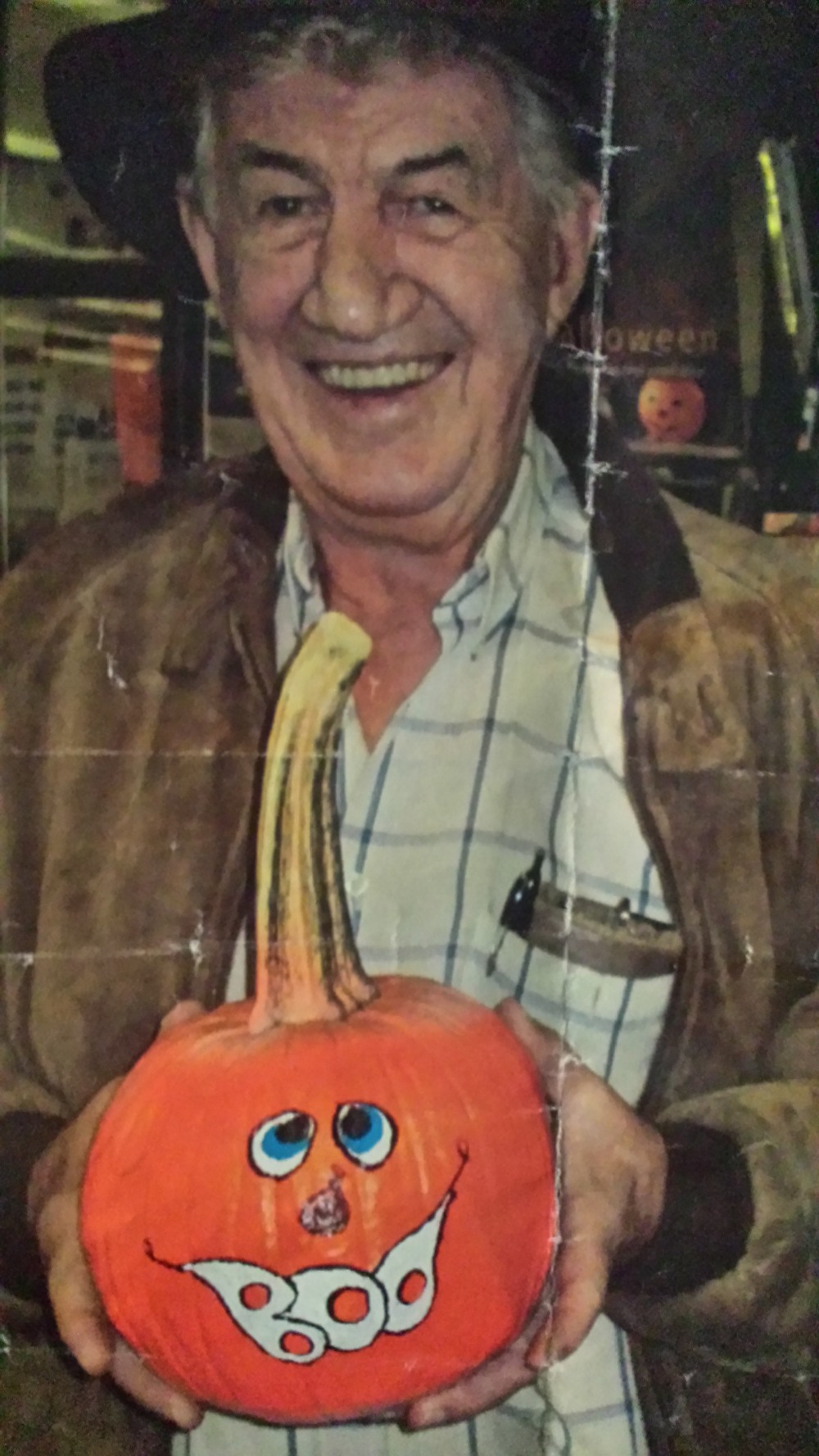 I left home on January 29th and pulled back into my driveway on April 2nd depleted.  For the first week my boyfriend was very distant and it was obvious he wasn't thrilled I was home.  I wasn't expecting this reality.  I rented a storage unit just to unload my Dad's van because I felt so uncomfortable.  On January 19th we decided that we would split.  New problem.  I live in his house.  I was exhausted, blown away, overwhelmed, so sad, and I had just used all my Dad's money to pay his bills.  I thought I was coming home to sleep, cry, grieve, be with the people I love and finish healing.  
Upon arriving home I immediately went to my quarterly visit with my dermatologist.  I had her look at the lump on my neck.  I really didn't expect her reaction!  She freaked out and got on the phone and called my oncologist immediately!  It was actually a little embarrassing!  She was adamant that I have a complete blood workup immediately and follow up with my oncologist IMMEDIATELY!!!  Which I did.  Then a Petscan.  I only told one person because I didn't think it was a big deal.  Other then tired and overwhelmed I felt fine!
On April 28th my world changed!  I was diagnosed with Stage 3 Cancer.  I am in shock!!!!!  This is so serious!  My oncologist has scared the bajeezes out of me!  He said we have to be radical in our treatment!  And there's no time to lose.  (last year my cancer was Stage 1 and that was intense)  This Friday I'm hoping to see a Melanoma Surgeon Specialist at the Dana Farber Cancer Institute in Boston 3.5 hours away.  (not sure yet if my insurance will cover-$800 for 1st consultation)  My oncologist says I will need surgery asap.  I have 2 tumors right next to each other.  1 in my lymphnodes.  I need them both removed, as well as all of the lymphnodes down my neck...then radical treatment.  If all goes well I will most likely have treatments for up to 2 years!!!!!
Right now sitting here with my whole world suddenly turned upside down... it is all so way over the top too much!  How can the world hit you so hard all at the same time?  3 weeks ago I needed to regroup and grieve my Dad.  2 weeks ago I was upset over my breakup and figuring out moving.  This week I need to work diligently at saving my life.  And, it seems I won't be working much more.  I feel like crap suddenly!  My symptoms are increasing quickly!
For those of you who know me, you know that I love life.  I love my family and my friends.  I was a single Mom raising my family.  My kids are 22 and 29 now.  I love dancing Tango!  I have a small house cleaning business.  Mostly I work by myself.  I've cleaned so many of the homes in this valley for the last 34 years since I was a teenager.  In addition I've been very involved in my community for years and have given so much time to make a difference.  I give my heart and soul to all that I love.  
Now I need your help.  I need a roof over my head that is solid and stress free so I can thrive as best as possible, cope, and heal.  According to my oncologist it looks as though I will have surgery shortly.  Probably the next couple of weeks, and the treatments radical.  I need to be wise and proactive immediately!   I know it's asking a lot, but I have found a house that appears I could acquire for only about $75,000 and it is move in ready and adorable!  I really want this house to heal forward in.
Theses are my reasons to thrive.  My son.
My daughter and grandchildren.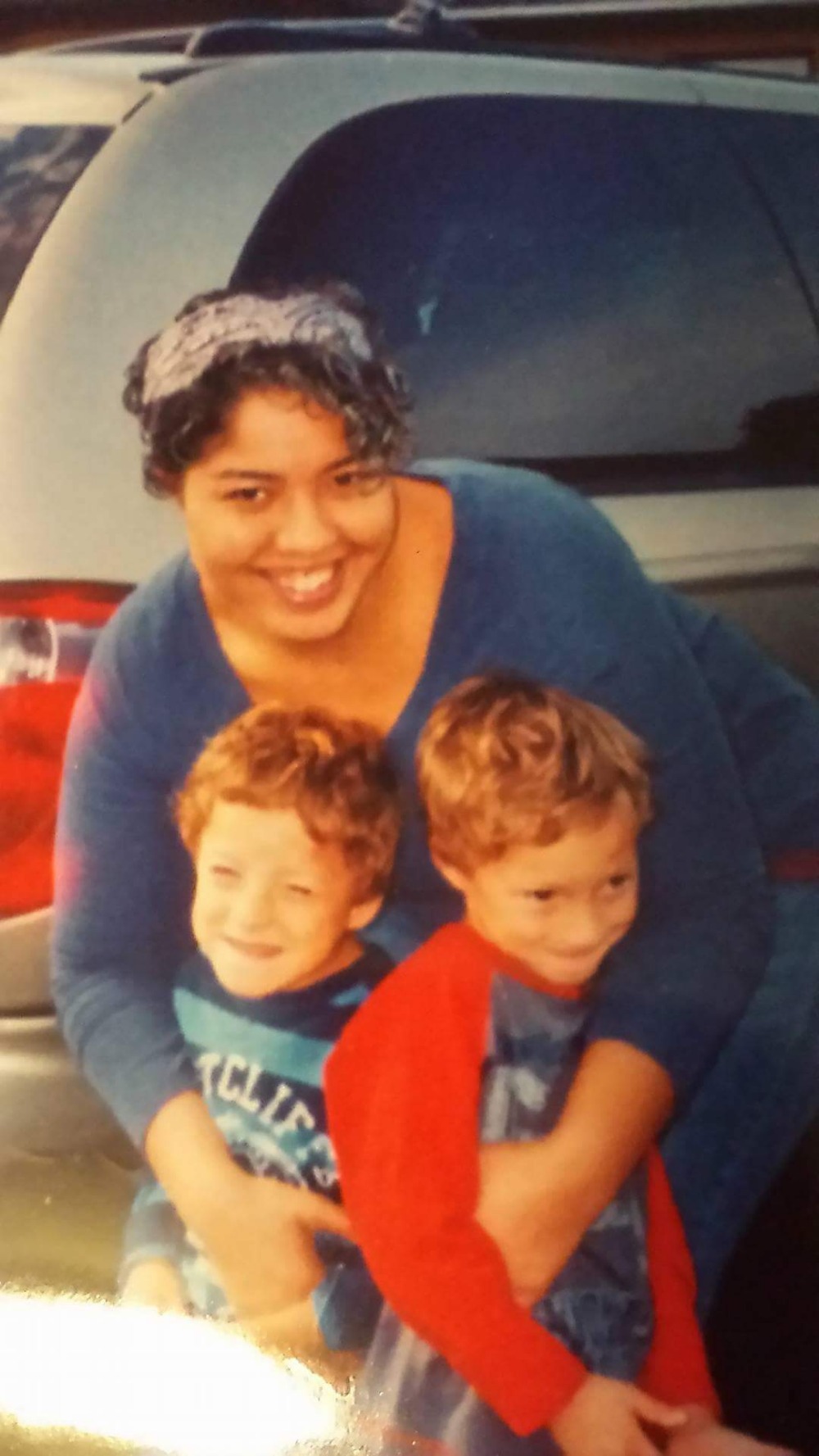 PLEASE hit SHARE IMMEDIATELY if you haven't already so my fundraiser can be seen by many.  Thank you for hearing my story and sharing.  And Thank You Thank You for your kind help!
Tara