Jon Weeks' Pancreas Transplant Fund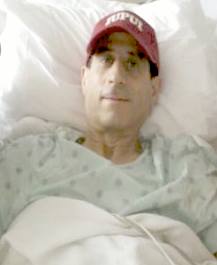 Friends and family of Jon Weeks are trying to raise funds to help cover the cost of multiple hospitalizations, travel expenses and medications not covered by the family's health insurance plan.
Jon became ill in December 2010 as a result of an auto-immune disorder that destroyed his pancreas, causing him to become a very brittle Type I diabetic.
As the months passed, his pancreatic function was lost, leaving him unable to digest and absorb nutrients from food, causing intense physical pain and uncontrolled high and low blood sugars, as well as malnutrition that nearly cost him his life. After three attempts at surgery to help the affected pancreas and surrounding organs, and due to incredible malnutrition, Jon's doctors decided their only route was to proceed with a less common, and possible life saving procedure called, a "Whipple Procedure".
On June 14
,
2012, doctors at Indianapolis University Hospital took him into surgery, removing his entire pancreas, spleen, 1/3 of his stomach and 1/3 of his small bowel. He was hospitalized in the ICU at IU for 2 weeks before being discharged to the step down unit, and then home. Jon went home with a feeding tube in his small bowel and a drain tube in his stomach. He was tube fed with a pump for three months before doctors were comfortable enough to remove the feed.
He was called in for a pancreas transplant on March 10, 2013 and was taken into OR at 11:30 AM on March 11th. He is currently recovering in the Transplant Intensive Care Unit at IU Hospital in Indianapolis, Indiana.
The family is from Bellefontaine, Ohio and the travel back and forth to Indianapolis has caused them many hardships due to the long distance. Jon's wife Sharman, has had to take off a lot of work, and they have faced that reduction in income, as well as the costs involved in travel. It is a 3 ½ hour drive from their hometown to Indianapolis and during his hospital stays, multiple surgeries, etc., the family has had no choice, but to live out of area hotels, thus creating even more debt. While the transplant is now complete, the family will continue to make twice a week visits to Indianapolis for the bi-weekly transplant clinic to assess his condition, to give samples of blood and other necessary testing to prevent rejection of the new pancreas.
Their ordeal has spanned two years and at this point, there is no end in sight for the significant medical care he will need.
The transplant is a new beginning for Jon, and we wish him good health and a speedy recovery.
Thank you all for taking the time to read, and to understand what this family is going through. They are very grateful for the friends, family and even strangers, who have gone out of their way to help see them through this.
God bless you all.