Support Dillan and Trooper fight FIP❤️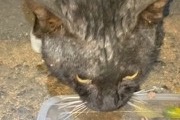 Hello Everyone ❤️

This is a fundraiser to help support a couple of my beautiful and very special foster kitties, Dillan and Trooper. Two once forgotten and abandoned kitties whose lives were in peril until the day came when I was able to get them off the street and bring them into my home. My job...heal their wounds, and help bring their little tattered bodies back to health. They had both been through so much living on the streets trying to survive. These boys came to me in such bad shape. They had mange, open wounds, broken teeth, and were extremely underweight and malnourished. They were tired. So so tired. Both tested positive for FIV, and although today we know it's manageable and they can still have a beautiful long healthy lives in stress free loving homes, it's still one more thing their little bodies have to endure  
Dillan and Trooper had been part of a feral and stray colony of cats that I found myself feeding every night. Seeing them the way they were, incapable of acclimating to the harshness off concrete and cars, was heartbreaking. But, once these babes were brought back indoors,  after just a few short months, they have truly flourished. The mange has cleared and fur is beautiful, their wounds have healed, their eyes are bright, they have gained weight and love to eat. They are allowing themselves to trust humans again. They love playing with toys, sleeping in plush beds, scaling tall cat trees, hanging out relaxing in their own personal loft bed...yes, they've  taken quite nicely to the indoor life again. 
But, despite this "second chance" they've been given, I recently received some news that I was completely unprepared for. Just one week apart, both Dillan and Trooper were diagnosed with different types of the same fatal disease...Feline Infectious Peritonitis, or FIP.  This is a mutation of the feline coronavirus (not related to COVID-19.) It is not a mutation that is contagious, it just happened to be Dillan and Trooper who have it.    
It started like this: I began to notice a bit of change in the boys. Not super noticeable at first. But they weren't  quite as active, their demeanor kind of muted. Trooper wasn't talking (and boy he's a talker,) and he started having signs of a possible upper respiratory infection. They were both sleeping more than usual. Dillan's abdomen was oddly large and distended. He wasn't eating quite as ravenously as usual. They both seemed to be losing weight as well.  So, I did what any one would do with FIV positive kitties, or any kitties for that matter. That is, immediately make two appointments to see the vet.
Well, On Friday February 5th, 2021, Troopers bloodwork came back showing "all the indicators that scream FIP." I just couldn't believe it.  The sweetest, most goofy, have to be the first through any door that opens even if it mean tripping you, Chatty-Kathy boy I've ever met, who is 110% love machine, and who had already been though so much and fought to come so far in such a short time, now has yet another life threatening battle to face.
Then, on Thursday Feb 11, 2021, an ultrasound was done on Dillan's abdomen since his midsection seemed so distended, and I was  feeling more concerned after getting the news about Trooper. The exam results showed fluid was in in his belly. After drawing a yellow viscous fluid to send out for testing, and reviewing the blood results, the vet called me. She said, "I'm so sorry, Dillan has "Wet" FIP. 
What?! This is not happening!
This giant love, this purrr factory that drools when he's happy, this boy who has learned to trust again, who went from being terrified of being held to being able to fall asleep over my shoulder, who was clearly abused and left to fend for himself alone to survive the streets, like Trooper, now too has another long terrible battle to face.  

This was a devastating blow, especially given how much these two beautiful boys have already been though in life. Once a cat develops FIP, the disease is usually progressive and almost always fatal.   
After discussing the outcome to friends who have walked through this very thing with some of their personal and foster kitties, I learned that FIP doesn't have to be a death sentence anymore. There is a treatment available today that has saved so many lives. Even the lives of some who were near taking their last breath are now doin well! 
Knowing this, I became determined to start them on the 84 day protocol, in order to give them the chance to live the incredible life I promised them they would have.
Today Trooper is on day 9 of treatment, that equals 4 vials. I was able to buy 9 days worth of treatment to start and have since purchased  another 4 vials which I am waiting to be delivered. In total, Trooper will need nearly 30 vials to get him through the required daily injections. 
Unfortunately, Dillan has yet to start treatment,  because I learned about his diagnosis after I spent all my money on Trooper's treatment. Dillan, at a weight similar to Trooper will need 30 vials as well. Dillan needs to start right now if he is to survive this  
I adore these two boys. I love them endlessly want to save their lives. I am going to do everything  I can to make that happen, which is why I am willing to ask for your support now.  I need your help. We need help. Without financial support, I will not be able to complete Trooper's treatment or begin and finish Dillan's. They will not survive this with you. I have exhausted my own resources for now, but as more comes in I will be buying what I can. 

As I have mentioned, this treatment calls for 84 days of consecutive injections or tablets. For these boys it will be injections as these are a bit less expensive.  They will also need to have bloodwork done at 30, 60, and 84 days to see the progress and watch for possible complications. Supplies like syringes, needles, and supplements are needed while on treatment as well, and with multiple trips back to the vet for bloodwork, and the daily injections- it's going to be intense, and it is already extremely emotional.  
Ultimately the goal is to raise $6000.00 to cover most of the treatment cost, but any amount to start helps me buy some of the medicine NOW.  This an expensive treatment for anyone,  but the good news is, I can buy the medicine as the funds become available. In other words, together we can make sure they get to live. It is with a great deal of appreciation and gratitude that I ask you please to consider helping me to save their lives by donating $5, $10, $20, or more if you can.  Even one dollar donations are welcome as many will start to  add  up! Every dime donated (aside from what gofundme me takes of course)  goes directly to treatment for Dillan and Trooper only.
We can't do this alone. Will you support Trooper and Dillan's fight agains FIP!?  
And eternity of thanks you and many many blessing to you all ❤️.
With Gratitude, 
Anastasia, Dillan, and Trooper

Organizer
#1 fundraising platform

More people start fundraisers on GoFundMe than on any other platform. Learn more

GoFundMe Guarantee

In the rare case something isn't right, we will work with you to determine if misuse occurred. Learn more

Expert advice, 24/7

Contact us with your questions and we'll answer, day or night. Learn more