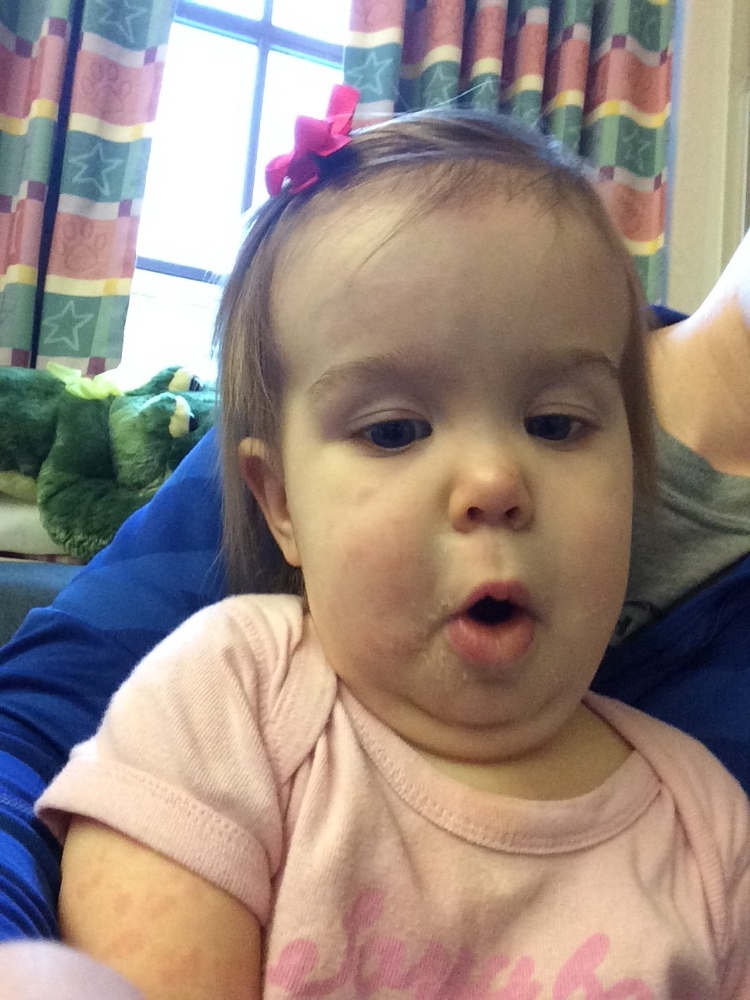 Our story: our little Addison (Addie) has always been such a happy go-lucky little girl! Any of you who know her personally know that she is full of energy, a social butterfly with a contagious smile, and can warm your heart instantly. 
In late February, we began to notice a blotchy red rash on Addie's forearms. It did not seem to bother her at all, so over the next several days we just watched it. By March 4th, it had spread to her legs and face so we saw a pediatrician to figure out what it was.  The conclusion was that it was likely viral or environmental, so we started an antihistamine shortly thereafter with some minor resolution.
Then, over the weekend of March 12th-13th, she started to have intermittent high fevers (102-103), general irritability, and a refusal to standing herself up from sitting or lying on the floor.  We continued to monitor this from home and communicate with the pediatricians.
We returned to the clinic on March 19th after 5-7 days of persistent fevers and now not eating and drinking well. We knew that something wasn't right.  They again told us, it is probably something viral that will work its way out of her system, but also referred us to dermatology to get a second opinion on her rash.  Home we went with our sick baby.
We were able to get an appointment with dermatology for March 23rd. She was still having fevers the morning of the appointment so we also called and got one scheduled with our pediatrician--it had been 10 days, something had to be done!
Dermatology shared that her rash was simply hives, likely as a reaction to whatever was also causing the fevers. That afternoon, our pediatrician was concerned enough to send off some nasal and throat swabs for the common viral culprits, as well as draw some blood for further testing. A few short hours later, we got a call from her urging us to head into the emergency room for more tests and that we would likely be admitted to the hospital, at least overnight, because she was concerned for Kawasaki's disease (it is a complicated explanation, so those of you who are interested go ahead and google that one). They did some routine work up in the emergency room, gave her some iv fluids, and admitted her that night.
Since then, we have done tons of tests, blood work, and other procedures including a bone scan, electrocardiogram, ultrasound, and echo of her heart. Needless to say, a "million dollar work up"... She didn't have all the signs of Kawasaki, but they treated her anyway over the weekend because the risks of letting it go untreated are too high (heart disease, heart attack, stroke, liver failure...).  She had two doses of IV immunoglobulin to try and "right" her immune system and stop it from doing harm, but she didn't respond how doctors have hoped.  She's still having intermittent fevers.  She now has the cardiologist, rheumatologist, dermatologist, hematologist/oncologist, infectious disease, and pediatric doctors working on her case.
So now today, March 29th, we turn to what they think might be Still's disease, or "systemic onset juvenile idiopathic arthritis", as many of her symptoms and blood tests support this. Basically, we understand it to be her own immune system attacking healthy organs and tissues internally (resulting in the rash, fevers, and elevated blood tests) before it eventually targets her joints (aversion to standing). The great news is that they have very good medications to treat this condition, the bad news is that she will have to be on them for quite a long time, if not indefinitely.
On the 30th she will undergo a bone marrow biopsy to officially rule out leukemia before they can start treatment for Still's. Then hopefully we are looking at getting home in the next couple of days! We will still have lots of appointments and one of us will have to miss several more days of work on top of what already has been missed.
At this point, we could really use some prayers--for her to start feeling better, for peace for both Jordan and I, and for her doctors to determine the best course of action going forward. This is already has been a long road of twists and turns, but we are hoping to be on the right path soon!
In addition, we are expecting a costly hospital bill with all the tests and consults she has had. We would greatly appreciate any help we can get, even if it comes $5 or $10 at a time. We are hoping to raise only a fraction of the cost to prevent the bills from piling up; we expect them to start arriving near the end of April.  
Any donations are appreciated from the bottom of our hearts! It would take so much stress off of our shoulders as we try to figure out what life is going to look like for us over the next several months.  At the very least, we appreciate you reading our story and keeping her and our family in your thoughts and prayers. Thank you so much and God Bless.
-The Jensen family

Organizer