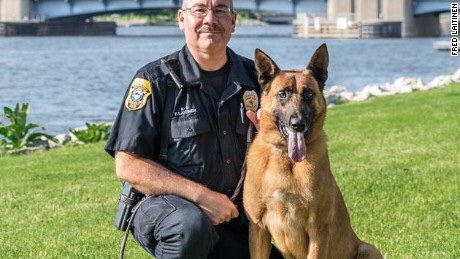 7 year old Ethan has always loved dogs. After adopting a German Shepherd puppy a little over a year ago, he has taken a special interest in studying and reading about police dogs. This past Monday, this insipiring police K-9 handler was able to fulfill his wish of meeting a police dog, thanks to Officer Wicklund and K-9 partner George of the Green Bay Police Department.
This same day Ethan heard devastating news that the Green Bay PD had lost one of their loyal K-9's, Cops. The news hit Ethan as he had lost a long time friend. He decided he wanted to hold a bake sale to raise money to help the K-9 unit purchase another dog.  Unfortunately, food allergies hinder him from doing so. We came up with Go Fund Me in place of a bake sale in hopes that he can get 100 people to donate $5.00 to toward the K-9 unit.
Thank you for helping Ethan and his K-9 friends!
Please make checks out to
Bark N' Blue and include Ethan's Cause for Paws in the For line
Checks can be mailed to
Green Bay Police Department
Attn: Bark N Blue
307 South Adams Street,
Green Bay WI 54301-4582