This campaign is to help Chet O'Keefe, who lost his van and many of his belongings to a fire on June 1st.  Chet lost his Martin acoustic, mandolin, the "Blue Guitar" (a handmade Telecaster), Fishman Solo PA, Bose stereo, recording gear, MacBook, iPad, solar setup (panels, AGM solar batteries, charge controller, inverter, etc...), effects pedals, clothes, wallet, money, and passport to the fire.  Most importantly, however, Chet and Wiilie were unharmed.
Chet was close to trading the van for a small RV, which he still has the opportunity to purchase if the money is raised quickly enough.  I would like us all to at least get him enough funds to buy that RV.  Of course Chet will decide how best to use the money and hopefully we'll do well enough to get him most of his stuff replaced (unfortunately some of it, like the "Blue Guitar" is irreplaceable).  Below is Chet's description and pictures of the fire.  Let's help Chet get back on his feet and back on the road again.
*******************
Chet's words on this:
On the night of June 1st my van caught fire pretty good. It always smoked a bit from oil dripping on the exhaust, but it soon became apparent that this was something different, something electrical, and acrid smoke began filling the van.
I started dragging things out and set them on the ground about 15 feet in back of it, the van being pretty full, as I had packed for about six months on the road. Thinking 15 feet would be far enough, not imagining the impending extent of the deal, I continued to throw stuff out the door. It began to get hot, I was breathing smoke, and the 100's of car explosions I've seen in movies started running through my head where the gas tank catches and the explosion lifts the whole deal about 6 feet off the ground.
So I backed away and flagged down the first passer by, a very helpful woman named Bryn, who put 'freaking out Willy' in her car and gave me water and drove up the hill to call the fire department, as there was no cell signal at the scene. She stayed with me for a while and invited me to dinner with her and her husband, and I wonder if I will see them again. I probably will.
So instead of the gas tank exploding there were small other explosions, first, the tires popped off, then the shotgun slugs I had on the floor fired off: I had loaded Jim's 12 gauge with 3 of the 5 slugs from the box and two remained in the van.
But somehow the gas tank just leaked and didn't explode and the gas meandered lazily downhill to my guitars and stuff, and then on to the neighbors car, lighting all that up as you can see in the pictures; they actually show the progression of events quite well.
So, this happened, and I start to think, you know, what's next? And here's the bright idea I had, which I will preface with a poem written by Jim Dorr on the night of the fire:
**************
An unexpected fire: all is lost
Dog and I are alright
No: not all is lost
OPEN
OPPORTUNITY
Gamebird still flies
Fried
*****************
About 100 Gamebird CDs burned but there is about 3/4 of each one left, so I thought, I could put each one in a thrift store frame and send them out to people, for donations, so I can put things back together again.
Along with my wallet and money burning, my passport burnt too, so it is off to Seattle today to the passport office to get a new one: I am supposed to be getting on a plane June 12th to fly to London England for a two week musical tour; please send positive vibes that this will go smoothly!
Thank you all in advance!  ...  Much Love, Chet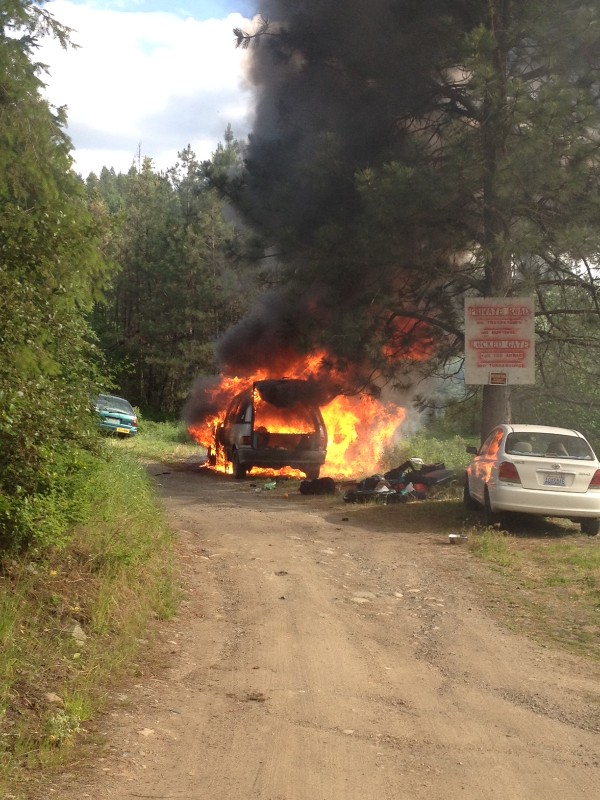 Look for the bird in the middle of the flames on the right , and look for the Great White Shark in the smoke in the picture at the top of the page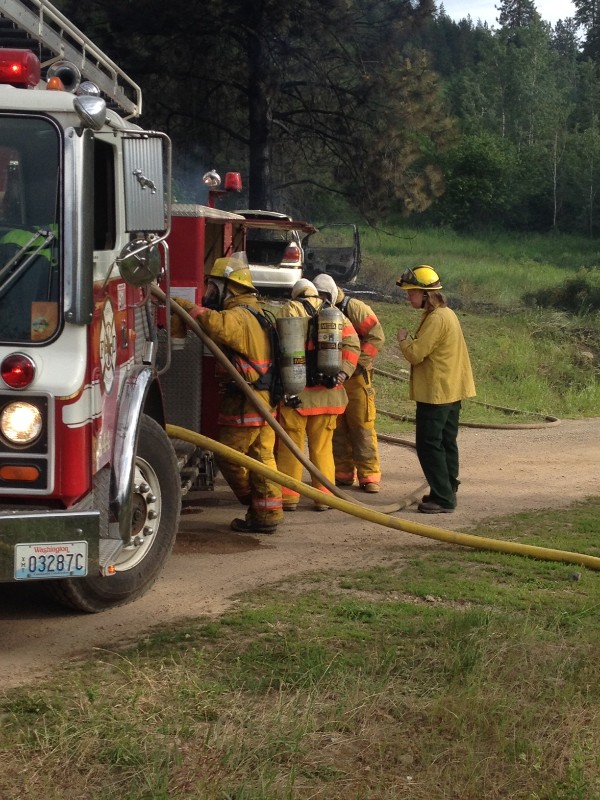 The Kettle Falls Fire Dept. did a great job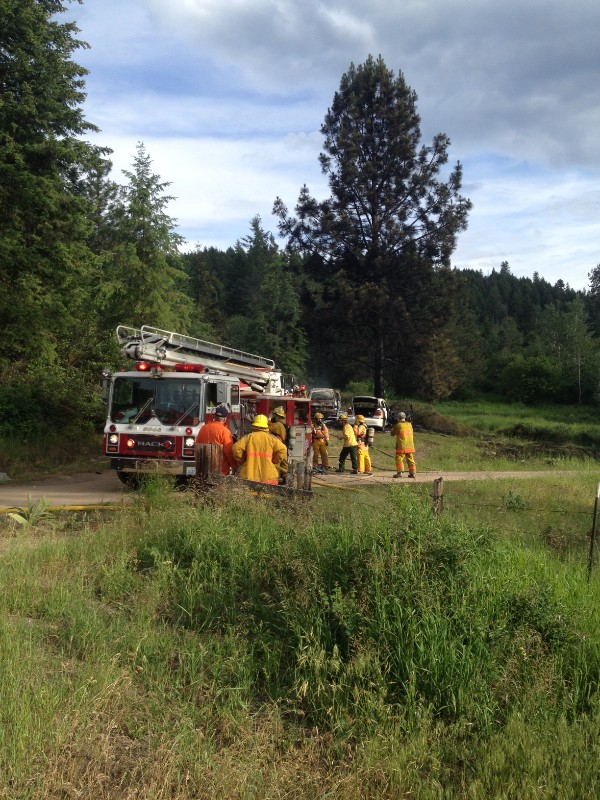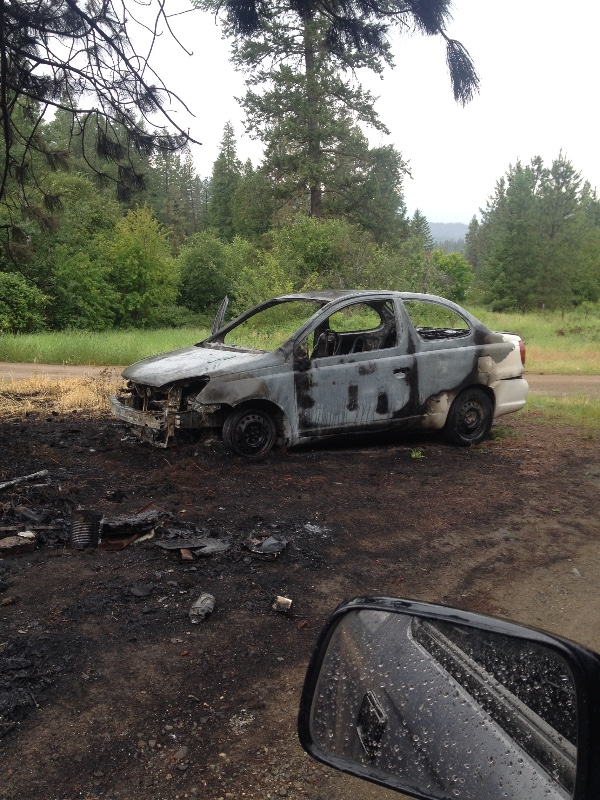 This is the neighbor's car that burned too: I had liability insurance which means none of my stuff was covered, but GEICO is supposed to cover damage to others vehicles, they have not submitted a ruling yet, let's hope GEICO does the right thing and covers Richard and Lucrecia's car. I am going to be tenascious D on this one 
Gamebird CDs. Chet will send you a signed one for your donation.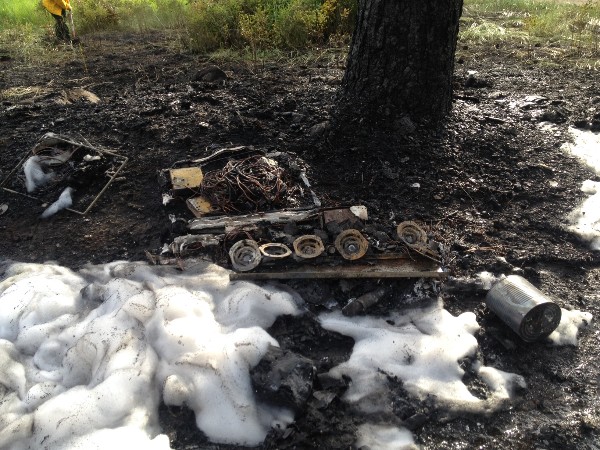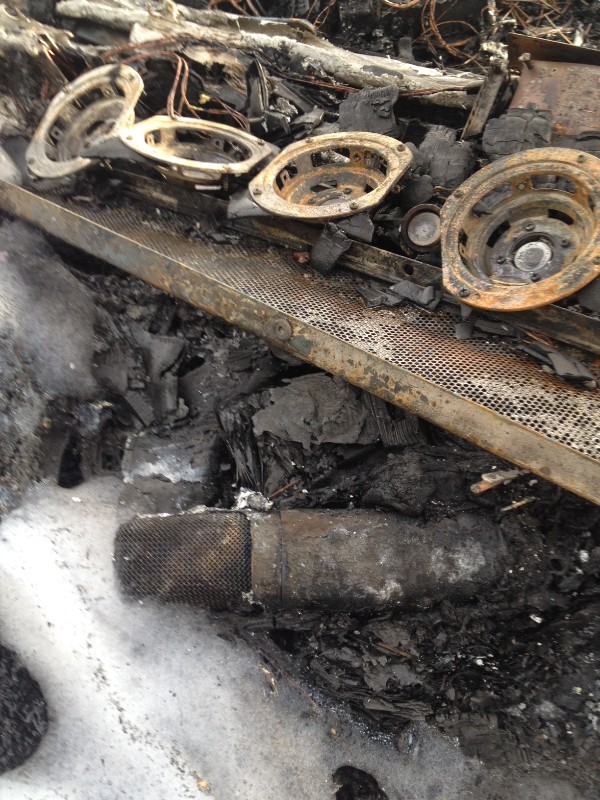 What a Fishman Solo performer PA system and a Rhode NT1 large diaphragm microphone look like, burned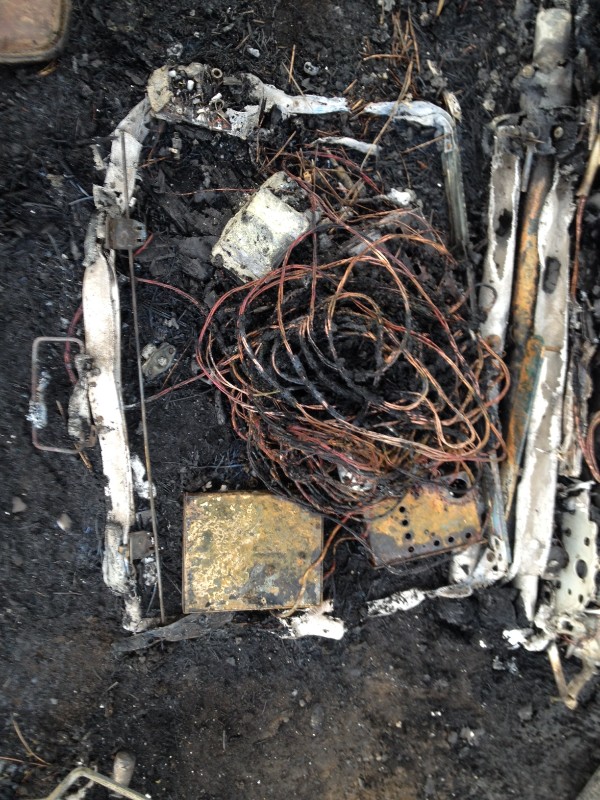 my effects pedals and chords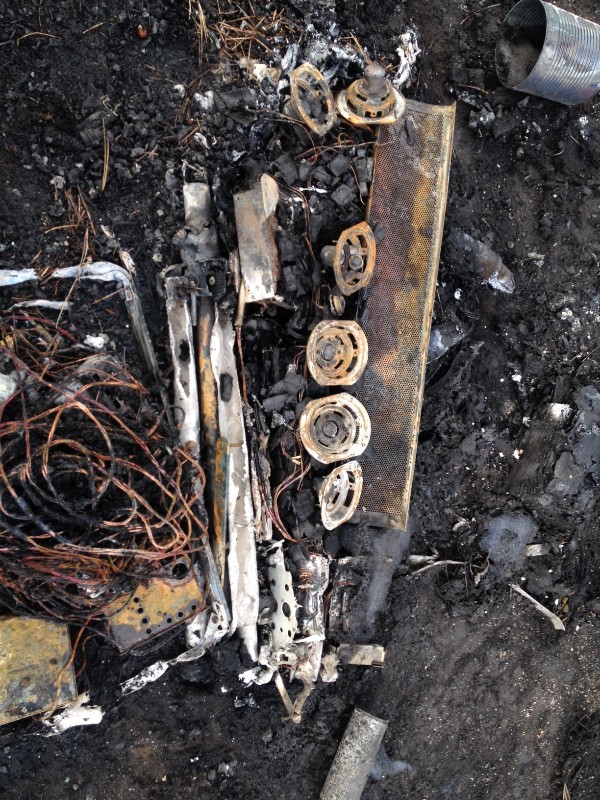 Spurzel self locking tuners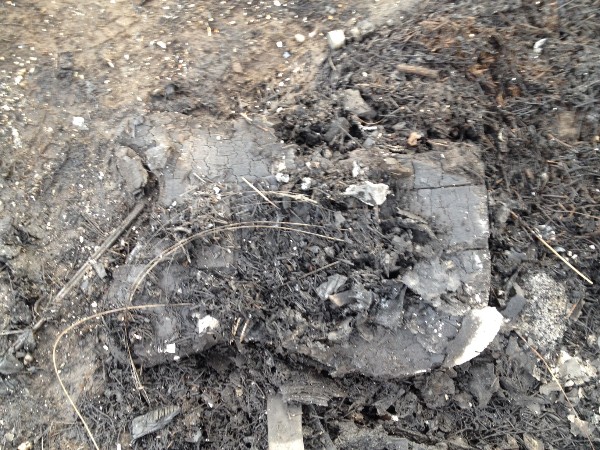 "Old Bluey": what remains of the hand made telecaster I played for 25 years, made by Frank Padellaro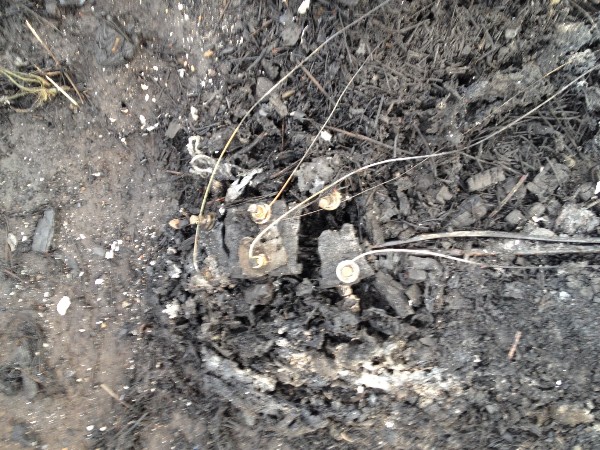 What's left of my Martin guitar 
My Kerrville Folk Festival Kyser capo and guitar body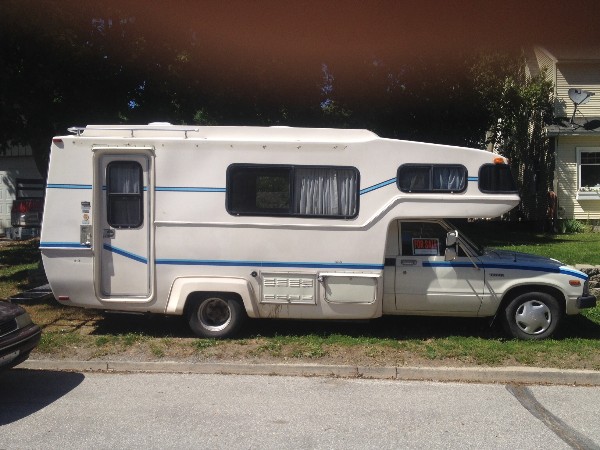 The Toyota Sunrader RV Chet was to soon trade for. Let's get him rollin' in this thing.