Sri Lanka: Flood Relief for Schools
**TO AVOID GOFUNDME FEES**
Friends in the US: Venmo (@nushelle-desilva) or bank transfers preferred (email [email redacted] for details).
Friends in Sri Lanka: Donations in cash and in kind, or via bank transfers preferred. (email [email redacted] for details).

Your donations will be recorded manually on this page (please see below for current tally).

***

In mid-May, our homeland Sri Lanka was hit by torrential rains, resulting in landslides and floods that left thousands displaced and unable to return to their homes. These are the worst rains in half a decade, and while Sri Lankans are working tirelessly to help all those affected, providing timely assistance is a significant challenge.

While the focus right now is on providing emergency shelter and supplies, it is important to also focus on medium-term and long-term solutions.

Building Bridges is working to provide direct assistance for young flood victims in TWO schools, St. John's MV in Mattakkuliya, and Sri Rajasinghe MMV in Kotikawatte. Originally we intended to provide school packs, but needs change over time, so we are in contact with the principals to provide timely assistance.

Thanks to generous contributions thus far, and huge discounts from wholesalers, we have been able to provide all 112 students at St. John's with stationery packs (they no longer need uniforms and shoes).

Meanwhile, the affected students at Sri Rajasinghe MMV urgently need shoes, schoolbags,  lunch boxes/water bottles.

We have pledged to provide shoes/socks, and currently have funds to purchase enough for 240 students. There are *at least* 150 more students in need. Each voucher costs $10 (discounted price) at DSI. The list below is changing every day, as some children are only just beginning to come back to school.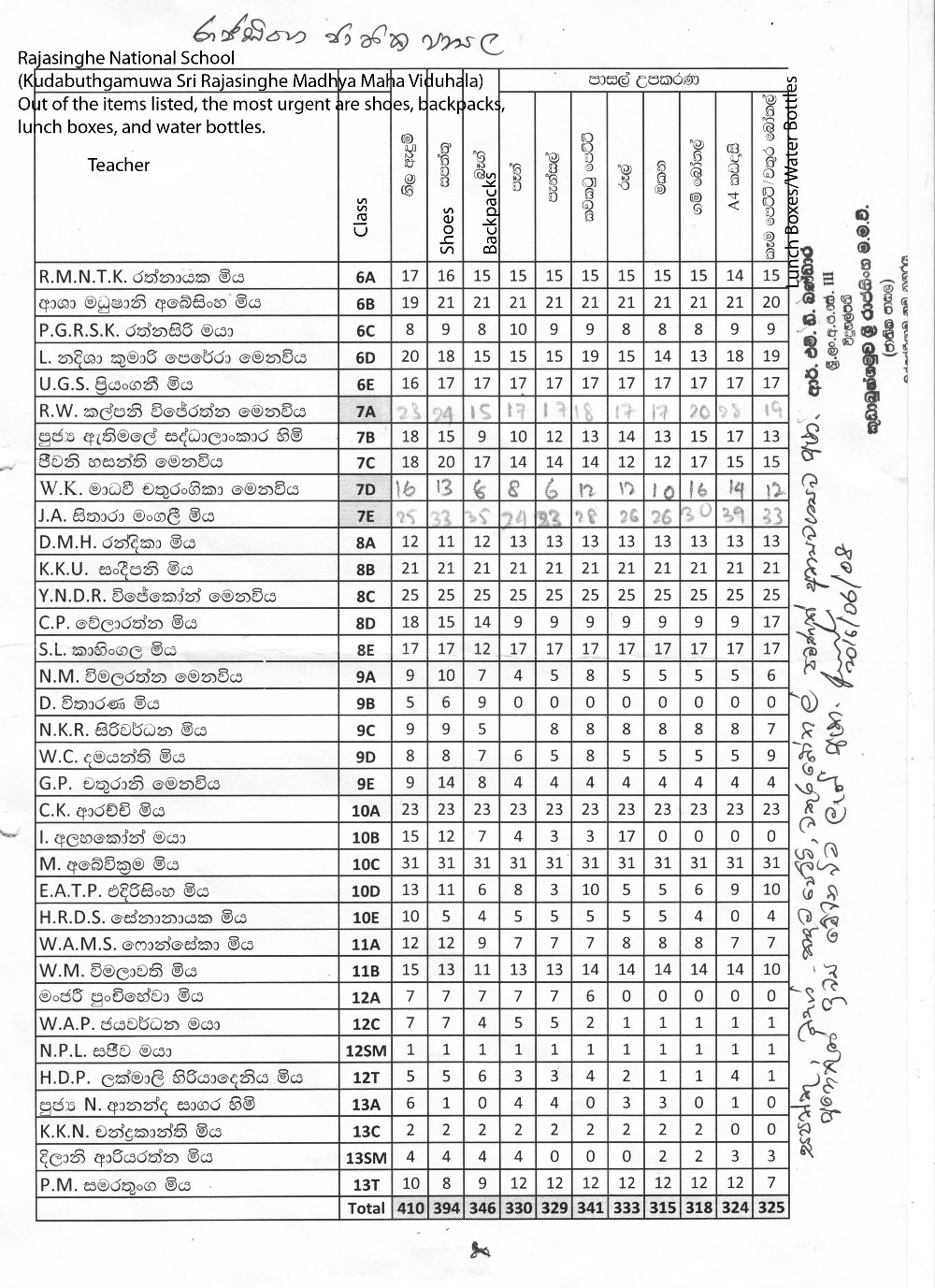 A few dollars will make all the difference in these children's lives, and allow them to return to a state of normalcy as soon as possible. Any gift you can make, no matter how small, is hugely appreciated.
Nushelle and Irfadha
Building Bridges
***
Many thanks to our friends who have donated
(1300 USD + 31,000 LKR and counting!)
via other channels:
Jonathan Goh: $120
Bryan Locascio: $20
Greg Dooley: $20
Mohit Agrawal: $30
Anna Zhao: $18
Keri Garel: $30
Becky Bae: $120
Emily Margulies: $30
Naomi Stein: $54
Sara Berger: $30
Christine Blauvelt: $60
Jonathan Newman: $120
Bethy Atkins: $30
Martha Ferguson: $30
Jenna Devine: $50
Leo Mena: $30
Sonya Chao: $30
Caroline Murphy: $43
Huma Gupta: $50
David Heinz: $30
Brooks Yang:  $30
Nisa Ari: $30
Clare Herceg: $30
George Beane: $90
Jackson Davidow: $30
Indu Premakumar: $100
Muneerah Alrabe: $45
Shazmiya Jiffry: LKR 4500
Draupadie Wickramasinghe: LKR 2500
Abdul-Halik Azeez: LKR 3000
Vista -  Colombo: LKR 15,000
Eshara Silva: LKR 6000
Tehani Ariyaratne: LKR 21,000
Nazreen Marikkar : LKR 15,000
Fathema Mohamedally :LKR 13,500
You can read more about the 2016 floods in Sri Lanka here:
http://time.com/4347274/sri-lanka-floods-death-toll-101-kegalle/
http://www.nytimes.com/2016/05/19/world/asia/sri-lanka-landslides-flooding.html