Jessica Olson's Brave Battle
This is my beautiful niece Jessica Olson, eldest daughter of my sister, Leanne Fullerton.
I am appealing to your kind hearts to donate generously to help Jessica fight not her first, not her 2nd, but her 3rd cancer battle, within the last 5yrs. 
A bit of background knowledge to help understand her current position and to see first hand the fighting spirit that shines through despite the huge mental and physical obstacles she continues to face.
May 3rd 2011 Jessica was diagnosed with Stage II Nodular Sclerosing Hodgkin's Lymphoma. This is a type of lymphoma – a cancer that starts in white blood cells called lymphocytes. The large mass from her chest grew to protrude out of her neck. She was just fifteen years old, just started Year 10, and about to prepare for her half yearies at school. She had eight rounds of BEACOPP Chemotherapy and two and a half weeks of Radiotherapy. She of course lost all of her long beautiful hair, endured sickness beyond anyone's belief and her and her family hit rock bottom. But Jessica's fighting spirit was stronger than anyone expected, from a vulnerable, innocent teenage girl fighting such a horrible deadly disease. She amazed us all.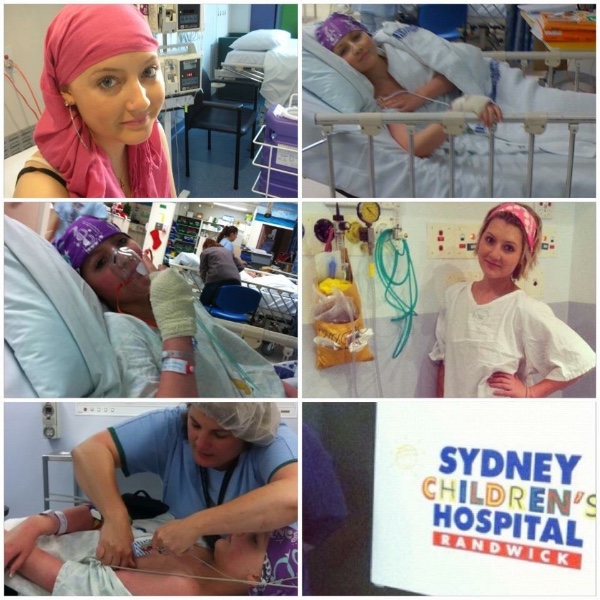 On December 5th 2011 she was announced as CLEAR – but had to stay PET NEGATIVE (no active cancer) for five years until she was declared "cured".
Four years later in November 2015 she found another lump, this time under her jaw. She had an ultrasound and it was misdiagnosed as nothing. Come April 2016 the lump hadn't left and she knew something was wrong. So after another ultrasound, and a biopsy she was told the devastating news that she had Mucoepidermoid Carcinoma (cancer of the saliva gland). 
 In May 2016 she had a big operation where the gland was removed as well as tissue and 30 lymph nodes. The cancer had been found to have spread to the margin and 1 lymph node but it was a low grade tumour,  which meant 6 weeks of radiotherapy was needed. 
She had 28 doses of daily radiotherapy for six weeks.
Another celebration, as she had endured and fought another cancer. 
However, just three weeks after her radiation was completed, another lump emerged in the exact same spot. She was told the radiation had not worked. This time a more radical, incredibly invasive operation was presented as her one and only choice. Her jaw to be broken, masses of tissue to be removed, facial nerves that control the use of her tongue and lip removed and a complete reconstruction of her face.  It comes with a huge risk of permanent disfigurement and possibly leaving her with breathing and feeding tubes for the long term.  If that isn't enough of a low blow, try to comprehend the mere 30% survival rate even after enduring this horrendous operation. The doctors say if they don't operate by Sept this year, she only has months to live.
Understandably she is now looking into alternative methods, searching the globe for miracle cures and remedies. But of course these come with huge price tags. Please help Jessica find legitimate alternatives by donating what ever you can. Every dollar counts towards her finding a purpose to the battles she has already fought. 
Thank you from the bottom of my heart for your understanding and generosity.