Send 5-star author to Harvard Univ
Christy K Robinson
has been invited to speak at Harvard University on the 17th-century civil rights pioneer and religious figure, Anne Marbury Hutchinson, and is requesting assistance to participate in this once-in-a-lifetime opportunity to pay for a round-trip flight, economy hotel, and related travel expenses including a 60-mile trip to Newport, Rhode Island, to investigate placing a memorial to William Dyer.
With years of research into Mary Dyer and her associates behind her, Christy has written six books, four of them about the brilliant founders of New England: Mary and William Dyer, Anne Hutchinson and son Edward Hutchinson, Katherine Marbury Scott, Sir Henry Vane, John Winthrop, John Cotton, John Endecott, and many others. Christy's books have received hundreds of compliments and five-star reviews from readers and other authors.
Rather than judge the history-makers by 21st-century standards, Christy places them in their own culture, climate, politics, religions, and timelines. Motivations behind their actions become clear in that light. Big holes in what we know about them are filled in with this kind of research.
Even after publication of the books, Christy's research has continued, and is published free on several blogs. The Dyer blog receives 4,500-6,000 page views every month. Christy administers several Facebook pages about these 17th-century American founders, including a group for descendants of William and Mary Dyer, and she contributes new research to a descendants group for Anne Hutchinson. One of the organizers of the Harvard event commented on a blog article at the
Wm & Mary Barrett Dyer blog
,  "You should know, Christy, this very blog posting was the inspiration for this July's OUR FOUNDING MOTHERS CELEBRATION, on the 425th birthday of Anne Marbury Hutchinson. Hope you can make it!"
But self-employment doesn't budget for a 2,700-mile business trip to Harvard University. Your gift will help make possible this once-in-a-lifetime honor of being invited to contribute her research on Anne Hutchinson's 425th birthday in July 2016.
Gifts of $200 or more will be rewarded
with an autographed copy of Christy's new book on Anne Hutchinson, to be published in August 2016, and an autographed set of Volumes 1 and 2 of the Dyers series.
Gifts of $100-199 will be rewarded
with an autographed set of Volumes 1 and 2 of the Dyers series.
All other gifts of any amount will be gratefully received.
Will you help make this dream happen before June 15?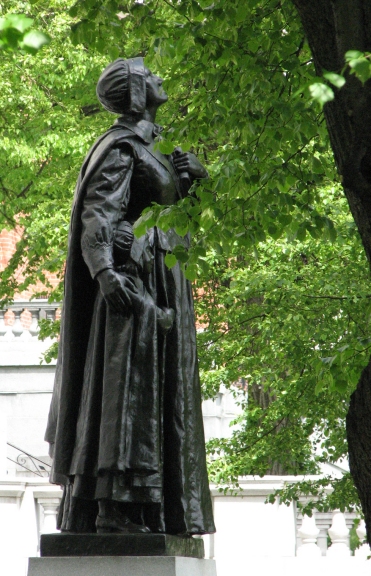 Organizer
Christy K Robinson
Organizer
Peoria, AZ