21st Century library for KMS - Big Island, Hawaii
What is the Kohala 21st Century Library Initiative? This is a nonprofit organization started by a number of educators at Kohala Middle School in March 2019. Our goal this year has been to transform the library at Kohala Middle School into a space that allows students to engage in contemporary skills through creative, project based learning. 
KMS Library in September 2018.
Students work on group project in April 2019.
Located on the northwest corner of the Big Island, Kohala Middle supports the young students of North Kohala, one of the most historically and culturally rich area in Hawaii. The rural, small town spirit that makes Kohala so special also posses a unique challenge to educators.  Our students benefit greatly from tools that connect them to the world at large. Libraries are increasingly becoming a spaces to cultivate 21st century skills.  Many of our students have limited computer and internet access at home, and our library can be a healthy space for them to engage with computer programming and digital media. 
A student editing a page of the yearbook in the library. 
With our 21st Century Library Initiative, we are looking to provide our students with the means to attack these problems head on. Our library currently has three Mac computers that are nearly ten years old. The students have used these computers this year for everything from video editing and music production to coding and graphic design. With these machine quickly reaching their expiration date, we need to bring in new computers that can be used by students now and in the future.  We also hope to purchase a number of camera kits and accessories. It will allow our students to create high quality productions showcasing the numerous culture treasures in the historically rich Kohala community.  The additional iPads and 3D printer will serve to aid skill development in coding, media, and graphic/industrial design.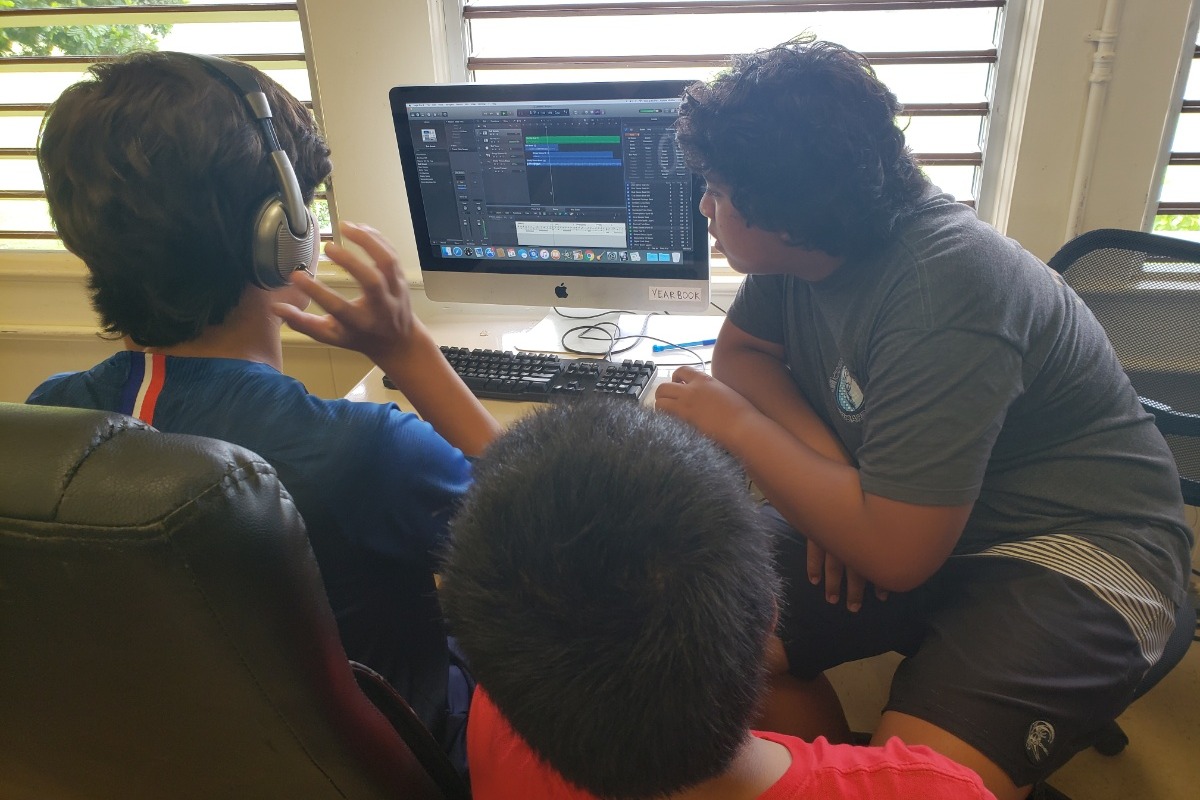 Students create beats on music production software Logic Pro X.
Our hope is to expand our library into a learning center that will benefit learners of all kinds. We have gone to great length to transform our library in the last year with much help from the community, but technology is the key to unlocking the true potential of the space. With your help, we can make that a possibility.  Thanks in advance for your contribution to this cause that means so much to the students of this community. 
Here is a list of the materials your donations will help to acquire:
2 x iMac with Pro with Pro Apps Bundle for Education (includes Final Cut Pro X and Logic Pro X)
2 x MacBook Pro with Pro Apps Bundle for Education (includes Final Cut Pro X and Logic Pro X)
4 x Apple iPad 32GB Wi-Fi - Space Gray 
3 x Canon EOS Rebel T6 Digital SLR Camera w/ 3 Lenses
1 x XYZ-Printing: da Vinci Jr. 1.0 Pro 3D Printer
3 x 57" Multi-Angle Tripod
3 x USB Microphones
2 x Lavalier Lapel Microphone
1 x Green Screen Backdrop
2 x 2 TB USB 3.0 H3 External Hard Drive
We would also gladly accept the listed items as donations (new) in lieu of monetary donation. You can contact Derrick Owens ([email redacted].hi.us) for more information. 
21st Century Library Initiative is a sponsored project by the North Kohala Community Resource Center.
More about NKCRC:
Our mission is to increase the number of successful community improvement projects and stimulate volunteerism. NKCRC sponsors and supports individuals or groups who are creating projects that have the potential to enhance and sustain the North Kohala community. From its inception, NKCRC has been unique in its purpose to listen to the ideas and goals that residents of North Kohala have for their community, to act as a link for funding and education to create projects to support those ideas, and to assist in seeing those projects through to successful completion. Most importantly, NKCRC is a nonprofit established and led by diverse individuals who possess an historic and knowledgeable view of the community - with open minds for the future.
Organizer
Derrick Owens
Organizer
Kapaau, HI

North Kohala Community Resource Center (Nkcrc)
Registered nonprofit
Donations are typically 100% tax deductible in the US.