HOLIDAY FUNDRAISER
$275
of $10,000 goal
Raised by
6
people in 32 months
ERIC MANTEL'S SAVE THE MUSIC
GUITAR PROGRAM and other INSTRUMENTS

A NON-PROFIT ORGANIZATION

+ Read More
Update 2
Posted by Eric Mantel
13 months ago
Share
HOLIDAY FUNDRAISER!

My non-profit music school is raising money this holiday for FOSTER CARE kids and teens so they can take music lessons at my music school.

My music school is located at 122 Town Center Road
Suite 100. Matteson, IL 60443

+ Read More
Update 1
Posted by Eric Mantel
27 months ago
Share

ERIC MANTEL'S SAVE THE MUSIC
GUITAR PROGRAM

What a tragedy it would be if we lived in a world where music was not taught to children. - General H. Norman Schwarzkopf

Thank you for the opportunity to introduce our new organization to you. We are Eric Mantel's Save the Music Guitar Program. We are a newly-formed, nonprofit organization with 501(c)(3) designation. Our Board of Directors is a group of community members concerned with the fact that most schools no longer offer music in their curriculums. The impact of this loss is more than a sour note in the symphony that is the future of our society. Diminished funding has squeezed music education out of our schools, and teachers are struggling to bring students from impoverished neighborhoods up to levels of competition. We are writing to you because we believe, based upon your guidelines, that you also agree that music is a crucial asset of human development that holds sway over practically every aspect of life.

Music instruction directly boosts academic achievement and neurophysiological development, as well as other quality-of-life aspects. In 2014, the National Association for Music Education sponsored an event to convene a panel of experts on Capitol Hill to "discuss ways to elevate music education – and the arts in general – and turn STEM (Science Technology Engineering Math) into STEAM (STEM + Art)[1]. There are many studies that provide evidence that music programs may have value in helping to counteract the negative effects of literacy development among children of low socioeconomic status. Music instruction influences positive development in people across the spectrum of age, class, race and creed. And on that note...

Eric Mantel is a world-renowned guitar virtuoso who has been involved in music since the age of six and the music industry since 1976. His music has sold word wide and has toured all over. He was on 3 time Grammy Winner Steve Vai's record label for several years and is featured in guitar magazines and music publications all over the world. Since 1979, he has taught over 10,000 students to play guitar. During that time, he has taught music as a for-profit business. His students range in age from 6 years old to 80 years young. He has trained all his students in sight-reading, music theory, ear training, songwriting and composition plus more on guitar, bass, piano, mandolin, and many other stringed instruments. Eric teaches a multitude of genres of music, including Rock, Pop, Jazz, Fusion, Blues, Country, Classical, Bluegrass, Ragtime, Reggae, R&B, Funk, Worship, Latin, etc. He brings this experience to Eric Mantel's Save the Music Guitar Program as a nonprofit. He formed this nonprofit to bring his teaching technique to students in schools, even if schools are not able to save the music themselves.

Some of Eric's former students include world famous Grammy Nominated R&B singer Syleena Johnson and current students, The Harris Brothers, aka Saving Forever, a 12, 14 and 16 year old boy band, that LA Reid signed to Sony / Epic records. LA Reid predicts these kids will be bigger than the Jackson 5. It was Eric's teaching methods that propelled these kids into major stardom. Eric is also currently working with members of The Empire TV show,the #1 TV show in the world. The Sound Guitar Magazine voted Guitar Instruction with Eric Mantel The #1 guitar instruction service in the entire Midwest back in 2012.

The secret to his success is an accelerated teaching method, which he developed over his professional career. Through Eric's method, learning is faster for his students, and as a result, his students stay engaged longer and are able to learn 15-20 songs fully completed, 21-28 chords, finger exercises and scales, all in just (4) 1 hour lessons. This would normally take 1 to 2 years or longer at a local music store or music school that does ½ hour lessons once a week at $25.00 to $35.00 per ½ hour. Parents save approximately over $1,000.00 a month in lesson fees in comparison. In addition, we offer a FREE guitar rental program, we give-away a FREE guitar every 4 months as well as a $25.00 Visa gift card and a certificate of commitment.

Students who complete 12 months of guitar lessons get 3 hours of FREE recording studio time, a $210.00 value, plus much more. We have not been able to find another music program like this ANYWHERE. We also prepare students to get music scholarships into any college as well as teaching guitar on college campuses to make extra money. Teaching music provides an easy, natural opportunity to mentor young students in the music industry as well as in other life issues.

At this time, the ethnic composition of the students Eric teaches is 70% African American and 30% Caucasian. The earning capacities of these families range over various income levels, but the majorities of these households earn moderate- to low-level incomes.

We are launching a major funding outreach to raise startup capital in the amount of $100,000.00. This capital will purchase a new facility for the music school, music equipment (guitars and amplifiers), recording equipment, computer equipment, guitars for the FREE rental program and give-aways, lesson scholarships, nominal salaries and general operating expenses, etc. Ongoing funding will come from providing lessons on a sliding scale, continued fundraising outreaches, as well as from recording studio time and production services to the public at market prices.

The lesson scholarship funds requested in the startup capital will cover the costs to provide lessons for low-income students who are not able to pay sliding scale fee. The lessons are one hour long. In addition to teaching students one-on one, we also offer time share lessons and group classes, which allow us to teach 120-150 students a week. We also allow family members to join in for FREE!

One of the many joys of music instruction with students becomes most evident during our recitals. We hold recitals once every four-six months and we are inviting you to come and see firsthand how learning to play music lights up everyone's face. Thank you for your kind consideration in contributing to our program. We eagerly look forward to speaking with you further about how you can help us to SAVE THE MUSIC. Please do not hesitate to contact Eric Mantel, President and Executive Director at 708-747-2644.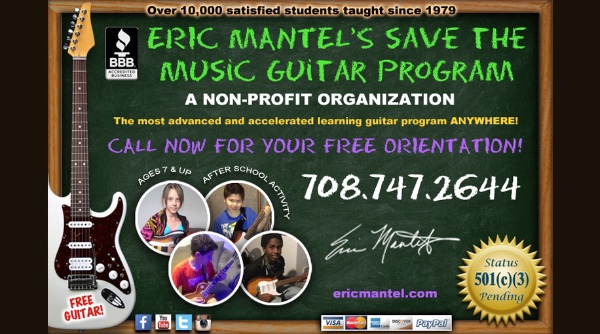 + Read More
Read a Previous Update