Bring Epekto across the Pacific
$1,698
of $8,977 goal
Raised by
27
people in 27 months
Hi everyone! We're 
Epekto Art Projects
 comprised of 14 contemporary Filipino/a visual artists located in the Bay Area. We've shown both in SF and Oakland (Oakland Asian Cultural Center, SOMArts, I-Hotel Manilatown, Blackball Universe and Kearny Street Workshop). We're really excited because
this coming January will be the first time we'll travel and show together out of state.What is this fundraising about?
January 2017 we've been invited to show at the 
Wailoa Center
  on the Big Island of Hawaii.  We need your help first and foremost to help pay for gallery fees (such as paying their installer) and shipping the art to and from the gallery. Many of us will be bringing our work on the plane if we can, but shipping the artwork back will be needed. Also, we will be responsible for the food at the reception.  The rest of the funds will go towards air travel as well as room and board, and transportation on the island. 
Your support will be tremendous in helping us to raise the awareness of Filipino visual artists on the Big Island!
I-Hotel Manilatown exhibit 2013
The Bay Area artists in this exhibit (whom you may know and love) are:  
Carla Catalina 
Carlo Ricafort
Jose Johann Bitancor 
Justin Pastores 
Marea Fatima Urbi 
Rea Lynn de Guzman  
Kimberley Arteche 
Marcius Noceda 
Mel Vera Cruz 
Michael Sacramento
Topher Maka 
Lexygius Calip 
Paolo Mejia 
Pamela Ybañez
What are the goals of Epekto Art Projects?
We began in 2011 and as a collective we strive to cultivate a community for Filipina/o artists, supporting each other's development through exhibiting, resources, and forming connections. 
Your donation will help fund in spreading the Filipino culture and stories throughout the US. Nobody will tell them but us.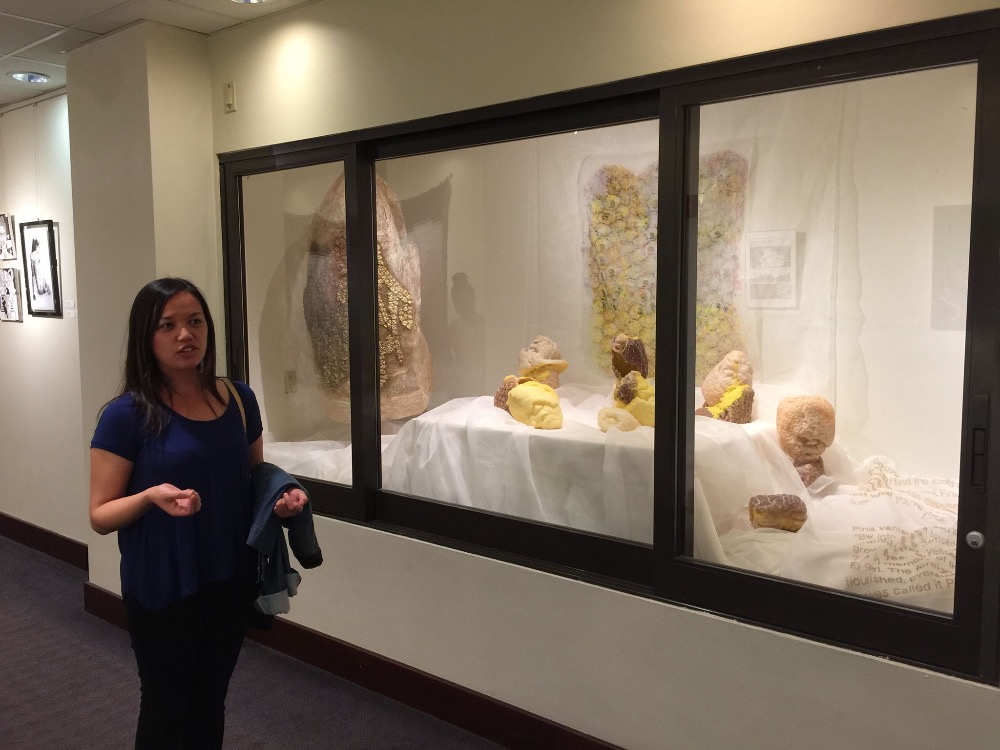 Rea Lynn de Guzman discussing her work at OACC exhibit 2015
More about the show: 
There will be 14 of us from the Bay Area in the show as well several local Big Island artists of Filipino descent. With a show themed around flora/fauna we're excited to to be showing with local artists. We plan to have a couple art related events while on the island including hosting a workshop with youth and doing an art talk. We hope to inspire, build bridges, talk art and expand our community to the Big Island.
Itinerary for our trip: 
January 1st: Travel to Hilo 
January 3rd, 4th or 5th: Art Workshop/Presentation with UH Hilo students 
January 6th: Arist's Talk and Reception
There is so much we could do as a collective and with your help you can help us achieve this goal. 
OACC exhibit 2015
Here is the budget breakdown for this trip: 
Priority Fees:
$550    Installer fee/Packaging Fee 
$900    Shipping & Return artwork 
$100    Reception food 
Additional money raised will go towards: 
$5400  Airfare  
$960     Housing 
$400     Transportation Car Rental + Gas 
+ 8%      Go Fund Me Fees 
Funds will be handled by our organizer Pamela Ybañez, set aside into a separate account. After paying main fees related to the exhibit, we will discuss how best to handle air fare tickets etc.  All processing of funds will be discussed with the group prior to any funds being spent. 
Here are more images of activities and shows that Epekto has taken part in over the years: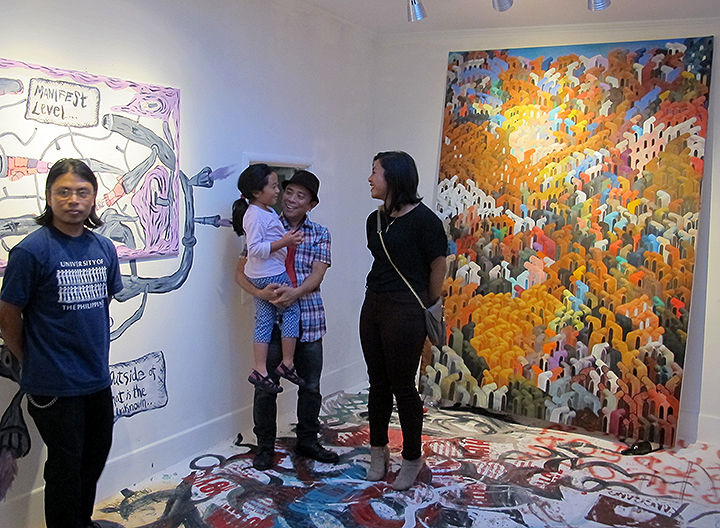 2014 exhibit at Blackball Universe in Oakland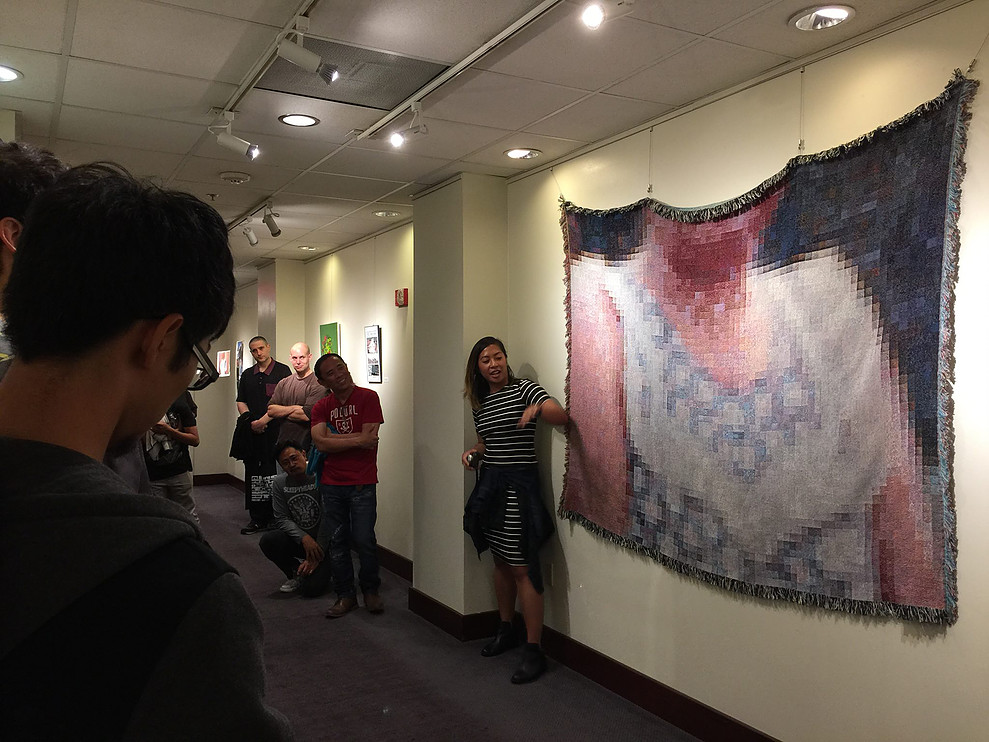 Kimberley Arteche discussing her artwork at OACC 2015
Mel Vera Cruz and Paolo Mejia artwork at Blackball Universe 2014
Pop up space: Hologram Gallery at First Friday with the crew in 2011.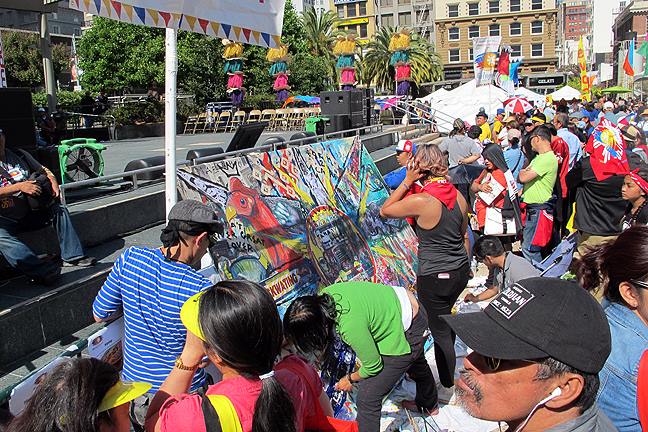 Live mural project in SF during Kalayaan 2016




July 2016 Live Mural Collaboration with the First Friday community.



The final phase of the mural collaboration, designed by Mel Vera Cruz. 


Join us!


Want to learn more about us? Check out 
EAP's exhibit history.
+ Read More
Be the first to leave a comment on this campaign.