Save Petal The Elephant Sculpture
$2,175
of $3,800 goal
Raised by
51
people in 3 months
Save the Elephant and Boy Sculpture ("The Water Hole"
)
Anyone who shopped or hung out at the Burlington Center Mall, in Burlington, NJ, over the past 36 years, may fondly remember "The Water Hole" – the life-sized Elephant and Boy fountain sculpture. In fact, it has many fans, which hopefully includes you! This award winning sculpture has been referred to as the best sculpture in a US mall.
The Elephant and Boy Need a New Home!
Over the three-and-a-half decades that The Water Hole delighted shoppers, coins tossed into its fountain raised close to $1 million for children's charities. With the Burlington Center Mall's closing earlier this year, the Elephant and Boy have been locked away unseen by the public and with an unknown future. The eminent demolition of the Burlington Center Mall to make way for new modern retail space means the elephant and boy need a new home, or they may be lost to the wrecking ball.
Help Us Move the Elephant and Boy
Thanks to the efforts of the sculpture's creator, Zenos Frudakis, the current mall owners have generously offered to DONATE "The Water Hole" (and its fountain display if desired) to a non-profit organization FOR FREE! Frudakis Studio, Inc. is conducting this GoFundMe because while the sculpture is free, the logistics to move it to a new home will not be.
This fund is meant as a stopgap to at least remove the sculpture to safe storage until an organization becomes the Water Hole's new home. Frudakis is already engaged in productive discussions with regional zoos and other prominent and appropriate regional non-profits. But these organizations will need time for board and fund approval to underwrite the elephant sculpture's move and choose and prepare a new site for installation. Our legitimate fear is that an agreement may not be reached before the mall demolition begins.
FAQHow will the funds be used?
The funds will be used to
·         Hire potential movers/shippers to review the sculpture's installation and how it can be moved without damage;
·        Obtain a freight estimate for the labor and equipment (cranes, dollies, flatbed truck etc.) necessary to disengage and remove                the sculpture from the mall, onto a flatbed;
·        Transport to a new home or a storage location;
·         Pay storage fees for a few months until a new owner will be ready to accept and install the sculpture at a new location.
How much will it cost to move the Elephant and Boy?
The fact is, we don't know yet. The funding goal is our best estimate based on 40 years of installing monumental sculpture.
How large is the Elephant and Boy?
The life-sized sculpture weighs approximately one ton and its dimensions are 11ft. H x 12Ft. L x 8ft. W. She has a steel frame with fiberglass construction.
Is this a portrait of a real elephant and boy?
The elephant sculpture was primarily modeled after "Petal", a beloved African elephant at the Philadelphia Zoo. Zenos was given private access to Petal and he spent time with her studying her movement and skin texture. Petal lived at the Philadelphia Zoo for 50 of her 52 years, and passed away there of old age on June 9, 2008.
Zenos also used the skeletal measurements of  P.T. Barnhum's Jumbo The Elephant provided by the Museum Of Natural History in New York.  Being a figurative sculptor Zenos was able to create an idealized joyous 10 year old boy based on his experience and knowledge of human anatomy.
Is my donation tax deductible?
Frudakis Studio, Inc. is not non-profit, and your donations will not be tax deductible. However, once an agreement is reached with a new non-profit owner of the Elephant and Boy sculpture, we will gladly relinquish this campaign and any unused funds to that organization. But for now, any donations will simply be your tribute to the Elephant and Boy and towards helping rescue it before it may be destroyed.  
Won't you please give what you can to help ensure the Elephant and Boy find a new home and can be enjoyed for many years to come?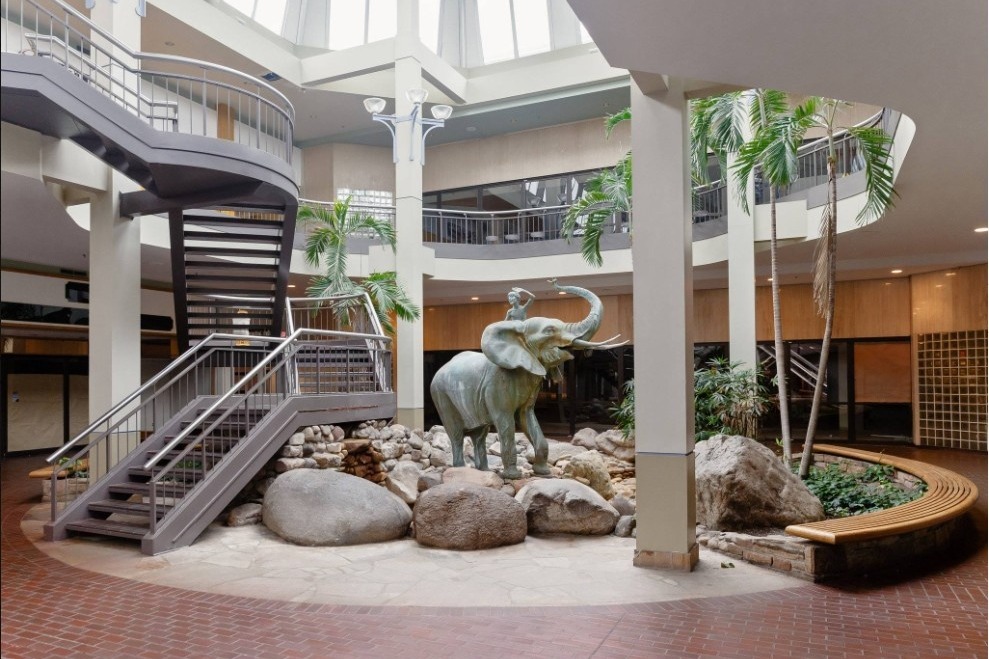 + Read More