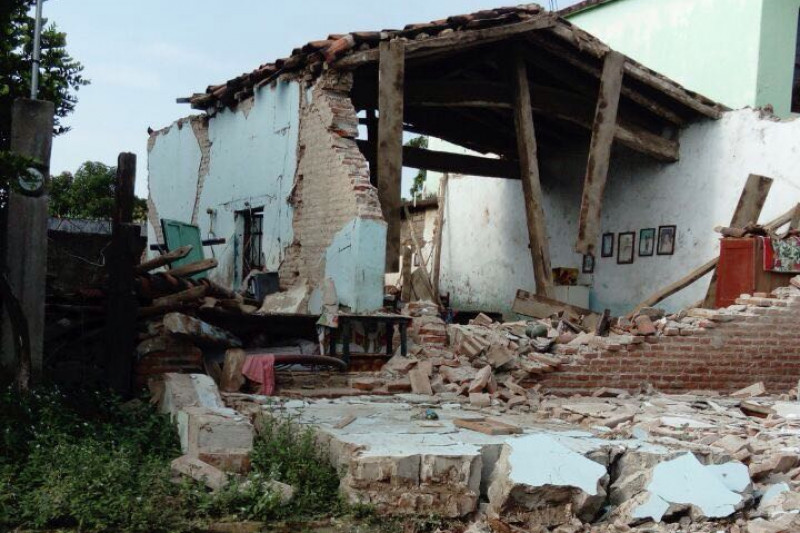 29
3
Earthquake victims in Oaxaca Mexico
$1,540
of $4,000 goal
Raised by
27
people in 23 months
Hello my name is Hilda-Karina Flores, I live in Winnipeg but I borned in Mexico and after the last earthquakes on September 7th, I started supporting a network called "Binni Gubiña" Solidarity Network to directly support the indigenous communities of the Isthmus area of the state of Oaxaca, Mexico, affected by the earthquake. When I lived in Mexico City I worked in Human Rights fields so I used to work with indigenous communities and some of the people in this network were my co-workers. The network is formed by individuals ans some non profit organizations in Mexico so I decided to start a fundraising campaign in order to support their work. The Network has been collecting and delivering food, clothing and medicine to the populations of: Union Hidalgo but there is still a whole lot to do since there is an estimate of more than 800k victims, and most of them have not yet received any kind of aid; the situation is aggravated by the precarious economic and living conditions: of the 3.9 million inhabitants of Oaxaca, 2.6 million live in poverty and 1.1 million live in extreme poverty.

After the campaign finish I will send all the moneys through a wire transfer to a  non profit organization based in Mexico City that is part of the Binni Gubiña network named Space for Community Empowerment and Self-Management - (ECA) (in Spanish Espacio para el Fortalecimiento de la Comunidad y la Autogestión).  This a non-profit organization formed by a group of professional native indigenous people who work on issues such as Sustainable Development, Defense of the Indigenous People and Women Rights, among others. They have collaborated with different government agencies and non profit organizations such as the Ministry of Equity for Indigenous People and Indigenous Communities in Mexico City (SEDEREC), the Fray Francisco de Vitoria Human Rights Centre, and Pro-Development and Equity Action Civil Association (ACPRODE).

With your help they will be able to purchase food, medicine, blankets, etc. and transport these goods from Mexico City and surrounding cities to the communities of Oaxaca. Getting to the communities is not easy, many of them are more than 15 hours away on roads that are not in good condition. If you have any questions, you want to become involved in fundraising events or send us some other support, please contact:

If you have any question about the work they are doing  or if you want to receive a copy of the transfer that I will make please contact me directly: Hilda Flores (204) 880-3101 or karfls@hotmail.com





A TODA LA COMUNIDAD LATINA:

Hoy Oaxaca, México te necesita: Mi nombre es Hilda Karina Flores y vivo en Winnipeg desde hace varios años  y hace unas semanas me he unido a la Red de Solidaridad "Binni Gubiña" para apoyar directamente a las comunidades indígenas de la zona del Istmo del estado de Oaxaca, México afectadas por el sismo de 8.2 grados del 7 de septiembre. Estoy apoyando el acopio y entrega de alimentos, ropa y medicina a las poblaciones de: Unión Hidalgo,  Oaxaca pero aún nos queda muchísimo por hacer y muchas comunidades más a las que llegar ya que se estiman más de 800 mil damnificados y muchos de ellos hasta hoy no han recibido ningún tipo de ayuda lo que se agrava por los altos niveles de pobreza ya que de los 3.9 millones de habitantes de estado de Oaxaca 2.6 millones viven en pobreza y 1.1 millón viven en pobreza extrema. 

 Por medio de esta solicitiud buscamos a poyar la iniciativa de Espacio para el Fortalecimiento de la Comunidad y la Autogestión- " ECA" que es una Asociación Civil sin fines de lucro que participa en la red y que está formada por Profesionistas de Pueblos Originarios e Indígenas quienes trabajan temas como Desarrollo Sustentable, Defensa a los Derechos de los Pueblos Indígenas y de la Mujer, entre otros, que ha colaborado y recibido apoyo de diferentes dependencias de gobierno y organizaciones civiles  como la Dirección General de Equidad para los Pueblos y Comunidades en la Ciudad de México, el Centro de Derechos Humanos Fray Francisco de Vitoria y Acción Pro-Desarrollo y Equidad A. C.

Apóyanos, todo lo que se recaude a partir de este fundraising se usará para la compra de alimentos, medicinas, cobijas, etc. y su transporte desde la ciudad de México y ciudades aledañas hacia a las comunidades de Oaxaca. Llegar a las comunidades no es fácil, muchas de ellas están a más de 15 horas de camino en caminos que no siempre están en buen estado.  
Los donativos serán directamente transferidos a la cuenta bancaria de la asociación civil Espacio para el Fortalecimiento de la Comunidad y la Autogestión- " ECA, si quieres que te brinde una copia


Si tienes alguna duda, quieres promover algún evento de recaudación de fondos o hacernos llegar algún otro apoyo contacta a: En Canadá a Hilda Flores al teléfono 204 8803101 o al correo electrónico karfls@hotmail.com . Ciudad de México a Juan Alberto Castillo +01 521 5527069330, Maritza Velázquez al 01 521 5511450805.
Si tienes familia en la Ciudad de México pueden apoyar en los dos centros de acopio ubicados en:
1. Cerrada Poussin 89-101 col. San Juan, Benito Juárez. Cerca metro mixcoac linea dorada y metrobus parque hundido
 2.Casa Comunitaria Pedregales "Vivir en Libertad" Tabaré 47, Colonia Adolfo Ruiz Cortines, Delegación Coyoacán








+ Read More
Update 2
23 months ago
Share
Last sunday with the support of JC´s Tacos and More and the Mexican Community in Winnipeg we organized a fundraising and it was a big success!! We want to thank all of you.
+ Read More
Update 1
23 months ago
Share
Se entregaron a nombre de ECA A.C y Binni Gubiña medicamentos incluyendo insulina a el centro de salud de Ranchu Gubiña. (Unión Hidalgo Oaxaca). Gracias por el apoyo!!

Yesterday, the non profit organization ECA and the network Binni Gubiña delivered medications to the Community Health Centre of Unión Hidalgo. Thanks for your support!!

+ Read More
Read a Previous Update