Renovating Sikatengwa School
$2,531
of $3,350 goal
Raised by
32
people in 51 months
I believe that education is key for development. That sometimes, money is needed to maintain the places where children learn and play, where they grow. That you must care for what exists now, so that it stands in the future. Care for places that foster positive growth, change, and hope. Even if they're a world away. I believe we're all in this thing together. This life.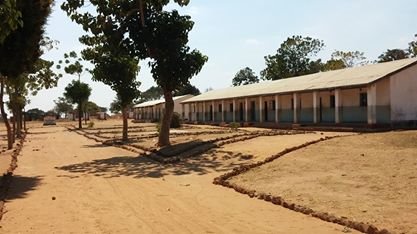 Dear loved ones - friends and family,
Some of you know me well, but I'm hoping this reaches many that I don't know, at least people that I don't know yet.
I've been serving in Zambia with Peace Corps, in a rural village, since May of 2013. I came to Zambia in February of 2013.
My main focus is to promote fish farming, but I have many secondary projects as well. One of which is working at the school 3.5 kilometers from me. I taught fish farming as localized curriculum and am working with teachers to continue the boys club I helped start. We're working to start a girls club, teaching life skills, and also grassroots soccer training, which teaches students about HIV and AIDS.
I've never experienced such highs and such lows serving as a volunteer here.. but can honestly say, Peace Corps, while challenging, has been one of the best experiences of my almost 30 years. It's shaken me, healed me, and pushed me to grow. I keep hoping my impact here is as much and as great as the beauty and grace being here has brought to my life. Which seems impossible. But I try, every day.
That said, I'm reaching out to you all today, asking for your help.
In my service, I have access to write 2 grants. I wrote one to take farmers to get trained about sustainable agriculture at a training center, Kasisi, in Lusaka. I don't believe in giving, but in this case, it's giving but to educate. The way it works is that a volunteer writes one grant, completes it, closes it out, and then can write the next. The funding for the kind of grant I wrote is already there.
The other type of grant I could write is one that I have to fundraise the money for. Each grant cannot exceed $5,000. I'd have to wait till the other grant closes, which wouldn't be till the end of November, beginning December because of the workshops planned to educate the community upon returning from Lusaka.
So, I'm hoping to fundraise money on my own to support the school. Writing another grant would be a tall order as all my grants need to be closed out by the start of 2015, as my service ends April of 2015. Fundraising on my own isn't ideal, as there is no tax break for donations. But because of time, it's the route I'm trying to take.
So I'm asking for you all to give.
I can't say enough good things about the school and it's staff, how hard the teachers all try to make the best of things with so little resources, teaching around 800 students per term. I want to give them whatever I can. They recently had a theft, as the school is not secure, and needs much maintenance.
I'm honored and humbled for your consideration in all this. I don't believe in merely giving, which is why the grant I wrote is focused on educating, and the money I raise for the school will go towards renovations, first, and other needs, second. Materials such as cement and paint are very needed, and other costs like renovations to teachers houses, building more teachers houses are not in the estimate.
Originally, the idea was to build a new teachers house, as there are only 9 out of a possible 20 teachers at the school. Due to a lack of housing, that number won't go up anytime soon.
The headmaster, deputy and I met, and they said their greatest need is to maintain the structures now, instead of building new things. Through a government grant, the school has been building a new teachers house since I arrived, but due to slowness of getting materials, the house is still being completed.
I asked the buildings officer who works for the ministry of education to assess the needs of the school. 2 blocks, which house 2 classrooms each, and an office, would be fully renovated, one costing 16,580 kwacha and the other, 20,780 kwacha. The exchange rate has been fluctuating, but that's approximately $6,025.00.
I hope to raise $3,350.00 which would cover the costs of one building. I'm still waiting on quotes for goal posts and net ball posts, as the goal posts are wood and need to be replaced every year, and the girls net ball court needs to be maintained as well. An extra 25% of the total for both buildings, about $1,507.00 would go to skilled labor. In total, I'm hoping to raise $8,000.00 to cover the cost of both buildings, skilled labor fees, as well as goal posts and net ball court needs. I can email a break down of the budget and quote too, if you'd like.
Transport of materials would be free of charge, which is huge, as the owner of the hardware is a good friend and big supporter of Peace Corps, who has helped advise me on all of this.
This little corner of the world has touched my heart. Please read my blog as I talk more about my work and daily life here. I'm always open to questions and concerns. I'm attaching some photos though, just so you can see some of the children I work with.
Together, we can all make a difference, even if it's small.
Ever heard of the starfish story? Where a man is walking along the beach, near the waters edge, and comes upon a little girl, throwing starfish back Into the ocean.. he asks her what she's doing, and she says she's throwing them back in the ocean, trying to save them. The man said, you can't possibly save them all, or make a difference. I like to picture the little girl with a big smile on her face as she bent down, picked up one starfish, threw it back in the ocean, and said, well, I made a difference to that one. Then she kept on going.
It's that persistence when all hope seems lost, and that attitude of 'I may only be one, but I can do much good' of that little girl, that always hits at the heart of me when I remember that story.
We each create ripples and we never know how far that initial impact goes.. for better and for worse. So every action is important. I've been downright floored with the support and connections I've gotten and made as since this adventure began. Thank you to each of you for being a part of my life, for your support, and for the footprint you've left on my heart.
There's another saying that a Native American chief said, that when we act, we must think about the next 7 generations. Our footprints last long after we go, if we live well, and with purpose.
Each of us plays a role, I believe, and I hope you will share my excitement about this project.. this opportunity to do some good.
Thank you for your consideration, your support, your generosity and for hopefully sharing these words.
+ Read More
Be the first to leave a comment on this campaign.