Donate4TCells
£8,890
of £100,000 goal
Raised by
55
people in 25 months
Donate4TCells: SUPPORTING T-CELL THERAPY IN THE UK
For those that have been following our campaign, we have some more fantastic news. We are now home and Mike's latest bone marrow biopsy has come back completely clear!!!! We are absolutely over the moon and enjoying every moment together. We have many more tests ahead but right now we couldn't be happier.
Giving Something Back
Following the amazing success of #
Donate4Mike
, where we were humbled by the incredible generosity of family, friends and strangers alike, we now want to give something back. You've made this happen once before, let's make it happen again!
There is no doubt that CAR T-Cell therapy is one of the most exciting developments in the fight against cancer in years. The treatment is, quite obviously, so incredibly effective that we hope one day it will be available to others in the UK.
We're now raising money to support families whose loved ones have a terminal cancer diagnosis and will go through T-Cell Therapy in the UK in the future.  The therapy, although life-saving, can be completely brutal in its effects on the body. The battle is long, terrifying and the financial and emotional burden on families is heavy. Our fund is being set up to help patients' families with financial support. The money will go towards their accommodation and travel expenses to allow them to focus their attention on their nearest and dearest at this most difficult time.
T-Cell Therapy

Below you can read about our story so far and find out more about T-cell Therapy.
Genetically modified T-cells harness the body's own immune system, using it to recognise and fight leukaemic cells in the body. The treatment has shown extraordinary results in the USA, particularly when treating Acute Lymphoblastic Leukaemia (ALL) - as we were lucky enough to experience first hand! Please help us support those like Mike who are facing a terminal diagnosis and have no other hope.
Mike's Story
In January 2014, one month after Mike proposed, he was diagnosed with a rare form of Acute Lymphoblastic Leukemia (ALL). Mike required a stem cell transplant to stand any chance of survival so we created the #Shake4Mike campaign to encourage more people onto the donor registry.
The campaign went viral and through Anthony Nolan we were lucky enough to find a match for Mike and on 26th June 2014, his 30th birthday, Mike received his lifesaving transplant.
Despite all the setbacks and undoubtedly the hardest year of our lives, we were able to get married in June 2015 as hope grew that Mike was on the mend. His condition slowly improved following the transplant and we were able to start living our lives again, both of us returning to work as we began to plan our family and our future.
Tragedy strikes again
Having battled through a relapse, rejection of multiple anti-Cancer drugs, undergoing more than 20 grueling bone marrow biopsies, contracting various viruses, pneumonia and receiving five further infusions of cells from his donor, we all believed he was finally on the path to full recovery. But the day before Easter Friday (2016) we were given the devastating news that Mike's leukaemia had returned and was spreading at an aggressive rate. There were no treatment options left. 
A nation comes together to save Mike
After exhausting all treatment available to us in the UK Kate looked into a revolutionary new treatment that has shown extraordinary rates of success for people in Mike's position. After huge efforts to find a trial of this treatment (CAR T-Cell Therapy) we were told that Mike would be suitable for treatment at the University of Pennsylvania's Abramson Cancer Centre, USA.
Whilst the actual trial costs were funded by the University, the medical costs associated needed to be self funded; we had less than two weeks to raise $600,000 to save his life. In a truly miraculous nine days, more than 20,000 donations flooded in from people near and far; the world came together to give us the chance to fight for our of a future together.
The treatment itself was indescribably hard, including two trips to the Intensive Care Unit. However, after two of the toughest months of our lives, we were blown away by some fantastic news: Mike's first bone marrow test came back clear! Prior to starting the therapy Mike's biopsy showed his bone marrow was 90% leukaemia cells…… 28 days later there were none.
Our Next Steps... 
We still have quite some distance to go in our own journey with leukaemia and some more hurdles to jump, but we are now home and want to start giving something back. The funds we raise here will go to Above and Beyond - a charity close to our hearts that supports Bristol hospitals and has quite literally gone 'Above and Beyond' in making Mike's times in hospital that little bit easier. 
Please help in any way you can; arrange a fundraiser, donate a tenner, or just help spread the word… T-Cell Therapy works. 
Email me at
donate4tcells@gmail.com
 if you want to set up or help out with a fundraiser!
Follow us on 
Facebook


Follow us on
Twitter
+ Read More
Update 2
15 months ago
Share
Hello wonderful people. I wanted to write an update to let you all know our latest news….

Mike is doing SSSOOOOOOOOOO WELL! We have certainly had a few scares along the way the last 6 months but generally now he is flying from strength to strength! So many good things have happened I don't even know where to start…

We had Mike's 1 year follow-up back in Philadelphia in June and Mike is still in complete remission! This is BIG news. To hit the 1 year marker is very significant post CAR T Cell treatment and we have absolutely smashed it! We still have some milestones to go (as always) but I cannot begin to describe the relief at getting to this one. HUUUUUUAGE!! To celebrate on our way home from Heathrow Airport, we picked up the newest addition to the Brandon household: Pablo Alan 'Escobar' Brandon. I have found another love! He is a lot of work but a true treasure. We got our dog!

I can't believe we have made it. Making that video little over a year ago I was broken. I did have some hope but really I felt like I was just desperately grasping at straws. There were so many hurdles to overcome, let alone the teeny matter of making nearly half a million pounds! The odds were stacked against us, but it all blooming worked! To be writing these words to you I am already welling up. I am still in shock even a year on. I have my husband back…. I have my life back …. I couldn't have done it without you!

To my brilliant friends who worked tirelessly to start our campaign, my family for supporting me 100% every single step of the way, Dr Frey + Penn Medicine for managing our America medical rollercoasters, Professor Marks and Bristol Haematology Oncology Unit for managing all our UK medical rollercoasters (Mike loved to be the drama queen :) ) and to each one of you who donated to our desperate plea. We have been shown the utmost generosity, kindness, care and love beyond any expectation and I thank you all from the bottom of my bulging heart.

Going through this experience does scar you a little, death always sits on your shoulder, hanging around taunting heartlessly with your thoughts. When that happens, I take a breath and remember the chance you all gave us and with the power of that positivity I feel determined to enjoy each day. With each week that passes we both feel a little stronger and more relaxed. It is so utterly heart-warming to see Mike start to really live life again. The beauty of normality.

This last few months, after being so isolated and wrapped in cotton wool for so long, we have done so many incredible things. We had our first holiday abroad in over 3 years, we climbed a mountain, we cycled 42km around a lake (nearly killed us :) ), Mike got his first promotion, we've had loads of quality friends and family time. Mike went to his first cricket match and first gig, he got on his first bus, had his first round of baby vaccinations, had his first almost normal full blood count, ate his first runny egg and cleared up his first of many dog poos! What a completely all encompassing and joyful 2017!!!

You really do learn to find a renewed appreciation of the smaller things. When he was going through the 'cytokine storm' with the treatment last summer, he couldn't lie flat for 6 weeks. Now seeing him sleep comfortably and peacefully each morning and night is the most heartwarming of all.

Miracles do happen … they happen because of people like you,

With love and all the gratitude in the world,
Kate Brandon

xxx


PS All donations through this page go straight to the Above and Beyond Charity helping people like Mike! x



+ Read More
Update 1
23 months ago
Share
Hello wonderful 22,824 people who helped save Mike!
Just wanted to write to say he is doing so so well! Day to day life is an absolute joy, I cannot begin to list the things that we are both so grateful for. We are at hospital less and less and this weeks big news is - Mike has just done his first few half days at work. BOOM!
We are hosting our first fundraising event to say thank you to Mike's Haematology & Oncology Centre in Bristol. Mike was by no means a 'perfect patient' earlier this year: he threw every complication under the sun at them, but they kept him alive and got him to America. We are raising money for the hospital to place in a fund that will help families involved in CAR T-Cell therapy, once it becomes available in the UK in the future.
https://www.gofundme.com/donate4tcells
We also wanted a chance to say thank you to some of you that supported our campaign. After all, you made this happen! All proceeds from the day will be going to Above and Beyond and the Penny Brohn Cancer Care Centre, who are kindly hosting the event.
Our 'Tea Cell Party' will be on November 19th at Penny Brohn, Pill 1pm-5pm. It will be a fundraising day filled with tea, cake, yoga, massage, clothing, craft and jewellery stalls. No entrance fee, just donate what you can on the day. Bring your friends, start your Christmas shopping early and get pampered!
Details of the day are posted here:
https://www.facebook.com/events/532491180275298
Hopefully see some of you soon!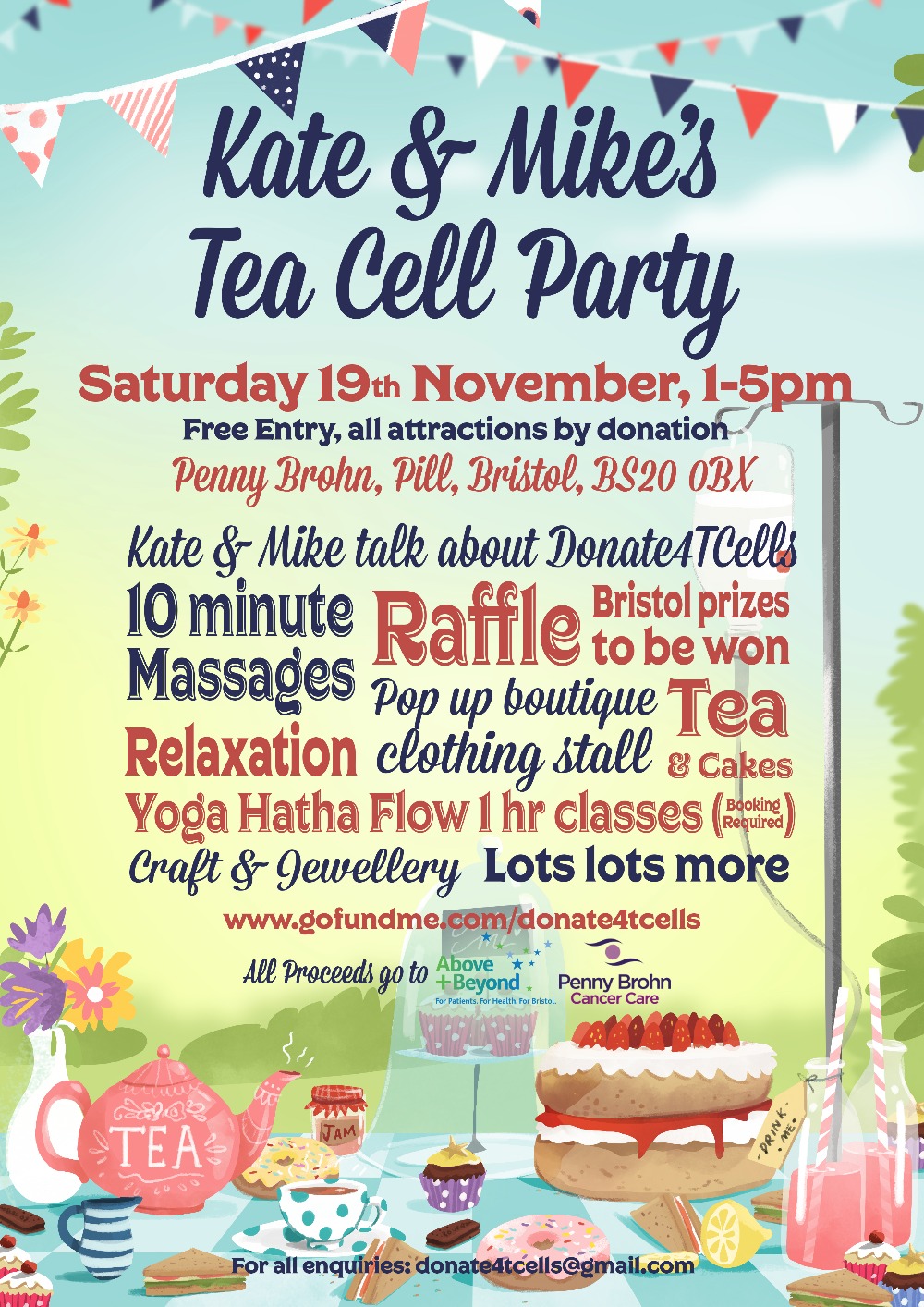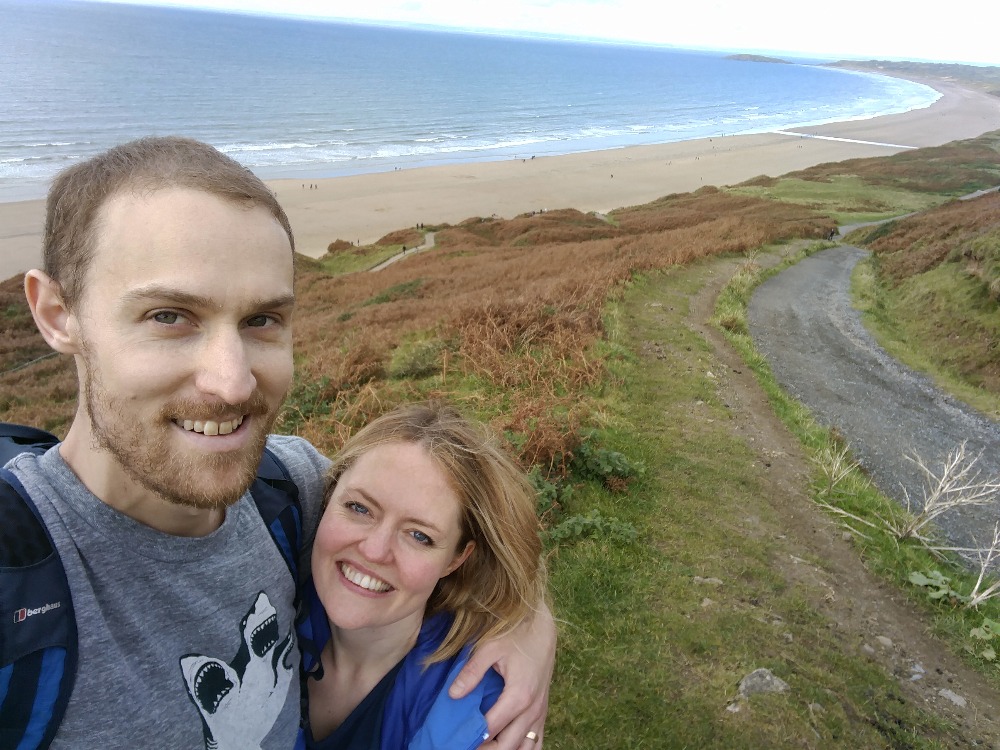 + Read More
Read a Previous Update