DOG WAR Film Finishing Fund
$3,711
of $10,000 goal
Raised by
115
people in 9 months
HELP END THE DOG MEAT TRADE!
Each year, tens of millions of dogs are farmed or stolen, and then slaughtered for food throughout parts of Asia. In Korea, popular myths claim that a tortuous and painful death enhances the taste of the meat and the sexual "stamina" of the men who eat it. Welcome to  the hidden  world of  the dog meat trade – a practice that has become a flashpoint in South Korea, where some believe the Asian custom originated, and where cultural and generational shifts have drawn entrenched battle lines.

Enter a team of American special ops vets who join forces with Korean activists and employ commando practices to stop this lucrative and powerful industry. Working mostly undercover, they enter and disrupt the shadow world of the dog meat trade, saving one or hundreds of dogs at a time, and help to transform an industry and country. Leaving behind families and critics that question their motives and tactics, the vets risk it all to fight for those that cannot fight for themselves – dogs brutally  tortured  for human consumption.  Directed by Andy Abrahams Wilson (the filmmaker behind the Oscar-semifinalist  Under Our Skin ),  Dog War  goes behind the scenes as the battle unfolds, looking at the complex forces that pit dogs' lives against human livelihoods, and revealing haunting truths about the breach of contract with man's best friend.

Watch the trailer   above and share it with others! 

FILM CAN CHANGE THE WORLD
In Korea alone, the cruel dog meat industry commits purposeful, intentional torture, inhumane killing, theft of family pets and a multitude of other abuse and neglect to an estimated 2-3 million dogs each year. The only way to stop this practice is through education and spreading awareness around the world. And it's working. Dog meat consumption is in decline due to the work of activists at home and abroad.

With a team of award-winning, veteran filmmakers at the helm, Dog War will leverage gripping non-fiction storytelling to raise broad-scale, international awareness of the dog meat trade so that we can finally put an end to these inhumane practices. Please join us in educating audiences around the world by donating to the completion of the documentary. Together, we can stop the cruelty and torture of millions of dogs.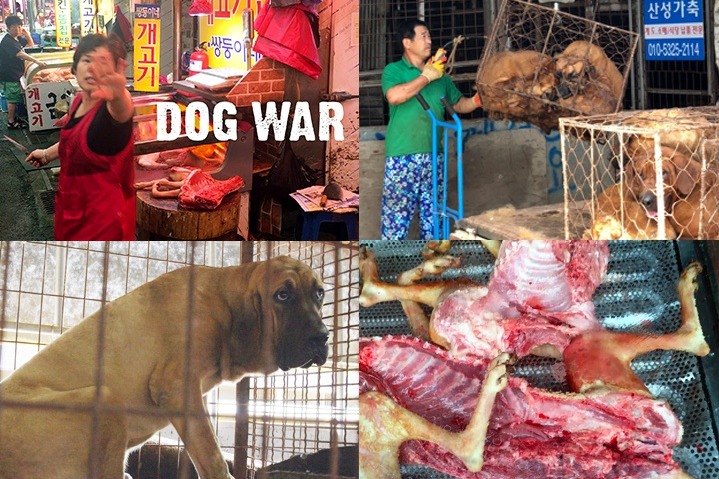 WE NEED YOUR HELP 
After three production trips to Korea, we have completed principal production,  and now need funds to edit. We've been fortunate to get this far with many small donations and a few larger ones, as well as in-kind services and reduced rate fees. With your help, we will be able to edit our roughly 80 hours of footage into a compelling narrative that will reach the hearts and minds of millions.

Our  funding goal of $10,000 will enable us to hire an editor and begin the months' long editing process. After this, we'll  be unstoppable. Your tax-deductible contribution, large or small, brings us closer to finishing the film – and to mainstream visibility of the hidden horror facing dogs in South Korea.

YOUR NAME ON THE BIG SCREEN
So that we can complete the film with the urgency it demands, we're looking for select donors who have the capacity  to make a greater impact. For a $500 contribution, you will receive On Screen Credit  in the completed film. We have other giving thresholds to receive honorary Associate Producer and  Executive Producer  credits. If you have questions about how this works or would like additional information, please email us directly at mail@openeyepictures.com. Open Eye Pictures is a non-profit, public benefit corporation under section 501(C)(3) IRS code. All contributions are tax-deductible to the extent of the law.

JOIN US
Equally important, we hope you will join the  Dog War  team as an ambassador and help spread the word about our film and funding campaign. Please share  this GoFundMe campaign on social media with friends, family, animal rights activists, and anyone you think might be interested.

ABOUT US
Open Eye Pictures  is a multi-award-winning, non-profit organization specializing in the production and distribution of creative, educational media. We open the eyes and minds of viewers to see the extraordinary in the ordinary and the bigness in the littlest of things. We turn the lens on places where worlds and assumptions collide, encouraging compassion and action,  and moving audiences in unexpected ways.

Contact: mail@openeyepictures.com
+ Read More
Update 2
4 months ago
Share
Hi Everyone, thanks to your your support we're almost 1/3rd of our way to our GoFundMe goal! Every donation, large or small, brings us closer to finishing the film. So please keep spreading the word: savethedogsfilm.com
+ Read More
Update 1
9 months ago
Share
As of today, the DOG WAR film community has raised $455 of our $25,000 goal. We're so thankful for the support we've received so far, but we have a ways to go until the fundraising drive is complete. Please continue to share the DOG WAR film drive widely! We'll be sure to keep you up to date with the progress being made. :)
+ Read More
Read a Previous Update